Just to be clear? What I do ain't make-believe, though people say I sit and try. But when it comes to being De La? It's just me, myself and I…and The Weekly Static!
Now while I work on a heartfelt apology to the great De La Soul, take a moment to decide because this is your last chance. After this, there's no turning back. You take the blue pill – The Weekly Static ends, you wake up at your desk and believe whatever you want to believe. You take the red pill – you stay in The Weekly Static and I show you a…
Thanks for joining us and still appreciating a Matrix joke, red pill poppers!
The Weekly Static is our righteously desperate-yet-endearing look at the past week in the land of the networks, cable, streaming, smoke signals, cloud formations, and shadow puppets from what an interesting, unique and entertaining perspective. At least that's how it reads on paper, so let's see how this goes… So what exactly is the moral of this little story? It's pretty simple:
● Offer a blunt, honest perspective on a handful of random TV news posts from the past week that also highlights your relentless team of news-thirsty Bleeding Cool writers and the quality work they do. My views are my views and not a reflection of the opinions of those who wrote the article. Translation? I own what I say 110%.
● Spotlight a news item we missed, but we're pretty damn sure you'll find it interesting.
● Feed my voracious ego with copious amounts of praise, adulation, social media shares, pizza, Superman Funkos, Eisner Awards, write-in votes for the 2020 U.S. Presidential Election (…told you…) and a constant stream of Red Vines and red Skittles. I mean a real stream, btw…Wonka style!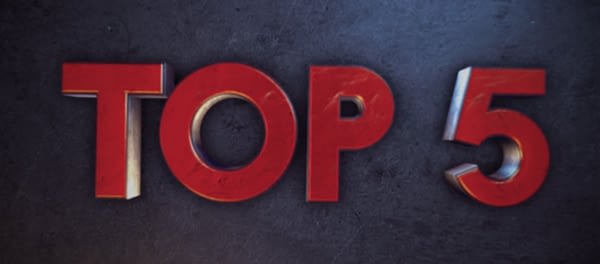 Shameless's William H. Macy on All-Male Time's Up Meet, Gender Equality
ABC to 'Get Christie Love' Pilot from Power's Courtney Kemp
Oprah Winfrey on Presidential Bid: "Not Something That Interests Me"
Vince McMahon Says Kaepernick Can Play in New XFL if He Meets "Quality Human Being" Standards
Jemele Hill Leaving ESPN SportsCenter, Joining The Undefeated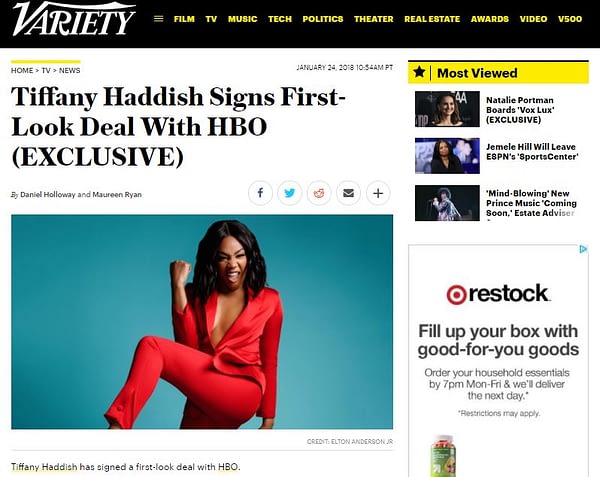 Tiffany Haddish Signs First-Look Deal With HBO (EXCLUSIVE)
"Tiffany Haddish has signed a first-look deal with HBO.

The two-year pact with Haddish and her She Ready production company comes on the heels of a breakout year for the comic, who won a New York Film Critics Circle best supporting actress award for her performance in 2017's "Girls Trip." Her book "The Last Black Unicorn," released last month by Gallery Books, was named a New York Times best seller. Her new stand-up special "Tiffany Haddish: She Ready!" premiered on Showtime last year, and Haddish recently announced 2018 dates for her new stand-up tour…"