Earlier today, Bleeding Cool reported on the lack of a new Ironheart issue in Marvel's full December solicitations, with November's Ironheart #12 looking like the final issue. Now, writer Eve Ewing has taken to Twitter to confirm the news and comment on her run with the series.
well, i knew our very observant readers would be peeking at the December solicits, so it's time to make it official: the #Ironheart solo title with wrap with issue 12! thank you to all of you who have been with us on this journey. i'm not sad about this, for three reasons.

— wikipedia brown ||| abolish ICE. (@eveewing) September 19, 2019
second, IRONHEART 11 AND 12 ARE ABSOLUTELY BANANAS. saying we are going out with a bang is an understatement. i did the script review for 11 yesterday and i was gasping and yelping as i moved through the issue, despite having literally written it myself. i'm proud of us.

— wikipedia brown ||| abolish ICE. (@eveewing) September 19, 2019
However, Ewing also promised that this was not the last we'd see of her or Riri Williams, saying that they're "shifting gears and we will be back. quite soon." Ewing said that the first clues will appear in Marvel's Incoming in December.
thank you to one of the best creative teams in the world. you have made this title so special. i have so, so so so so so much love for @LucianoVecchio and @KevinLibranda, for Matt Milla, @Geoffoarto and Clayton Cowles, for our rockstar editors Alanna, Tom, and Shannon.

— wikipedia brown ||| abolish ICE. (@eveewing) September 19, 2019
the question of how you represent a black teen girl hero, how we show her world and her family and her friends and her body and her feelings, is immensely political. Luciano gets that and it has been a joy to work with him. he's also kind, VERY GOOD AT ART and weirdly fast?!?

— wikipedia brown ||| abolish ICE. (@eveewing) September 19, 2019
#Ironheart 11 will be out October 30. it's all the way off the chain, as implied by the cover art (look closely) which Luciano did. please pick it up, and pick up 12, so you can see how we wrap up this story.

excelsior!! pic.twitter.com/NMQgKq6r91

— wikipedia brown ||| abolish ICE. (@eveewing) September 19, 2019
Ironheart isn't the only series featuring Marvel's young heroes to end recently, and it would make sense to expect more than one of them to make a return in 2020. In the current series, Ironheart is in Wakanda, teaming up with Shuri and Silhouette in an attempt to stop the Ten Rings from sacrificing innocent lives in order to activate a mystical force called the Wellspring which will allow them to control all of reality. With only two issues left, the girls had better hurry!
Here's the solicit to November's Ironheart #14.
IRONHEART #12
EVE L. EWING (W) • LUCIANO VECCHIO (A/C)
Ironheart's Wakanda adventure comes to a shocking conclusion. With allies Shuri, Silhouette and Okoye by her side, Riri Williams faces her biggest challenger yet: her own past. And things will never be the same.
32 PGS./Rated T …$3.99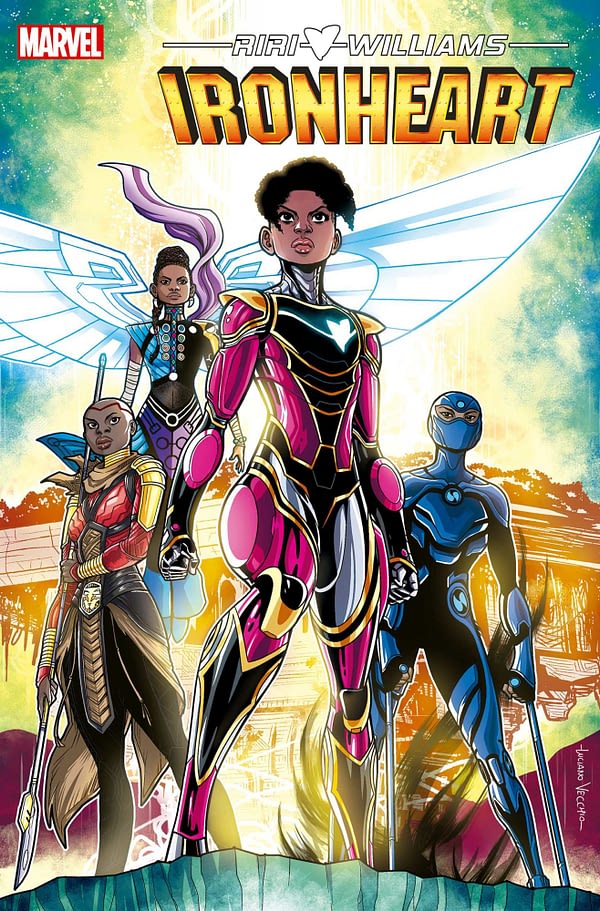 Enjoyed this article? Share it!