Today sees the publication of Absolute Carnage #2, Venom #17 and spin-offs Absolute Carnage: Miles Morales #1 and Absolute Carnage: Lethal Protectors #1. But which order should you read them in. Donny Cates knows.
Read Absolute Carnage #2 first, guys. https://t.co/WOYXahgyFs

— DONNY CATES (@Doncates) August 25, 2019
But I'm not sure he's right.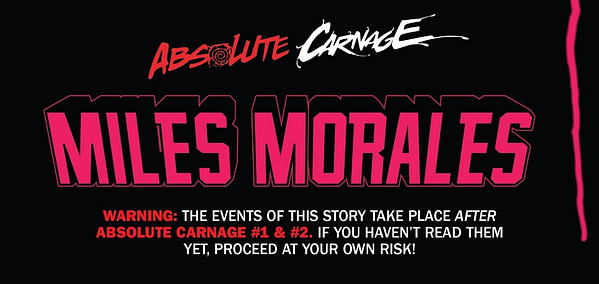 Okay, well Miles Morales agrees with Donny…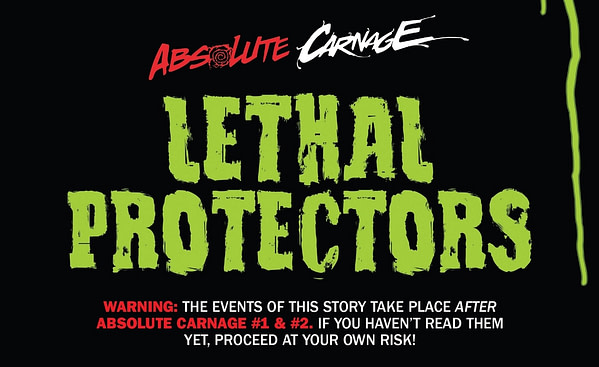 …as does Misty Knight. But I beg to differ.
For a start, Absolute Carnage #2 is a monster of a mover. The first issue seemed to basically recap everything that had been happening before the event, as well as events that seemed utterly predictable. Very pretty, and Ryan Stegman is doing the work of his life, but it felt lacking, That's not something that can be said for #2. And, rather than previous events that seem to focus on the main series, while letting the spin-off series get up to whatever they want and extract as much dollar from the event-committed public as they can, Absolute Carnage is far more embracing.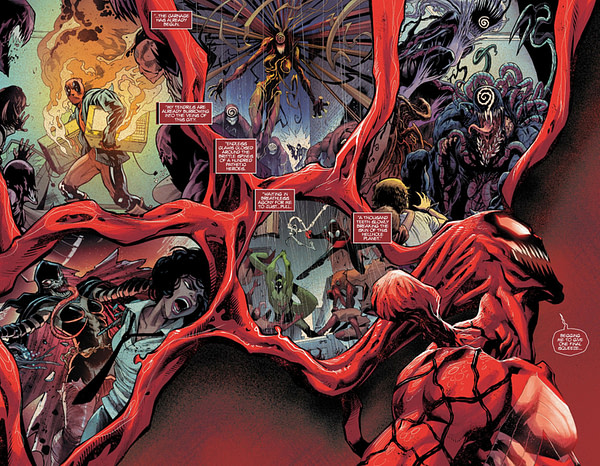 Leading to this double-splash page as Carnage surveys all he crosses over with. With scenes from previous issues of Deadpool Vs Carnage, Scream, Separation Anxiety, Lethal Protectors, and Miles Morales.
The thing is… the advice is not to have read some of those yet. The events don't take place after Absolute Carnage #2, they mostly take place before and some of them during…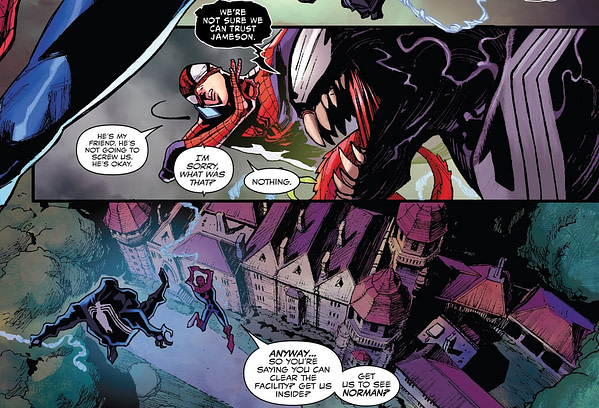 Indeed, Absolute Carnage: Lethal Protectors below takes place during Absolute Carnage #1.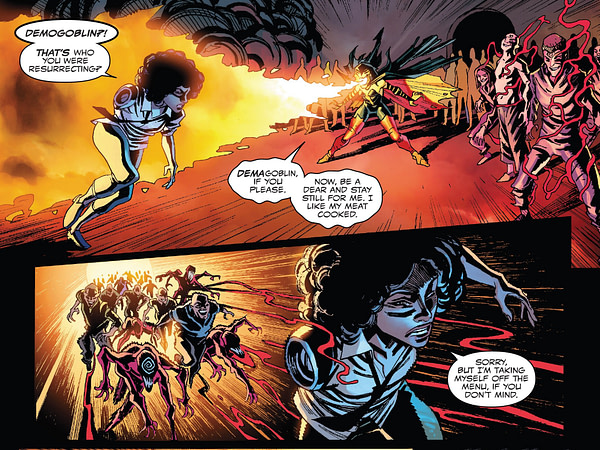 While the events of Absolute Carnage: Miles Morales #1 take place concurrently with Absolute Carnage #2.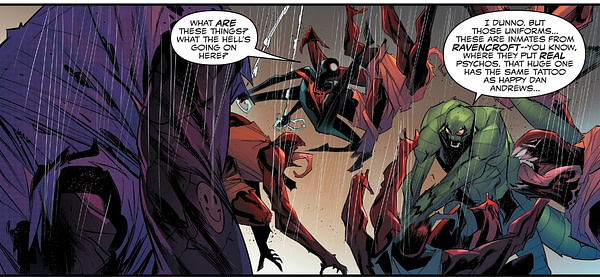 Whichever order you want to read it in.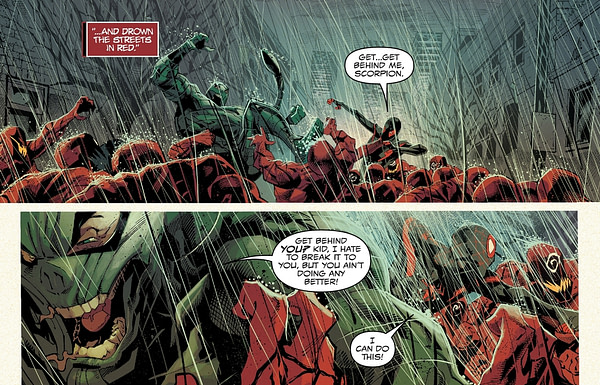 With the final scenes set very slightly ahead. So, if anything, reading Absolute Carnage #2 spoils Miles Morales #1. Then there's the scene in which Eddie Brock talks to The Maker…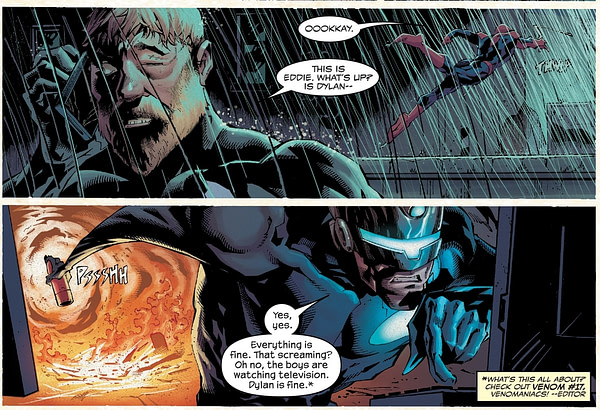 …which suggests that you should read Venom #17 before Absolute Carnage #2 as well. Which has the siblings of Scream turning up…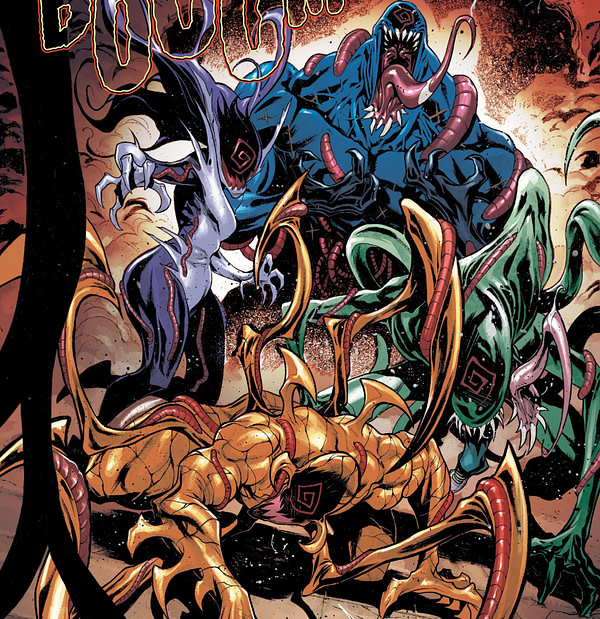 Not the only member of the family to pop by either, eh spoilery speculator fans? As well as what else may be revealed about Dylan…
So what order? Well, against the advice of Marvel, I would say…
Absolute Carnage: Lethal Protectors #1
Absolute Carnage: Venom #17
Absolute Carnage: Miles Morales #1, but stop for a bit
Absolute Carnage #2
The end of Absolute Carnage: Miles Morales #1.
What do you reckon?
ABSOLUTE CARNAGE #2 (OF 5) AC
(W) Donny Cates (A/CA) Ryan Stegman
• After the terrifying conclusion of ABSOLUTE CARNAGE #1, a new player is on the board, and it's NOT who you'd expect!
•  Barely able to escape with their lives, SPIDER-MAN and VENOM have no choice but to drag a slew of other heroes into Carnage's crosshairs.
•  Worse yet, Carnage's rampage through New York City claims an unexpected piece of collateral damage…and there's NOTHING Venom or anyone can do to stop it!
Rated T+ In Shops: Aug 28, 2019 SRP: $4.99

VENOM #17 AC
(W) Donny Cates (A) Iban Coello (CA) Kyle Hotz
ABSOLUTE CARNAGE TIE-IN!
•  With CARNAGE on the loose, VENOM must protect his son Dylan – at all costs!
•  But as longtime Venomaniacs know, VENOM AND CARNAGE aren't the only symbiotes loose in New York!
Rated T+ In Shops: Aug 28, 2019 SRP: $3.99

ABSOLUTE CARNAGE LETHAL PROTECTORS #1 (OF 3) AC
(W) Frank Tieri (A) Flaviano Armentaro (CA) Bengal
THE CULT OF CARNAGE COMES TO NEW YORK CITY!
When he was last seen, John Jameson was being recovered from the scene of a massacre in Doverton, Colorado, by Misty Knight. Since then, they've both been MIA. So how, then, are they the only two people poised to prevent chaos as a mysterious foe of Spider-Man's is RESURRECTED in the basements of RAVENCROFT INSTITUTE FOR THE CRIMINALLY INSANE?!
Rated T+ In Shops: Aug 28, 2019 SRP: $3.99

ABSOLUTE CARNAGE MILES MORALES #1 (OF 3) AC
(W) Saladin Ahmed (A) Federico Vincentini (CA) Clayton Crain
TARGET: SCORPION!
It's business as usual for Miles Morales as he finds himself squaring off with Mac Gargan, A.K.A. THE SCORPION! But as a cult of Carnage's bloodthirsty acolytes swarms New York, Miles will learn the hard way that Scorpion has a history with Venom and the other symbiotes of the Marvel Universe! If he can survive this issue, that is.
Rated T In Shops: Aug 28, 2019 SRP: $3.99