Finally, the FOOLS at Marvel have come to realize what everyone else already knew. Doom is too great to be contained within the pitiful pages of the Fantastic Four comics, always playing second-fiddle to the infernal Reed Richards! Yes, Doom will be starring in his own solo series, magnificently titled Doctor Doom, with Doctor Doom #1 hitting stores in October.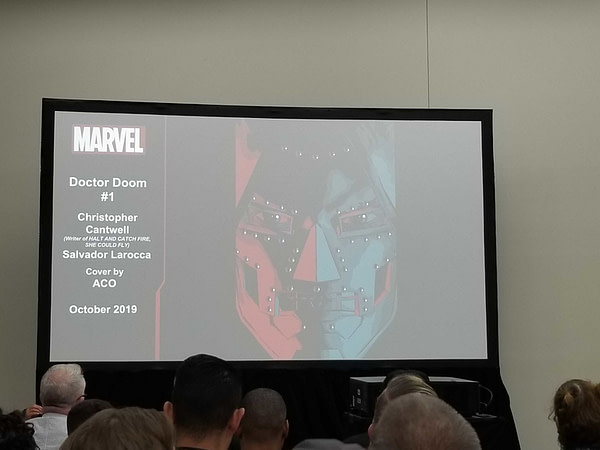 Christopher Cantwell will write, with Salvador Larocca on art, and covers by ACO. The book will delve into the current status quo of Doom as established by Dan Slott in Fantastic Four.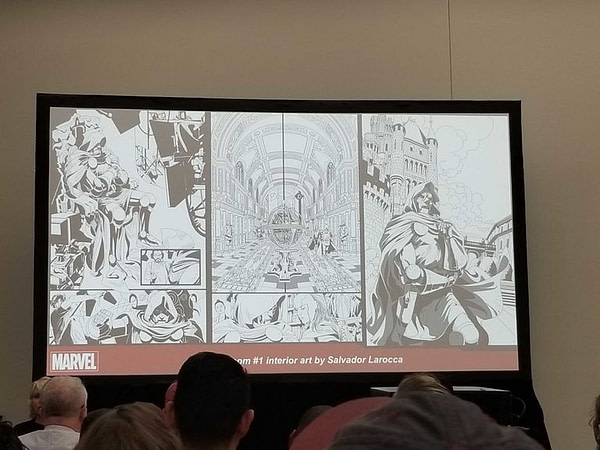 Marvel revealed the cover for Doctor Doom #2 as well.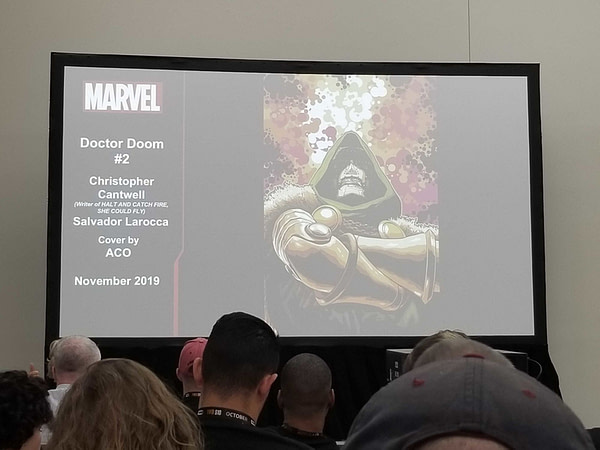 Look for the first issue in stores in October, and finally, you can stop reading about the cursed Fantastic Four and the hated Richards!
Bleeding Cool is working hard to bring you the latest news from the Diamond Retailer Lunch, so bookmark this page to be kept abreast of what publishers are planning to officially announce later at the convention as they give their presentations to their direct customers, the comic book retailers.
UPDATE: Marvel revealed a better version of the cover and some more info on their website:
Victor Von Doom has been a classic Marvel villain for decades — but in this October's DOCTOR DOOM #1, the sinister Latverian finds himself at a crossroads. Announced at the retailer panel at San Diego Comic-Con 2019, DOCTOR DOOM is a new ongoing series by writer Christopher Cantwell (co-creator of AMC's Halt and Catch Fire) and artist Salvador Larroca that finds Doctor Doom in an interesting, conflicted position. After spending much of his time warning against a trillion-dollar global effort to create the first "artificial" black hole, Doom is now wrestling with visions of an entirely different life and a better future. But when a massive terrorist attack results in massive casualties, Doom is the prime suspect. What will happen when Doctor Doom is running from the law — and himself?

Doctor Doom #1
They say the best villains are the heroes of their own stories — how will Doctor Doom rise above this personal predicament? You'll have to read DOCTOR DOOM #1 when it hits comic shops in October!