We're totally doing this every month now. A Marketshare-Per-Capita chart. The usual comics industry marketshare shows how much share of the overall market a comics publisher has. This divides it by the number of titles they publish in that month.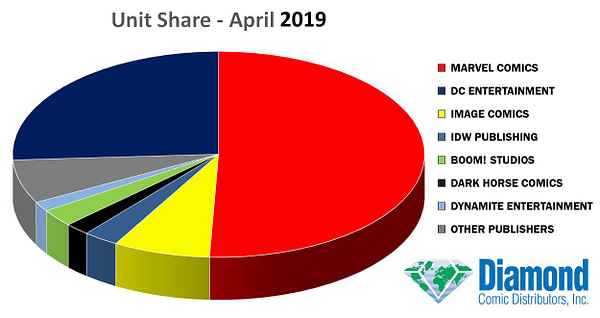 We've already looked at publisher marketshare in the North American direct market of comic book shops for April 2019, as Marvel took 50% of marketshare for individual sales. And we looked at the top 500 ordered comics and graphic novels for the month.
But if you divide the marketshare by the number of individual titles published that month, you get a different picture.
In April, Marvel published 106 comics to DC's 5.2 and Image's 47 single comics each, through including graphic novels and magazines Marvel had 143 to DC's 85 and Image's 60
Now, in January, Marvel still beat DC on both counts, in February, DC had a greater retailer marketshare per item distributed than Marvel, though brought in less revenue and in March, DC Comics dominated both, more in sales than revenue. But in April, Marvel swung this round again, leading DC over marketshare per capita both in dollars raised and items sold.
Valiant gets a boost
There is a proper boost for Valiant, rising to fourth place behind Image for unit marketshare per capita. They publish few books, but those they do seem to outperform their rivals. Boom benefits from Angel joining the line, putting them into fourth place for unit sales per capita, if not dollar share. Well, that first hit was free. And Dark Horse is rising up the dollar share per capita to fourth place too.
It is worth mentioning that this also includes Marvel's dollar line of True Believers reprints adding to the numbers of titles published which can skew numbers a bit.
I hope this, as ever, is a conversation point.
| | | |
| --- | --- | --- |
| Publisher | Retail Marketshare Per Capita x1000 | Dollar Marketshare Per Capita x1000 |
| MARVEL COMICS | 354 | 318 |
| DC COMICS | 304 | 302 |
| IMAGE COMICS | 126 | 132 |
| VALIANT | 91 | 76 |
| BOOM! STUDIOS | 89 | 79 |
| DYNAMITE | 77 | 86 |
| DARK HORSE | 74 | 111 |
| IDW PUBLISHING | 67 | 80 |
| ARCHIE COMICS | 50 | 54 |
| ONI PRESS | 45 | 68 |
| AFTERSHOCK COMICS | 47 | 47 |
| TITAN COMICS | 26 | 31 |
| VIZ MEDIA | 21 | 56 |
And here are the full stats for comparison…