Marvel Comics' January solicitations bring with them some of the best news we've heard in a long time: the long-awaited return of Marvel Comics Presents! The fondly-remembered anthology series, which ran from 1988 to 1995, was published bi-weekly and featured four stories, some serialized and some one-shots, from a mixture of current Marvel creators, brand new creators, and older veterans, and at its best, Marvel Comics Presents allowed Marvel to take some chances on stories a little more offbeat than those featured in their regular titles.
In previous installments, we've seen Namor get political about pollution and Spider-Man take a fall for animal rights. In this next story, Marvel took the whole politics in comics thing to the next level in a story called Some Enchanted Evening in Marvel Comics Presents #40. Written by Michael Higgins with pencils by Javier Saltares, inks by Jose Marzan, colors by Tom Vincent, and letters by Ken Lopez, Some Enchanted Evening was part three of a longer eight-part story starring Wonder Man called Stardust Miseries.
In Stardust Miseries, Wonder Man becomes enthralled to The Enchantress, who manipulates him into attacking his Avengers teammates. In this chapter, Wonder Man and Enchantress visit the Tonight Show to be interviewed by its legendary host, the great Johnny Carson, about a movie they're starring in. But Carson has booked another guest, The Beast, who arrives on set at the same time as a group of detectives looking to arrest Wonder Man for murder. Completely under the influence of the Enchantress, Wonder Man flies into a rage and a battle breaks out on the set.
In the heat of that battle, Tonight Show producer Fred de Cordova calls up an old friend for help: the former President of the United States, Ronald Reagan. De Cordova directed Reagan's 1951 film Bedtime for Bonzo, and he was hoping the President could send help from the U.S. government. As it turns out, de Cordova's mistake wasn't just asking for help from a president who'd left office two years earlier. Reagan is portrayed as a senile old fool, mistaking de Cordova's plea for assistance for an offer to do a Bonzo sequel. After their single-page conversation, in which Reagan nonchalantly brings up the Iran Contra Scandal, Reagan admits his wife Nancy was the one really running the country while he was president.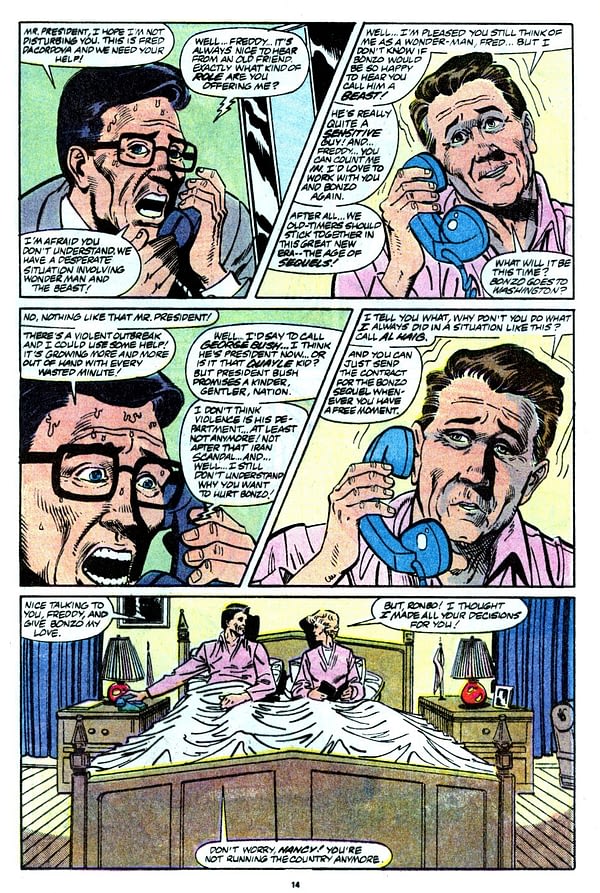 By today's standards, the 1980s and early 1990s might seem like a time of harmonious unity, but believe it or not, there were some people around when this comic was published in January of 1990 who didn't view The Great Communicator with the same reverence he's afforded by his fans today, and even more shockingly if you subscribe to the belief that Marvel never included overt political messages in their comics back in the day, Marvel wasn't afraid to give voice to that viewpoint.
Can we expect the same thing from the series when it returns next year?
The new Marvel Comics Presents hits stores in January.
MARVEL COMICS PRESENTS #1
CHARLES SOULE, ANN NOCENTI, GREG PAK (W) • PAULO SIQUEIRA, TOMM COKER & MORE (A)
COVER BY ARTHUR ADAMS & FEDERICO BLEE
VARIANT COVER BY RON LIM
VARIANT COVER BY MARCOS MARTIN
HIDDEN GEM VARIANT COVER BY ADI GRANOV
VARIANT COVER BY TBA
THE CLASSIC MARVEL SERIES RETURNS FOR MARVEL'S 80th ANNIVERSARY!
Three titanic tales celebrating the first decade of Marvel stories! First — an all-new tale of the man they call the Wolverine begins in the 1940s! Then comes Captain America, the first Avenger of World War II still fighting for freedom today! And finally, the untold tale of Namor and the atom bomb!
40 PGS./Rated T+ …$4.99