Red Sonja & Vampirella Meet Betty & Veronica has been a hit, so much so that before even three issues were published, the series was extended from a six-issue mini-series to a twelve-issue miniseries. The success isn't surprising when one considers the appeal to at least three fanbases. But now, fans of the classic Archie style will get a little something extra when artist Dan Parent fills in for the entire Red Sonja & Vampirella Meet Betty & Veronica #9, and we've got a preview.
In which we find Archie's horn dog attitude is only exacerbated by the prospect of his love triangle becoming a love pentagon.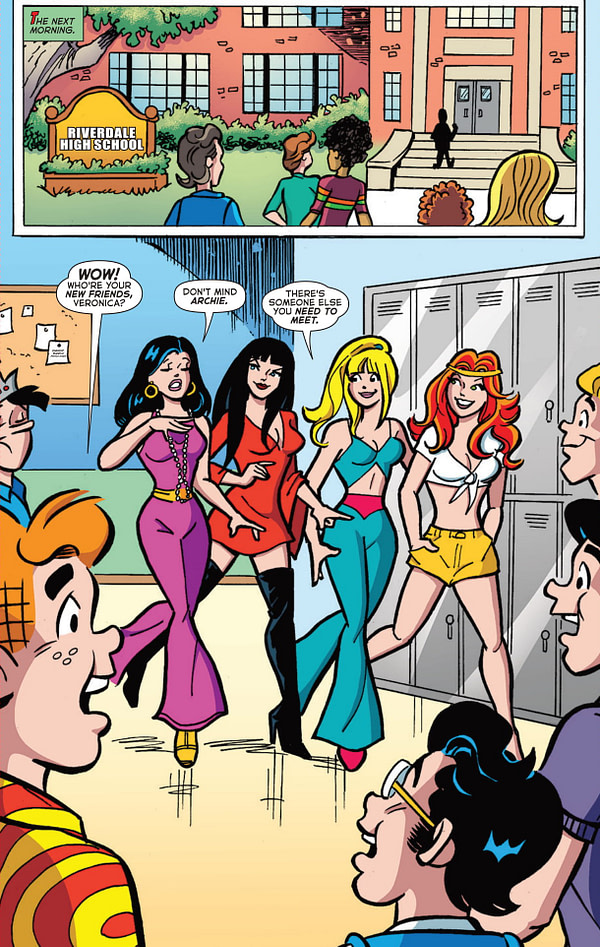 And later on in the issue, we find a scene straight out of Apocalypse Now…
…a reference not lost on Sonja. Wait, did they have DVDs in the Hyperborean Age?
Getting PTSD has never seemed so sexy.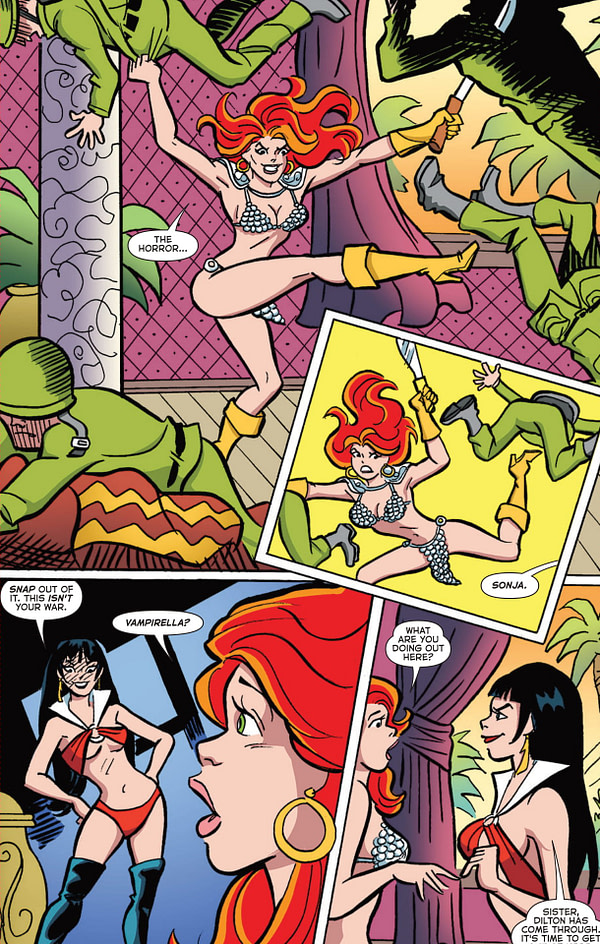 Red Sonja & Vampirella Meet Betty & Veronica #9 hits stores on February 26th, but final order cutoff is Monday, so get your orders in soon.
RED SONJA & VAMPIRELLA MEET BETTY & VERONICA #9
Writer: Amy Chu
Artist: Dan Parent
Covers: Fay Dalton, Robert Hack, Laura Braga, Dan Parent, Cat Staggs
Mystery, murder, and mayhem descends on Riverdale as four of your favorite comic book women meet for the first time. A string of paranormal, unsolved murders leads the vampire hunter Vampirella and her sword-wielding barbarian partner Red Sonja to the small, sleepy town where things always seem to happen… There they discover Betty and Veronica, investigative reporters for the high school newspaper, also hot on the trail of the same killer.