Marvel has revealed a first look at interior art from the upcoming Star #1, the solo mini-series spinning out of Captain Marvel and starring one of eBay's favorite new characters, Ripley Ryan. Final Order Cutoff is next Monday, so Marvel is hoping these pages will entice retailers to order more copies, or entice readers to tell their retailer to order more copies. Does it do the trick?
The solicit reveals that the Reality Stone prevents Star from being imprisoned, which is why we find her in a bar in this preview art, coming face to face with Titania. Thanks to the lack of lettering, we don't know what these two are talking about, but whatever Star says, it seems that Titania doesn't take too kindly to it.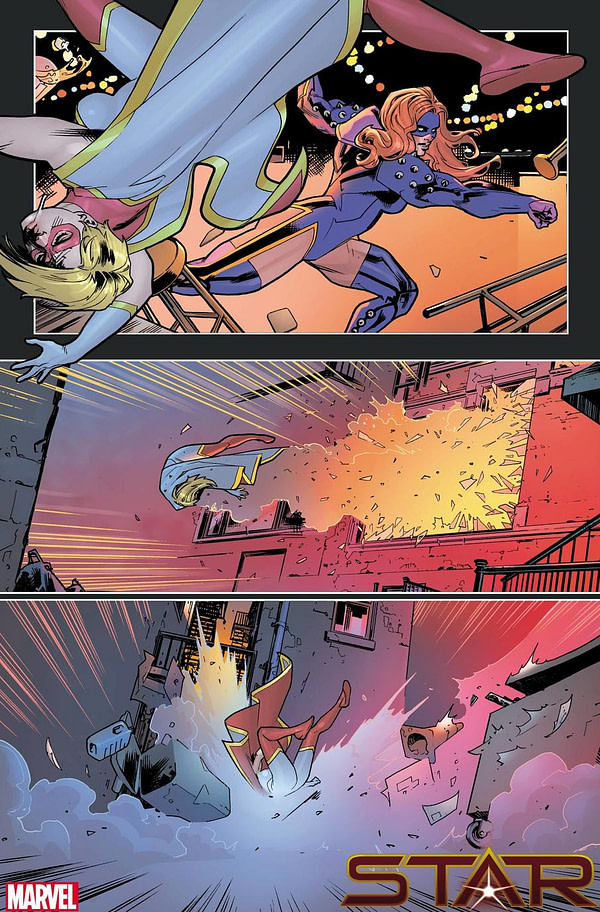 And someone else is looking to get his hands on the reality stone, perhaps angry that Marvel stealth-canceled his last ongoing series…
Star #1 hits stores in January, but let your retailer know this week if you want to make sure a copy is reserved for you.
STAR #1 (OF 5)
NOV190799
(W) Kelly Thompson (A) Javier Pina (CA) Carmen Nunez Carnero
BORN OF THE REALITY STONE, THE BREAKOUT CHARACTER FROM CAPTAIN MARVEL FLIES SOLO!
Ambitious reporter Ripley Ryan rocked New York City when she became the hero STAR, adored by everyone. But in truth she was Dr. Minerva's attempt at a Kree-human Super-Soldier. Desperate for the strength to control her own destiny, she tried to kill Captain Marvel – and failed. Ripley was left, defeated and powerless, in the Raft…or so she thought. The Reality Stone has found her, and now no prison can hold her. You thought you knew what the Infinity Stones were capable of. Think again.
Rated T+
In Shops: Jan 08, 2020
Final Orders Due: Dec 09, 2019
SRP: $3.99