Last month, Marvel were down on their their close-to-50% share of August, but with September they still had an impressive 38.81% of dollars bought and 45.51% of units shipped marketshare. In second place was DC, rising with a market share of 27.80% and 29.15%, respectively. Image Comics ranked third, breaking over ten-percent market share thanks to Spawn #300 and other creator owner projects with a 11.01% dollar share and a 8.32% unit share. The top three were followed by Dark Horse Comics, IDW Publishing, Dynamite Entertainment, and Boom Studios, respectively.
In October, it was pretty much level pegging for September when it comes to Marvel marketshare, with Marvel on 39.51% dollar share and 45.20% unit share, though DC upped their numbers with a 31.67% dollar share and a 32.02% unit share, gaining from  Image Comics which dropped to a 7.59% dollar share and a 7.18% unit share, followed by IDW Publishing, Dark Horse Comics, Boom Studios, and Dynamite Entertainment.
The Marvel X-Books dominated the chart as Marvel had eight comics in October's top ten, including X-Men #1 at the top, beating Image's Spawn #301 at number two – which was still a damn fine acheivement, followed by Powers of X #6 at #3, House of X #6 at #4, The Amazing Mary Jane #1 at #6, Absolute Carnage #4 at #7, Ghost Rider #1 at #8, The Immortal Hulk #25 at #9, and Marauders #1 at #10. DC's The Joker: Year of the Villain #1 was their only top ten entry at #5, though we may see more when the split cardstock covers are combined in Monday's Bleeding Cool chart. The dollar top ten also saw Joker/Harley and Harleen make it on on the back of a higher cover price.
Among the premier publishers, Dynamite Entertainment's top book Vengeance of Vampirella #1 ranked #50, Boom Studios' Something Is Killing the Children #2 ranked #96, IDW Publishing's Teenage Mutant Ninja Turtles #99 ranked #101, and Dark Horse Comics' Black Hammer/Justice League #4 ranked #151.
October was a five-week month, but it did over a fifth more business than that year's five-week October. In one month this has turned round sluggish sales for 2019, and means that for the year so far, for comics and graphic novels, 2019 is doing 1.81% better in terms of dollars raised though at a drop of 2.4% units sold. We're selling fewer comics for more money, but making more money as a result. Comic book folk are still an inelastic lot. And it is the comics that are booming more than graphic novels too. Comic stores are also selling a lot more toys as well, 21.81% more in terms of money, 22.21% in numbers sold. A fifth more toys sold in 2019, so far, than in 2018.
DC's Doomsday Clock Part 1, collecting the first half of Geoff Johns and Gary Frank's sequel to Watchmen, was October's best-selling graphic novel and one of the two DC titles in the top ten. Image Comics had three titles in the top ten, with Kieron Gillen and Jamie McKelvie's The Wicked + The Divine Volume 9 as their top book at #2. Marvel Comics had two titles in the top ten, led by Chip Zdarsky and Mark Bagley's Spider-Man: Life Story at #3. Also in the top ten, Dark Horse Comics' Critical Role Volume 1: Vox Machina Origins ranked #8.
UDON Entertainment's Shigenori Soejima & P-Studio Art Unit Art Works, an art book featuring work from the artists behind Persona 5, was October's best-selling book.
Funko's POP! Marvel: Spider-Man: Into the Spider-Verse: Casual Miles Morales Vinyl Figure, a PREVIEWS Exclusive figure based on the award-winning animated film, was October's best-selling toy product. Also in the top ten from Funko was the PREVIEWS Exclusive POP! DC Heroes: The Red Death Vinyl Figure at #2. Diamond Select Toys had three products in the top ten: the Marvel Select: Unleashed Hulk Action Figure at #6, the Marvel Milestones: Thor Ragnarök: Gladiator Hulk Statue at #8, and the Marvel Select: Carnage Action Figure at #10.
Paizo Publishing's Pathfinder: Lost Dimensions Character Guide, a source book for Pathfinder Second Edtion, was the best-selling game product of October and one of the five Paizo products among the top ten.
TOP COMIC BOOK PUBLISHERS
PUBLISHER

DOLLAR

SHARE

UNIT

SHARE

MARVEL COMICS

39.51%

45.20%

DC

31.67%

32.02%

IMAGE COMICS

7.59%

7.18%

IDW PUBLISHING

3.42%

3.16%

DARK HORSE COMICS

2.93%

2.11%

BOOM! STUDIOS

2.32%

2.21%

DYNAMITE ENTERTAINMENT

2.21%

1.67%

VIZ MEDIA

1.33%

0.51%

ONI PRESS

0.56%

0.33%

TITAN COMICS

0.48%

0.42%

OTHER NON-TOP 10

7.98%

5.19%
 COMPARATIVE SALES STATISTICS
DOLLARS

UNITS

OCTOBER 2019 VS. SEPTEMBER 2019

COMICS

22.22%

16.49%

GRAPHIC NOVELS

12.88%

15.87%

TOTAL COMICS/GN

19.82%

16.45%

TOYS

24.94%

51.89%

OCTOBER 2019 VS. OCTOBER 2018

COMICS

21.05%

9.95%

GRAPHIC NOVELS

-3.32%

-7.10%

TOTAL COMICS/GN

14.09%

8.68%

TOYS

15.44%

1.80%

YEAR TO DATE 2019 VS. YEAR TO DATE 2018

COMICS

4.19%

-1.81%

GRAPHIC NOVELS

-4.16%

-9.71%

TOTAL COMICS/GN

1.81%

-2.40%

TOYS

21.81%

22.21%
NEW TITLES SHIPPED
PUBLISHER

COMICS SHIPPED

GRAPHIC NOVELS SHIPPED

MAGAZINES SHIPPED

TOTAL

SHIPPED

MARVEL COMICS

110

50

0

160

DC COMICS

107

30

1

138

IMAGE COMICS

50

12

0

62

IDW PUBLISHING

39

16

0

55

DARK HORSE COMICS

26

21

0

47

BOOM! STUDIOS

18

15

0

33

DYNAMITE

15

9

0

24

VIZ MEDIA LLC

0

22

0

22

ONI PRESS INC.

3

9

0

12

TITAN COMICS

6

4

2

12

OTHER NON-TOP 10

147

229

30

406

TOTAL

521

417

33

971
TOP 10 COMIC BOOKS BY UNITS SHIPPED
| | | | | |
| --- | --- | --- | --- | --- |
| RANK | DESCRIPTION | PRICE | ITEM CODE | VENDOR |
| 1 | X-MEN #1 | $4.99 | AUG190845-M | MAR |
| 2 | SPAWN #301 | $4.99 | JUL190084-M | IMA |
| 3 | POWERS OF X #6 | $5.99 | AUG190879-M | MAR |
| 4 | HOUSE OF X #6 | $4.99 | AUG190870-M | MAR |
| 5 | THE JOKER: YEAR OF THE VILLAIN #1 | $4.99 | AUG190440 | DC |
| 6 | AMAZING MARY JANE #1 | $3.99 | AUG190933-M | MAR |
| 7 | ABSOLUTE CARNAGE #4 | $4.99 | AUG190902-M | MAR |
| 8 | GHOST RIDER #1 | $4.99 | AUG190978-M | MAR |
| 9 | IMMORTAL HULK #25 | $5.99 | AUG191030-M | MAR |
| 10 | MARAUDERS #1 | $4.99 | AUG190863-M | MAR |
TOP 10 COMIC BOOKS BY DOLLARS INVOICED
| | | | | |
| --- | --- | --- | --- | --- |
| RANK | DESCRIPTION | PRICE | ITEM CODE | VENDOR |
| 1 | X-MEN #1 | $4.99 | AUG190845-M | MAR |
| 2 | SPAWN #301 | $4.99 | JUL190084-M | IMA |
| 3 | POWERS OF X #6 | $5.99 | AUG190879-M | MAR |
| 4 | THE JOKER: YEAR OF THE VILLAIN #1 | $4.99 | AUG190440 | DC |
| 5 | HOUSE OF X #6 | $4.99 | AUG190870-M | MAR |
| 6 | THE JOKER/HARLEY: CRIMINAL SANITY #1 [*] | $5.99 | AUG190443-M | DC |
| 7 | HARLEEN #2 (MR) | $7.99 | AUG190524-M | DC |
| 8 | IMMORTAL HULK #25 | $5.99 | AUG191030-M | MAR |
| 9 | ABSOLUTE CARNAGE #4 | $4.99 | AUG190902-M | MAR |
| 10 | AMAZING MARY JANE #1 | $3.99 | AUG190933-M | MAR |
TOP 10 GRAPHIC NOVELS & TRADE PAPERBACKS BY UNITS SHIPPED
| | | | | |
| --- | --- | --- | --- | --- |
| RANK | DESCRIPTION | PRICE | ITEM CODE | VENDOR |
| 1 | DOOMSDAY CLOCK PART 1 HC | $24.99 | JUL190638 | DC |
| 2 | THE WICKED & THE DIVINE VOL. 9 TP | $17.99 | JUN190046 | IMA |
| 3 | SPIDER-MAN: LIFE STORY TP | $24.99 | JUL191106 | MAR |
| 4 | THANOS: THE INFINITY ENDING HC | $24.99 | JUN191038 | MAR |
| 5 | ASCENDER VOLUME 1 TP (MR) | $9.99 | AUG190065 | IMA |
| 6 | DC SUPER HERO GIRLS AT METROPOLIS HIGH TP | $9.99 | JUL190526 | DC |
| 7 | THE WALKING DEAD COMPENDIUM VOL. 4 TP | $59.99 | JUL190111 | IMA |
| 8 | CRITICAL ROLE VOL. 1: VOX MACHINA ORIGINS TP | $19.99 | JUN190303 | DAR |
| 9 | MY HERO ACADEMIA VOLUME 1 GN | $9.99 | AUG192431 | VIZ |
| 10 | GIDEON FALLS VOL. 3: STATIONS OF THE CROSS TP | $16.99 | AUG190124 | IMA |
TOP 10 GRAPHIC NOVELS & TRADE PAPERBACKS BY DOLLARS INVOICED
| | | | | |
| --- | --- | --- | --- | --- |
| RANK | DESCRIPTION | PRICE | ITEM CODE | VENDOR |
| 1 | THE WALKING DEAD COMPENDIUM VOL. 4 TP | $59.99 | JUL190111 | IMA |
| 2 | DOOMSDAY CLOCK PART 1 HC | $24.99 | JUL190638 | DC |
| 3 | JOHN BYRN'ES MARVEL CLASSICS ARTIFACT EDITION HC | $75.00 | JUL190826 | IDW |
| 4 | NAMOR SUB-MARINER BY BYRNE AND JAE LEE OMNIBUS HC | $125.00 | APR190937-M | MAR |
| 5 | SPIDER-MAN: LIFE STORY TP | $24.99 | JUL191106 | MAR |
| 6 | THANOS: THE INFINITY ENDING HC | $24.99 | JUN191038 | MAR |
| 7 | BATMAN BY SNYDER & CAPULLO OMNIBUS VOL. 1 HC | $125.00 | APR190526 | DC |
| 8 | THE IMMORTAL HULK VOL. 1 HC | $34.99 | APR190949 | MAR |
| 9 | THE BOYS OMNIBUS VOLUME 1 TP (MR) | $29.99 | DEC181256-M | DE |
| 10 | MARVEL MASTERWORKS: GHOST RIDER VOLUME 1 HC | $75.00 | APR190942-M | MAR |
TOP 10 BOOKS BY UNITS SHIPPED
| | | | | |
| --- | --- | --- | --- | --- |
| RANK | DESCRIPTION | PRICE | ITEM CODE | VENDOR |
| 1 | SHIGENORI SOEJIMA & P-STUDIO ART UNIT ART WORKS 2 TP | $39.99 | AUG192423 | UDO |
| 2 | SHIGENORI SOEJIMA ART WORKS TP | $39.99 | AUG192422 | UDO |
| 3 | DARKSTALKERS OFFICIAL COMPLETE WORKS HC | $44.99 | AUG192425 | UDO |
| 4 | DRAGON'S CROWN OFFICIAL ARTWORKS HC | $49.99 | JUL192399 | UDO |
| 5 | OVERLORD VOLUME 11 HC | $20.00 | JUL192435 | YEN |
| 6 | NO GAME NO LIFE VOLUME 9 SC | $14.00 | MAY192173 | YEN |
| 7 | DOCTOR WHO: TALES OF TERROR SC | $11.99 | APR198763 | BBC |
| 8 | FRANK CHO: BALLPOINT BEAUTIES HC (MR) | $29.95 | MAY191709 | FLE |
| 9 | BLOODBORNE OFFICIAL ARTWORKS SC | $44.99 | MAR172148 | UDO |
| 10 | HARRY POTTER POP UP BOOK: GUIDE TO HOGWARTS | $75.00 | AUG182035 | INS |
TOP 10 TOYS BY DOLLARS INVOICED
| | | | |
| --- | --- | --- | --- |
| RANK | DESCRIPTION | ITEM CODE | VENDOR |
| 1 | POP! MARVEL: SPIDER-MAN INTO THE SPIDER-VERSE: CASUAL MILES MORALES VINYL FIGURE | JAN199071 | FUN |
| 2 | POP! DC HEROES: THE RED DEATH VINYL FIGURE | JUN192566 | FUN |
| 3 | OVERWATCH: D.VA FIGMA | JUL188939 | GOO |
| 4 | POP! DC HEROES: BATWOMAN VINYL FIGURE | JAN199072 | FUN |
| 5 | MASTERS OF THE UNIVERSE: FAKER 1/6-SCALE COLLECTIBLE FIGURE | NOV188738 | MON |
| 6 | MARVEL SELECT: UNLEASHED HULK ACTION FIGURE | AUG118205 | DST |
| 7 | ONE-12 COLLECTIVE: MARVEL: CYCLOPS ACTION FIGURE | JUL188503 | MEZ |
| 8 | MARVEL MILESTONES: THOR RAGNAROK: GLADIATOR HULK STATUE | MAY182309 | DST |
| 9 | MARVEL: DOMINO BISHOUJO STATUE | JAN199191 | KOT |
| 10 | MARVEL SELECT: CARNAGE ACTION FIGURE | NOV142179 | DST |
TOP 10 GAMES BY DOLLARS INVOICED
| | | | |
| --- | --- | --- | --- |
| RANK | DESCRIPTION | ITEM CODE | VENDOR |
| 1 | PATHFINDER: LOST OMENS CHARACTER GUIDE HC (P2) | AUG193363 | PAI |
| 2 | MY HERO ACADEMIA CARD GAME | JUL183082 | S7 |
| 3 | CRITICAL ROLE: TAL'DOREI CAMPAIGN SETTING HC | JUN173357 | GRE |
| 4 | MUTANTS & MASTERMINDS RPG GAME: MASTERS GUIDE REVISED EDITION HC | MAR198040 | GRE |
| 5 | PATHFINDER CORE RULEBOOK HC (P2) | MAY193227 | PAI |
| 6 | TOME OF BEASTS HC | JUN168476 | PAI |
| 7 | POP! FUNKOVERSE STRATEGY GAME: DC COMICS 100 BASE SET | JUN198702 | FUN |
| 8 | POP! FUNKOVERSE STRATEGY GAME: HARRY POTTER 100 BASE SET | JUN198705 | FUN |
| 9 | PATHFINDER RPG: BESTIARY 6 POCKET EDITION | JUL193268 | PAI |
| 10 | PATHFINDER RPG: VILLAIN CODEX POCKET EDITION | JUL193269 | PAI |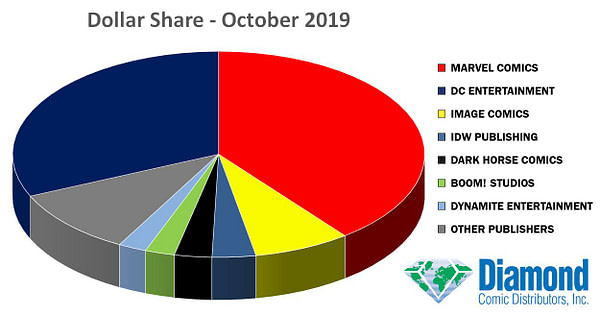 Dollar Market Share – October 2019


Unit Market Share – October 2019