The Hall of Justice first appeared in the Super Friends cartoon, created by background artist Al Gmuer, modelled on Union Terminal in Cincinnati, Ohio. A central meeting point for the Super Friends, Wonder Woman's Invisible Jet and the Batmobile were found on the front lawn, the Hall also contained the TroublAlert, a computerized monitoring station that would warn the heroes of a new threat.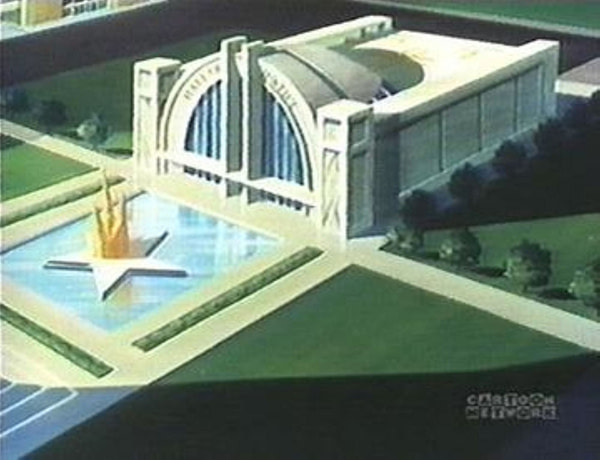 In the comics, the "Hall of Justice" was the name of the JLA's meeting chamber in the Moon-based Watchtower, later in the JLA Satellite. It was also the name of a public museum to the Justice League. The New 52 had The Hall of Justice appropriated by the United Nations as the headquarters for the new Justice League International. Protestors then blow it up.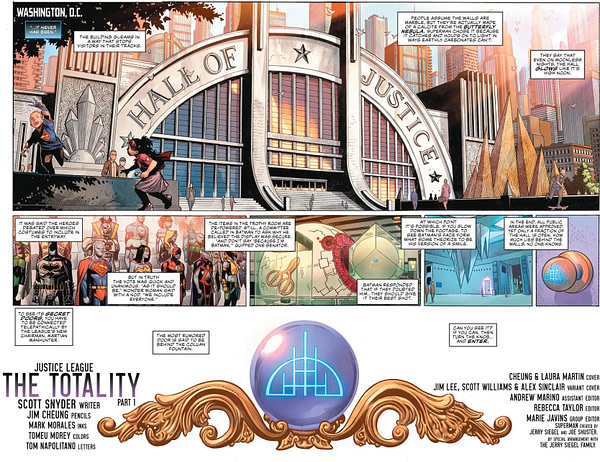 But as part of DC Rebirth,  the Justice League set up a new Hall of Justice on Earth to operate out of, in a clear reference to the original Super Friends design and function, including the addition of The Wonder Twins and a supercomputer. And a beacon for all that is positive, right and justice, and the target for those who wish all things to head towards doom.
Or is it? Two comics, published today, demonstrate that members of the Justice League themselves may be undermining this. Superman/Batman #2 sees the pair visiting the Halls Of Justice, and how Batman installed the security system.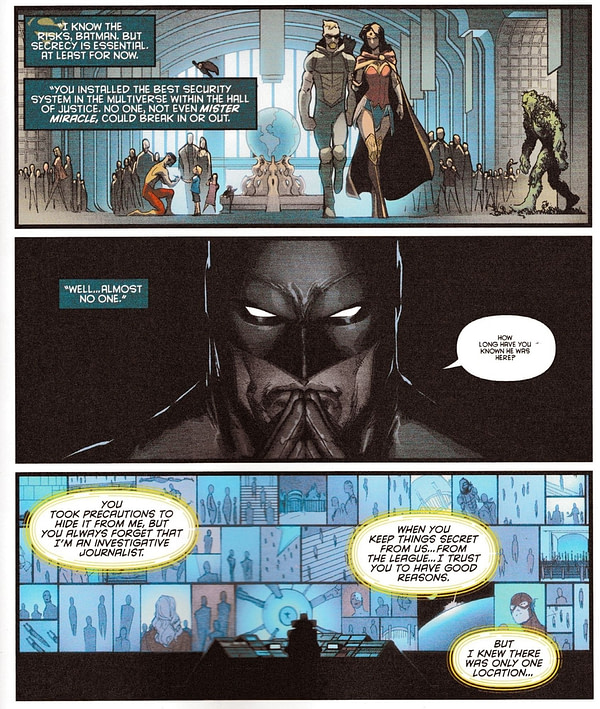 But that Superman knows the real secret that this security system has been built to conceal, to withstand, to hold.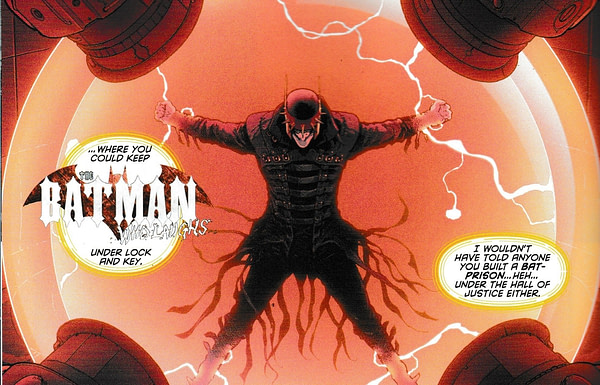 He's got the Batman Who Laughs down there. A Bat-Prison under the Hall of Justice. A Bat Dungeon. But it seems like he's not the only Justice Leaguer who has similar ideas. Justice League Dark also sees the team visiting the Hall Of Justice. And a cavern that Wonder Woman designed underneath it.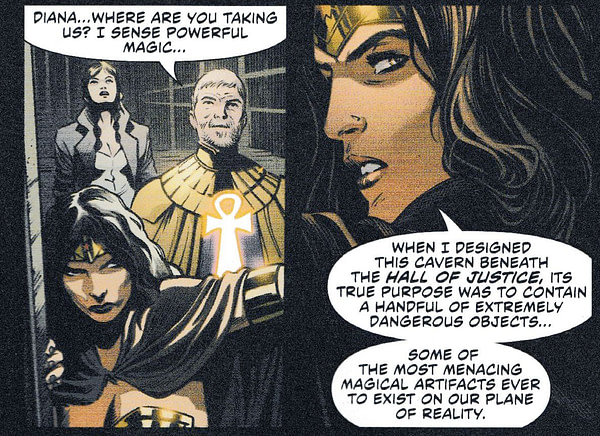 Which has lots of mystical doodads contained within it.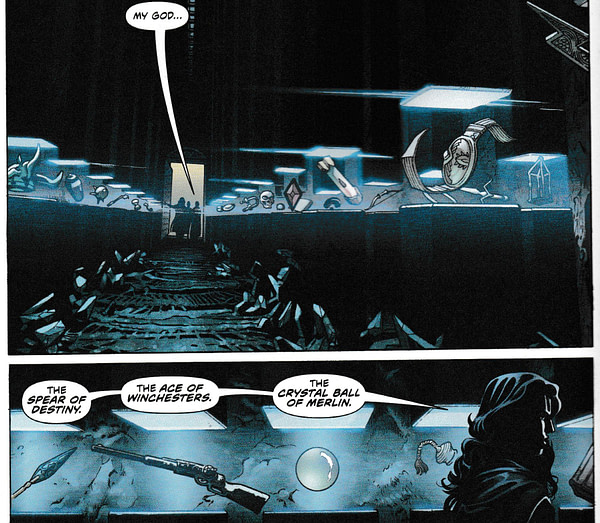 Ace Of Winchesters there, the rifle that can kill a demon, as seen in Hellblazer and Hitman…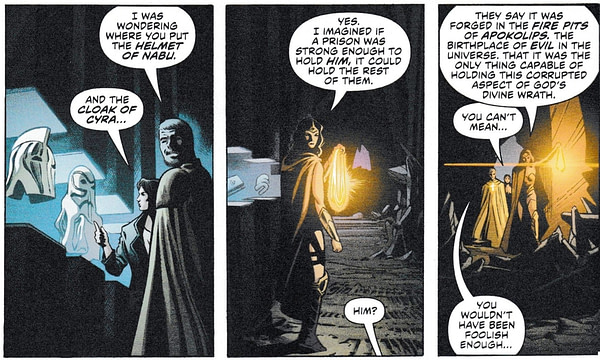 But also, a prison. A Wonder-Prison.A Wonder Dungeon. Just as secure as the other one.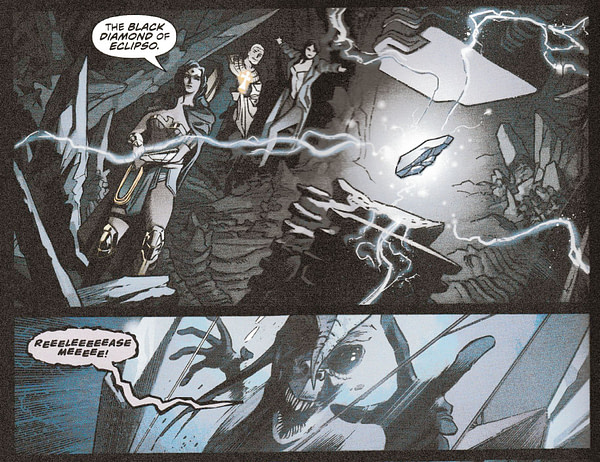 Okay, so. Did anyone consider that competing architectural plans in the same location, both containing very dangerous bad guys and a huge line-up of weapons. Was it really the best idea to have The Spear Of Destiny held next door to The Batman Who Laughs?
And doesn't it put all that fuss about Damian Wayne having his own little prison, into some kind of perspective? Either way, I'm not entirely sure Al Gmuer would approve…
JUSTICE LEAGUE DARK #15 YOTV
(W) James Tynion IV (A) Alvaro Martinez, Raul Fernandez (CA) Guillem March
The Floronic Man, Papa Midnite, Klarion the Witch Boy, Solomon Grundy…Circe has gathered her Injustice League Dark for a reason, and it is going to tear the world of magic apart! Just as Wonder Woman thought the realms of magic were back under control, a new witching war brought on by this unstoppable group of villains threatens to destroy everything. Can she find out what Circe is after, and stop her before it's too late?In Shops: Sep 25, 2019
SRP: $3.99

BATMAN SUPERMAN #2
(W) Joshua Williamson (A/CA) David Marquez
The Batman Who Laughs' plot is bigger than either the Caped Crusader or the Man of Steel realized. Following a showdown with the devious killer's first sentinel, a jacked-up, Dark Multiverse-infected Shazam!, the pair has to figure out who else has been targeted for similar transformations. Their first two guesses: someone very close to Batman and the one hero that would make failure nearly impossible-Superman himself!In Shops: Sep 25, 2019
SRP: $3.99