The new DC Giants hit Walmart this weekend. Everything but the Superman Giant #15 is no longer exclusive to Walmart, but will only reach the comic store market in a few weeks. Here's how they are all looking on the shelves.
Superman Giant #15 (with #16 confirmed as on the way next month).
Batman Giant #1
Villains Giant #1
Scooby-Doo Giant #1
Wonder Woman Giant #1
Flash Giant #1
Swamp Thing Giant #1
Ghosts Giant #1
We'll run the contents below. Outside of the Superman Giant, the Walmart versions list "Mass Market Edition" in their copyright.
The Superman Giant matches the look of the rest. Format-wise, they are exactly the same as the previous Giants. But be on the lookout for the new IT Chapter Two slime that is sitting on the shelf above the books… and remember what happened the last time they tried that in Walmart.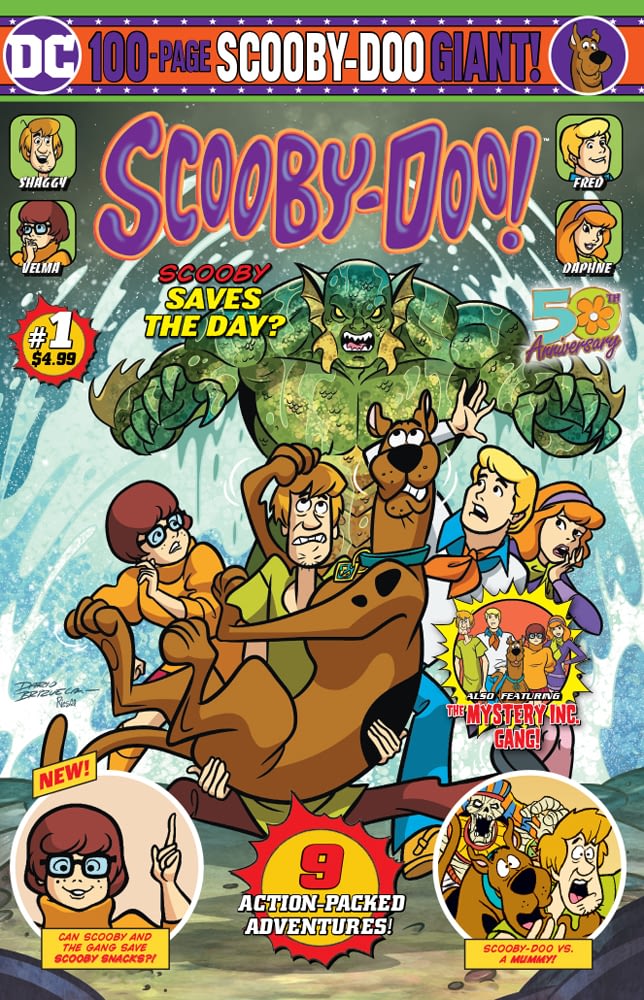 SCOOBY DOO 50TH ANNIVERSARY GIANT #1
New cover by Dario Brizuela
This issue includes three new stories:
o "Snack Attacked," a 10-page story written by Ivan Cohen with art by Dario Brizuela
Scooby and the gang must stop a group of monsters from shutting down the Scooby Snacks factory.
o "Now You See Them," a 10-page story written by Sholly Fisch with art by Dario Brizuela
One by one, the members of the Scooby gang are disappearing! Can Scooby solve this mystery alone?
o "Scooby's Last Rep," a 10-page story written and illustrated by Scott Gross
A mysterious giant is bringing chaos to a local gym. Can Scooby and the gang stop the giant and save the gym?
Plus, these reprint tales:
o "Tiki Taboo Trouble," from Scooby-Doo, Where Are You? #48
o "A World in Creep's Clothing," from Scooby-Doo, Where Are You? #48
o "Out of Line," from Scooby-Doo, Where Are You? #51
o "Over the Boardwalk," from Scooby-Doo, Where Are You? #54
o "I Want My Mummy," from Scooby-Doo, Where Are You? #71
o "Ghost Writers," from Scooby-Doo, Where Are You? #76
In Shops: Sep 25, 2019
Final Orders Due: Sep 09, 2019
SRP: $4.99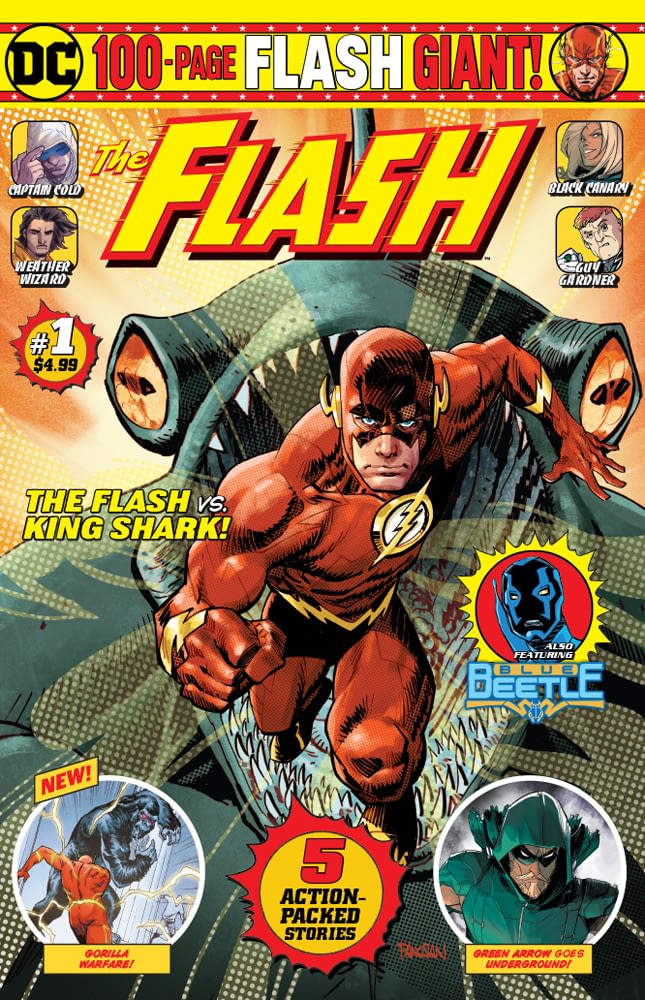 FLASH GIANT #1
New cover by Dan Panosian
This issue includes two new stories:
o "All the Teeth, Glittering and Sharp," a 16-page story written by Gail Simone with art by Clayton Henry
Barry Allen and Iris West take a vacation, but their relaxation is cut short when their cruise ship is attacked by King Shark! Can the Fastest Man Alive save a sinking cruise ship when there's no land in sight-or will he be fish food?
o "Perfect World," an eight-page story written by Jeff Parker with art by Miguel Mendonça
Gorilla Grodd takes control of the U.S. Senate and declares war on Canada! Only the Flash is fast enough to stop him-but will he be enthralled by Grodd and his desire to create the perfect world?
Plus, these reprint tales:
o "Gorilla Warfare Part One: King Grodd," from The Flash #13
o "Rebirth," from Green Arrow: Rebirth REBIRTH #1
o "Blue Monday," from Blue Beetle #1
In Shops: Oct 02, 2019
Final Orders Due: Sep 09, 2019
SRP: $4.99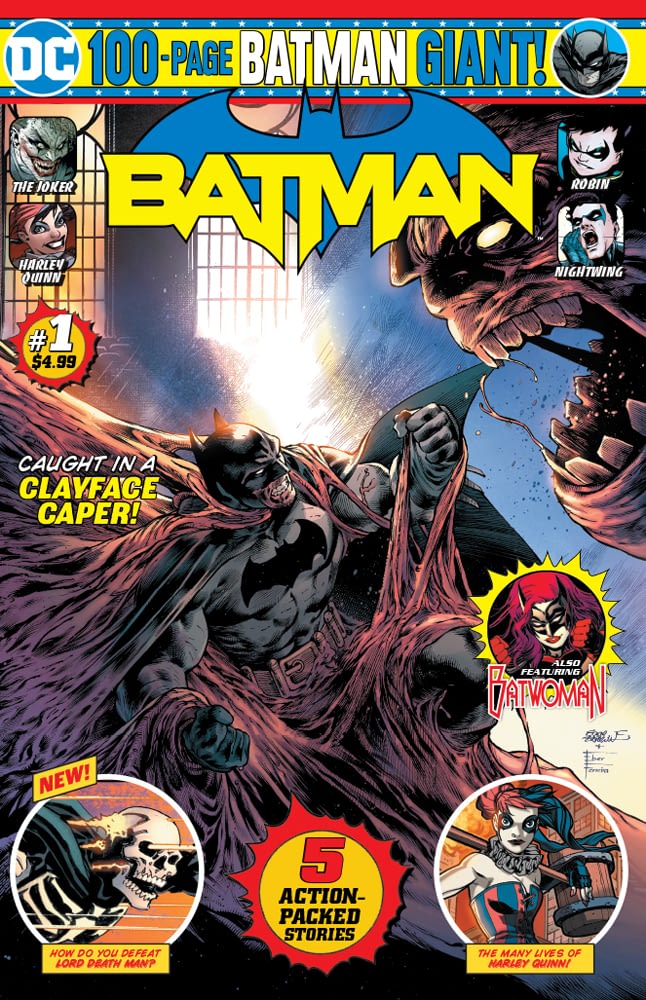 BATMAN GIANT #1
96 pages o $4.99 US
New cover by Eddy Barrows and Eber Ferreira
This issue includes two new stories:
o "Bad Actors," a 16-page story written by Michael Gray with art by Ryan Benjamin
It's a mad dash as Batman races to stop a murderous plan-but when the villain is revealed to be in two places at once, and the victim turns out to be not so innocent, Batman must make the ultimate choice in a fight against Clayface!
o "Unstoppable," an eight-page story written by Steve Orlando with art by Tom Mandrake
When Lord Death Man's prison satellite crashes to Earth in front of Wayne Tower, only Batwoman will be defeat the man who defeated death. But how can she overcome immortality when she's already used every weapon in her arsenal?
Plus, these reprint tales:
o "The Court of Owls: Knife Trick," from Batman #1
o "Harley Lives," from Detective Comics #23.2
o "Better than Batman Part one,' from Nightwing #1
In Shops: Oct 09, 2019
Final Orders Due: Sep 09, 2019
SRP: $4.99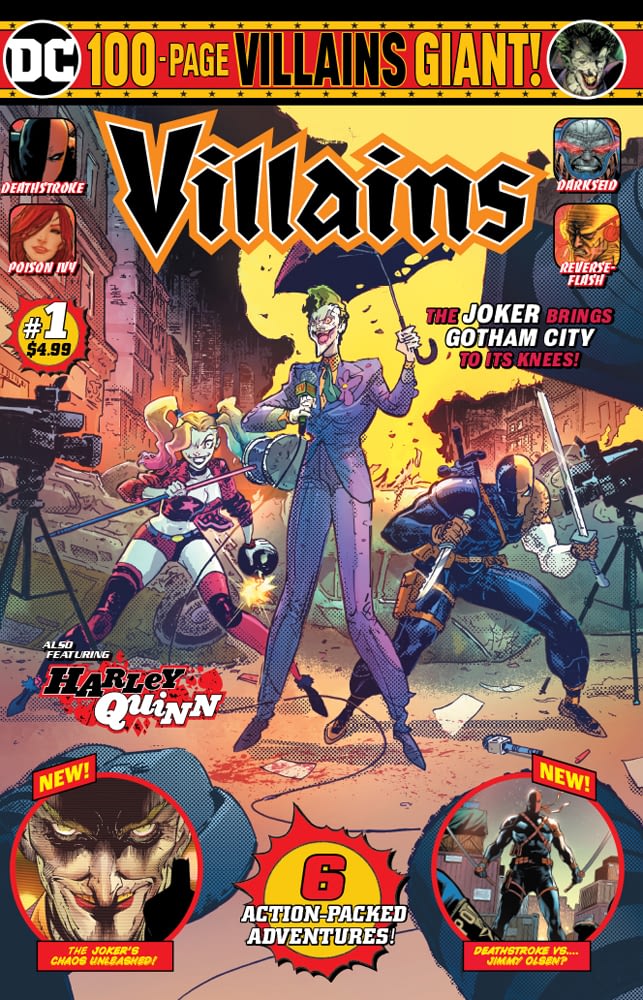 DC VILLAINS GIANT #1
New cover by Riley Rossmo
This issue includes three new stories:
o "Balyushka," a 16-page story written by Mark Russell with art by Viktor Bogdanovic
The Joker has the perfect plan to cause mass chaos in Gotham City, one so simple-and legal-not even Batman can stop it!
o "Bad News," an eight-page story written by Tom Taylor with art by Daniel Sampere
Deathstroke is hired to take out the only witness to a corrupt politician's mob ties, but his newest mark has some friends in high places…
o "The Lady or the Tiger," an eight-page story written by Gail Simone with art by Priscilla Petraites
Harley Quinn delivers some long-awaited justice on behalf of a woman who's been wrongfully imprisoned, but with a Harley twist. And by twist, we mean mallet.
Plus, these reprint tales:
o "Apotheosis," from Justice League #23.1
o "Reverse-Flash: Rebirth," from The Flash #8
o "Green Savior," from Secret Origins #10In Shops: Oct 09, 2019
Final Orders Due: Sep 09, 2019
SRP: $4.99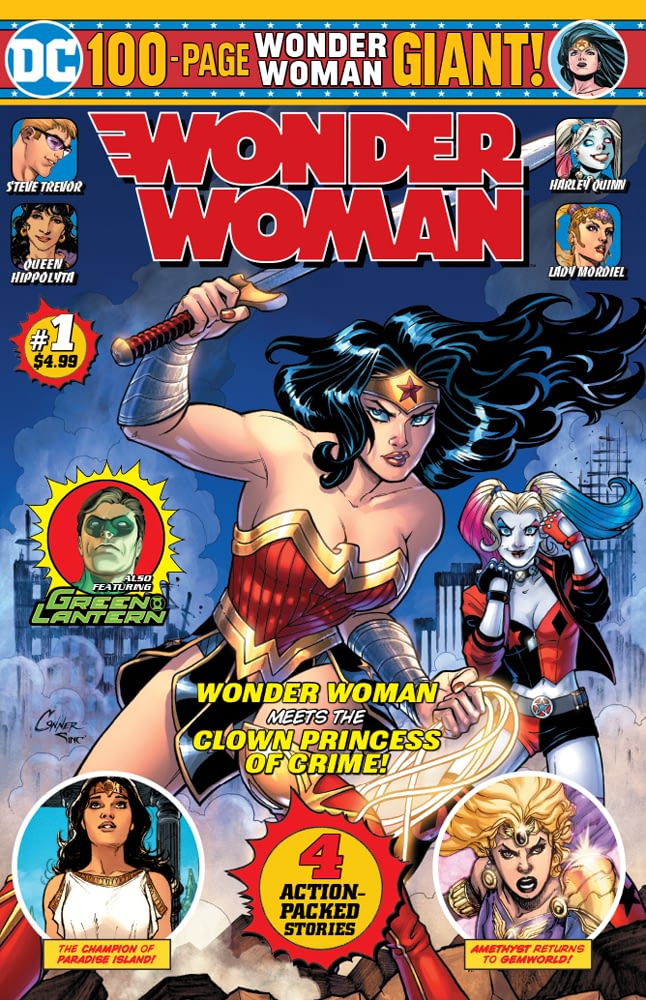 WONDER WOMAN GIANT #1
New cover by Amanda Conner
This issue includes one new story:
o "Commitment to Chaos," a 24-page story written by Amanda Conner and Jimmy Palmiotti with art by Inaki Miranda
During a run-in with a villainous crime syndicate, Wonder Woman learns about a hit list whose biggest target is a familiar name-Harley Quinn! Can the Champion of Paradise Island track down the Clown Princess of Crime before it's too late?
Plus, these reprint tales:
o "Year One Part One," from Wonder Woman #2
o "Secret Origin Part One," from Green Lantern #29
o "The Cataclysm Part One: Homecoming," from Sword and Sorcery #0In Shops: Oct 16, 2019
Final Orders Due: Sep 09, 2019
SRP: $4.99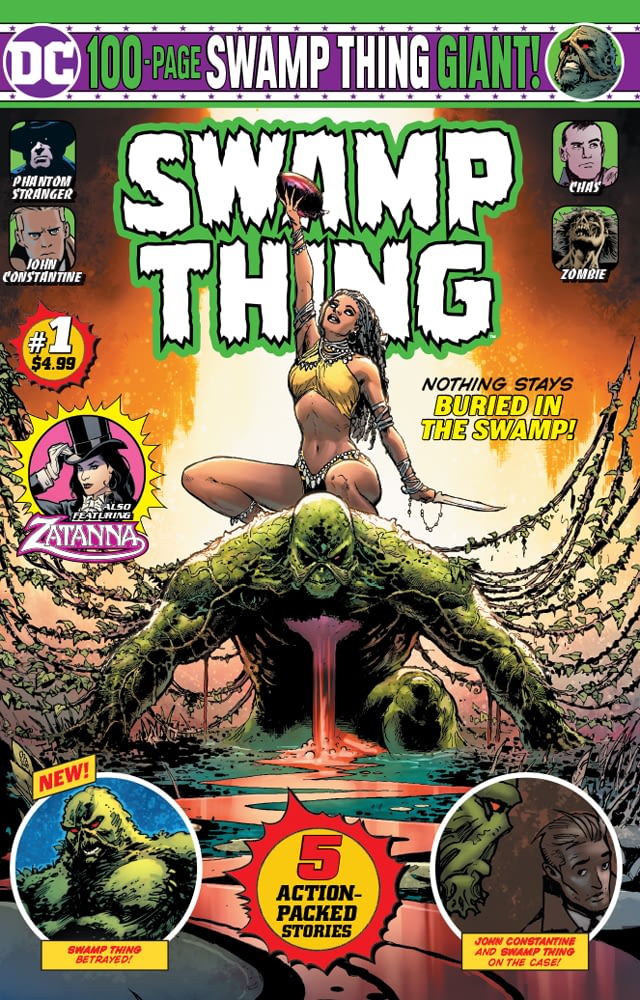 SWAMP THING GIANT #1
New cover by Doug Mahnke
This issue includes two new stories:
o "The Beet Goes On," a 16-page story written by Mark Russell with art by Marco Santucci
The Sunderland Corporation has a new plan to trap and exploit Swamp Thing. With enemies surrounding him, who can Swamp Thing trust?
o "Kind," a new eight-page story written by Andrew Constant with art by Tom Mandrake
Plus, these reprint tales:
o "The Dead Don't Sleep," from Swamp Thing #1
o "The Poison Truth Part One," from John Constantine, The Hellblazer #1
o "EveileB Ni Cigam," from Zatanna #1In Shops: Oct 23, 2019
Final Orders Due: Sep 09, 2019
SRP: $4.99
AQUAMAN GIANT #1
New cover by Liam Sharp
This issue includes two new stories:
o "Aquaman Vs. Black Manta," a 16-page story written by Steve Orlando with art by Daniel Sampere
o "Attacked by Scorpio," an eight-page story written by Marv Wolfman with art by Pop Mhan
Plus, these reprint tales:
o "Throne of Atlantic: Prologue," from Aquaman #14
o "A Queen in Exile," from Mera: Queen of Atlantis #1
o "The Rise of Aqualad Part One," from Teen Titans #6In Shops: Oct 30, 2019
Final Orders Due: Sep 09, 2019
SRP: $4.99
DC GHOSTS GIANT #1
New cover by Kaare Andrews
This issue includes three new stories:
o "Shop of Nightmares," a 16-page story written by Dan Jurgens with art by Scot Eaton
Jim Corrigan investigates what appears to be a run-of-the-mill murder, but when he discovers the supernatural is at play, it becomes a job for the Spectre!
o "Child of the Night," an eight-page story written by Keith Giffen with art by Priscilla Petraites
A young girl on the run finds more than she bargained for when she takes cover in a house occupied by none other than Gentleman Ghost!
o "The Ghost Inside," an eight-page story written by John Layman with art by Andy Clarke
John Constantine discovers that nothing is ever what it seems, even inside a haunted house…
Plus, these reprint tales:
o "Gorehound," from Cursed Comics Cavalcade #1
o "Strange Visitor," from Cursed Comics Cavalcade #1
o "A Night to Remember," from DCU Halloween Special #1
o "Mercy Killing," from Curse Comics Cavalcade #1
o "Blackest Day," from DC House of Horror #1
o "Halloween Hayride," from Cursed Comics Cavalcade #1In Shops: Oct 30, 2019
Final Orders Due: Sep 09, 2019
SRP: $4.99
TEEN TITANS GO GIANT #1
New cover by Marcelo DiChiara
This issue includes two new stories:
o "The Hic You Say," a 16-page story written by Sholly Fisch with art by Marcelo DiChiara in which Kory gets the hiccups
o "Fan Favorites," an eight-page story written by Ivan Cohen with art by Sarah Leuver, in which Beast Boy is elected most popular hero.
Plus reprint tales from Teen Titans Go! #1-3In Shops: Nov 06, 2019
Final Orders Due: Sep 09, 2019
SRP: $4.99
DC SUPER HERO GIRLS GIANT #1
New cover by Yancy Labat
This issue includes two new stories:
o "Panic at the Disco," a 16-page story written by Amanda Deibert with art by Erich Owen
It's time for the greatest teenage tradition of them all: the school formal! But when Livewire attacks and sets everyone's toes a-tapping, the girls will have to put their dancing shoes to make it through the night!
o "Harvest Festival," an eight-page story written by Amy Wolfram with art by Agnes Garbowska
The girls are excited about this year's Fall Festival, but Harley Quinn has other plans! Will Bumblebee be able to stop her and keep the pumpkins from flying?
Plus reprint chapters from DC Super Hero Girls: Hits and Myths, DC Super Hero Girls: Summer Olympus, and DC Super Hero Girls: Past Times at Super Hero HighIn Shops: Nov 13, 2019
Final Orders Due: Sep 09, 2019
SRP: $4.99