Fantasy Flight Games just announced an epic pair of releases for Star Wars: Legion that may adjust the mechanics of the game for the better. Luke Skywalker and Darth Vader may already exist in the game, but two upcoming Operative Expansions will change the way players field these iconic characters.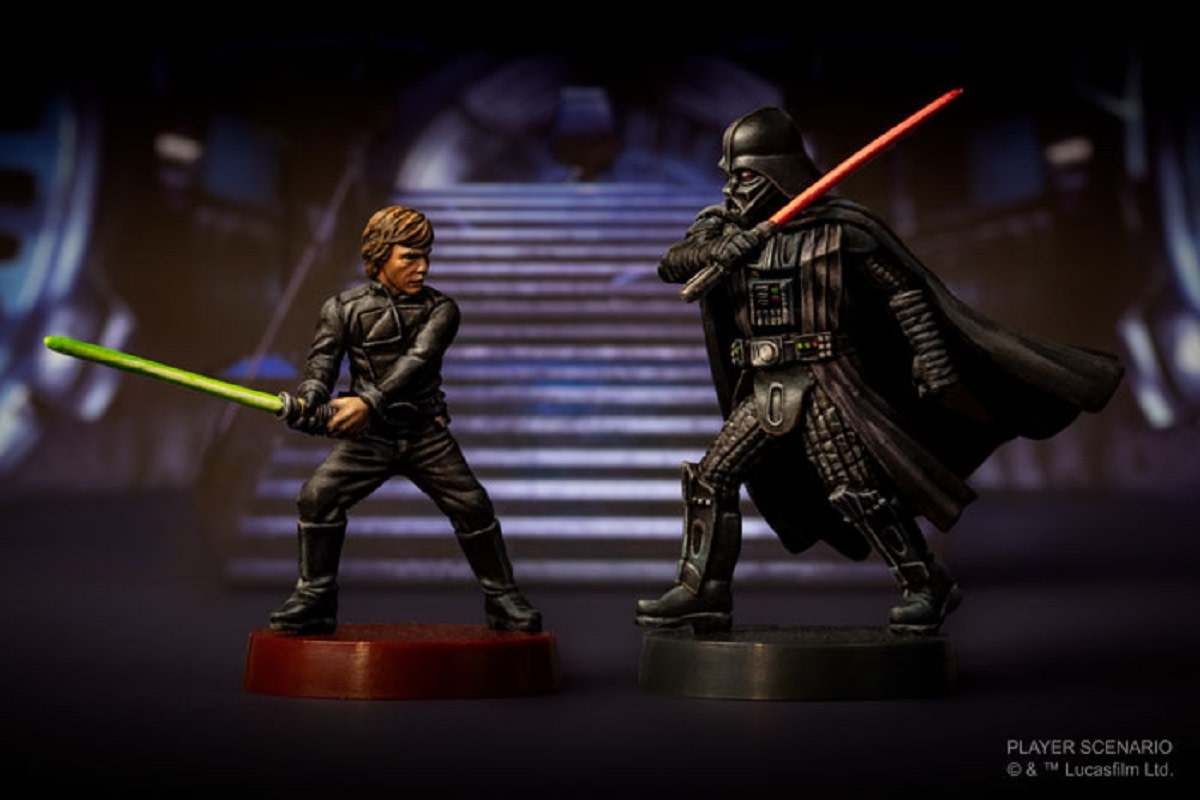 Previously, Star Wars: Legion players could field Luke and Vader as commanders for their respective forces, and for a long, long time, those two characters were the only command options available. This led to a bit of a burn-out phase for a lot of the players that signed on to play the game from launch, since each battle pretty much came down to whether or not your troopers could whittle away at Luke or Vader's health before they got into yet another Skywalker family slap-fight.
The addition of new commanders went a long way towards correcting this, and made it so you could even field an army that doesn't feature force users at all. Battles with Han Solo and Princess Leia facing off against General Veers and Orson Krennic are a lot of fun, and operative packs make it so you can bring bounty hunters, Chewbacca, or even Sabine Wren into the fight as non-command heavy hitters.
The newest Operative Expansions announced for Star Wars: Legion will bring Luke Skywalker and Darth Vader back to the game, with new sculpts and new game profiles. Luke will be presented for the first time in his Jedi Knight outfit from The Return of the Jedi, and Vader will be lumbering onto game tables with an aggressive new pose and cool new game mechanics.
Taking a look at Luke first, we're getting a 200 point hero that can bolster rebel armies. Since this version of Luke is an Operative, he can't lead or command forces, instead acting as a lone agent on the board. And really, that's kind of what Luke is all about on the ground, right? Also, since this Luke doesn't go against your two commander maximum, it would be possible to field Han, Leia, Luke, and Chewbacca in the same army, which should look pretty great on the game table.
The new Darth Vader Operative Expansion for Star Wars: Legion brings a the Dark Lord of the Sith to life with a new 170 point version of the character. His hits are a little less powerful, and he has a courage profile, too, so suppression can affect him in battle now. These changes thematically fit the Darth Vader from The Return of the Jedi, as Anakin finds himself doubting his place in the galaxy before ultimately turning on Emperor Palpatine.
Both of these Operative Expansions for Star Wars: Legionfrom Fantasy Flight Games are available to pre-order from your favorite game store, and should be released during the last few months of 2019.
Enjoyed this article? Share it!