Though their creators get pretty mad when other website spoil their comics, Marvel itself has no problems spoiling its own comics in outlets like the New York Times if it suits them. That hypocritical attitude sets a bad example, and now Marvel's own characters are getting into the spoiler game, as we see in this preview of War of the Realms #6. It starts with someone narrating the situation of Thor in the present…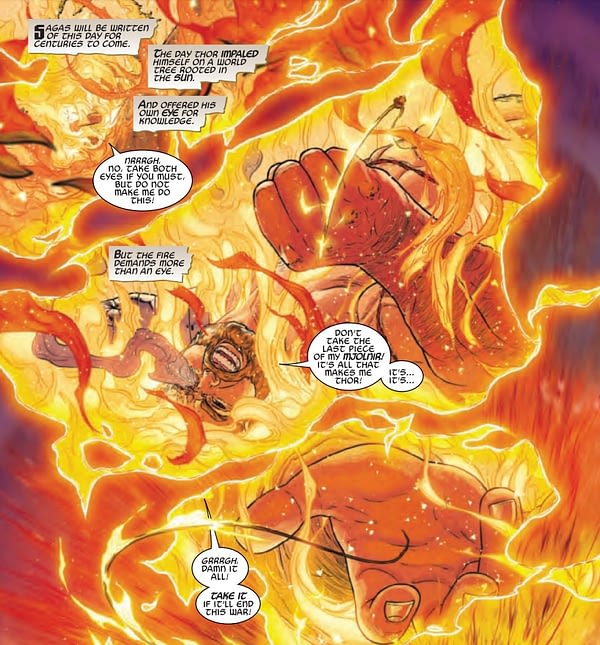 And as it turns out…

The narration is taking place in the future, with Thor's granddaughters reading it out of a book. That's right, it's a book full of spoilers!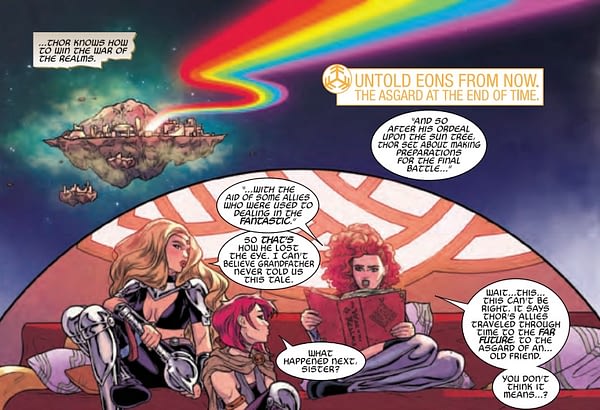 Thankfully, before they can spoil anything else, some heroes arrive from the past to recruit King Thor, armed with millennia worth of spoilers, to save the day.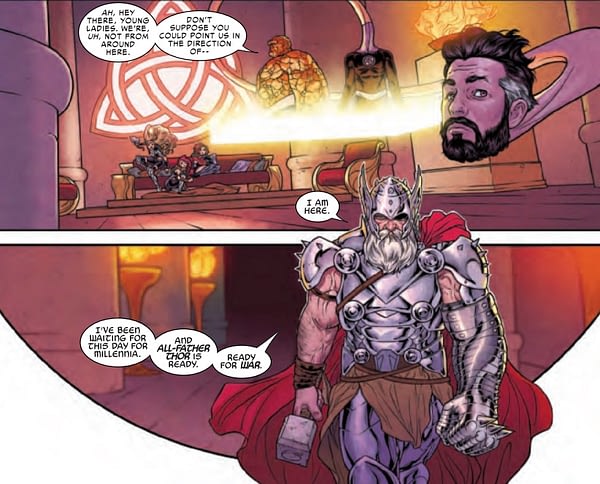 War of the Realms #6 hits stores on Wednesday.
WAR OF REALMS #6 (OF 6) WR
APR190726
(W) Jason Aaron (A) Russell Dauterman (CA) Arthur Adams
THE WORLD'S SHATTERING CONCLUSION OF WAR OF THE REALMS!
The tides begin to turn as unexpected allies appear in a twist that will shake the heavens! Malekith's allies are faltering at last before the might of all Earth's heroes, but the Dark Elf King has one final trick – and it's got a VENOMOUS bite! Out of options, the God of Thunder makes a sacrifice that will leave him forever changed. But will it be enough? And what heroes may fall in his wake? Midgard's fate is sealed as Jason Aaron's years-long saga comes to its epic conclusion!
Rated T+
In Shops: Jun 26, 2019
SRP: $5.99
(Last Updated
June 23, 2019 10:13 am
)
Related Posts
None found