Acts of Evil, the Marvel Summer annual event rehashing the concept of the classic Acts of Vengeance crossover, is wrapping up this September with three previously-announced annuals: Spider-Gwen: Ghost Spider, Wolverine, and Moon Knight. Marvel sent out a press release today with the covers for all three issues, and simultaneously released longer descriptions of each issue on their website. We've gathered it together below:
New York, NY—June 17, 2019—The melee is on as ACTS OF EVIL enters its final round! Modeled after the 1989-90 fan-favorite storyline Acts of Vengeance, ACTS OF EVIL pits Marvel mainstays against mismatched and unexpected foes, and this September, Ghost-Spider, Wolverine and Moon Knight will be the ones battling for their lives!

Spanning eight Annuals across three months, ACTS OF EVIL kicks off this July, with Venom: Eddie Brock, Ms. Marvel and The Punisher squaring off against extraterrestrial power players Lady Hellbender, the Super-Skrull and the Brood Queen! And it's Deadpool Vs. Nightmare, plus She-Hulk Vs. Bullseye the following month!

This September, the opposition's just as strange! Ghost-Spider: Gwen Stacy scrambles through Arcade's Murderworld, facing a tower of terror as she takes on some of the deadliest Marvel villains! Then, Moon Knight's up to bat against Avengers menace Kang the Conqueror! And Khonshu's avatar must find a way to fix the time stream before Kang fulfills an ancient grudge! Finally, it's berserker strength vs. magical mayhem, as Wolverine takes on sorceress Morgan le Fay…in 1930s Hollywood!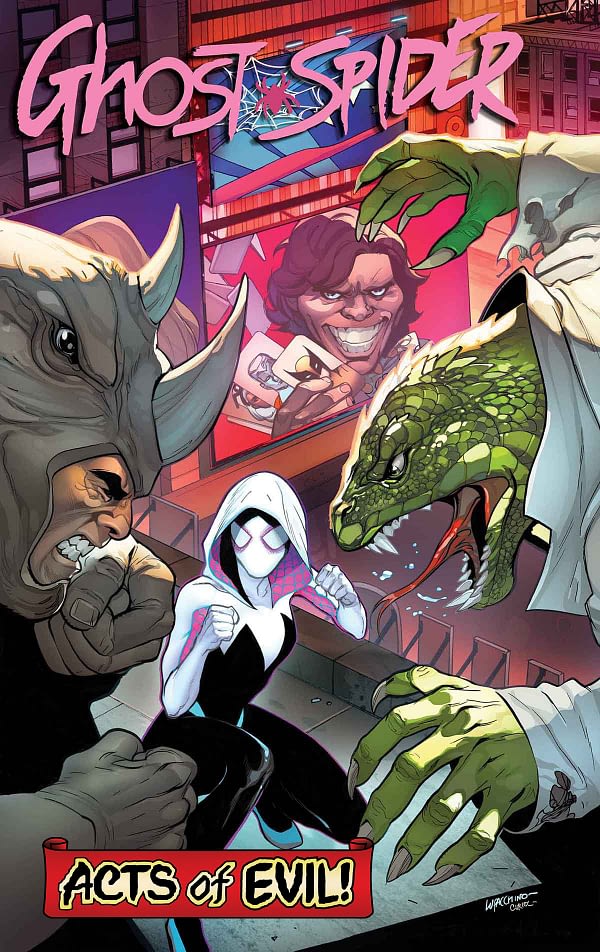 GHOST-SPIDER ANNUAL #1
Written by VITA AYALA
Art by PERE PEREZ
Cover by EMA LUPACCHINO
Written by Vita Ayala with art by Pere Perez, GHOST-SPIDER ANNUAL #1 finds Gwen Stacy trying to balance her social life with her hero life in the 616, natch. But what will she do when she comes face-to-face with Arcade's Murderworld?! It's a tower of terror as Gwen takes on some of the most classic⁠—and DEADLY⁠—villains of the Marvel Universe!
MOON KNIGHT ANNUAL #1
Written by CULLEN BUNN
Art by IBRAHIM MOUSTAFA
Cover by PHILIP TAN
Penned by Cullen Bunn with pencils by Ibrahim Moustafa, Kang the Conqueror battles Marc Spector, AKA Moon Knight! In MOON KNIGHT ANNUAL #1, the time-traveling villain has found a way to rewrite history in his own image… But when the chance to settle an ancient grudge against the Egyptian god, Khonshu, tempts Kang, the process is interrupted and time and reality quickly go haywire.
Now, Khonshu's avatar, Moon Knight, must find a way to fix the time stream before Kang is able to complete his goal! But with time acting erratically, there's no telling where Moon Knight will end up—or WHEN!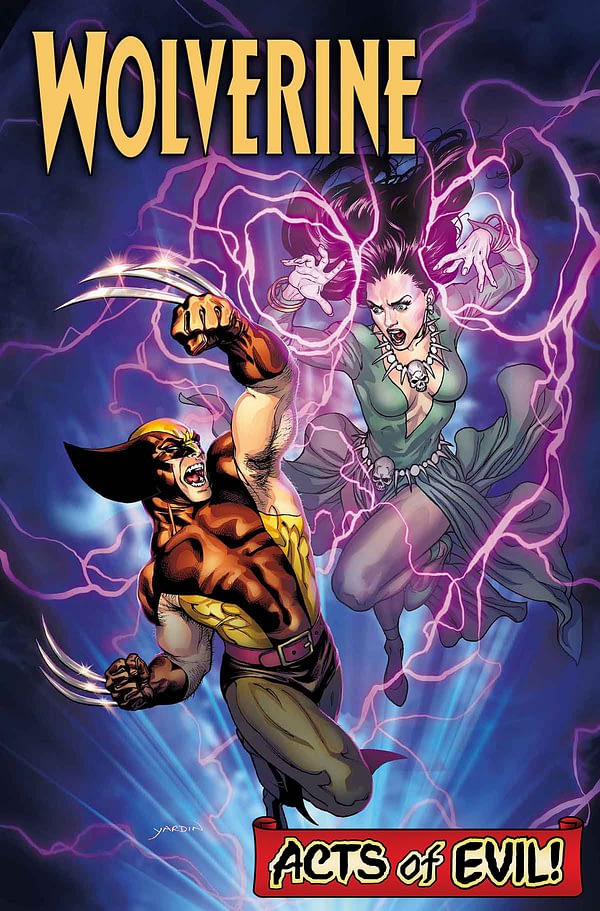 WOLVERINE ANNUAL #1
Written by JODY HOUSER
Art by GERALDO BORGES
Cover by DAVID YARDIN
And finally… Wolverine battles the magic, mystery, and mayhem of Morgan Le Fay in WOLVERINE ANNUAL #1!
Written by Jody Houser with art by Geraldo Borges, the Canucklehead follows an aspiring young actress to Los Angeles for a little sunshine and some semblance of a normal life. But behind the gilded golden façade of 1930s Hollywood lurks an unholy cult led by the sorceress called Morgan Le Fay! And their prey is young Hollywood hopefuls—including Logan's lady!
Will the mighty Logan's claws crumble under the onslaught of the arcane sorceress' magical powers? Find out this September!
Enjoyed this article? Share it!