April 2019 marketshare, released by Diamond a couple of weeks after the March marketshare, saw Marvel Comics take over 50% of the marketshare for sales numbers for that month. May still sees Marvel in the marketshare lead, but the gap is narrowed, even as Marvel continues to publish many more titles than DC Comics.
In March, Marvel had a 40.94% market share in items sold and a 34.46% market share in dollars, compared to DC's 34% unit share and a 36.20% dollar share, with a Detective Comics #1000 in their bag,
In April, Marvel had consolidated with a unit share of 50.70% and a dollar share of 45.50% compared to DC's 25.89% unit share and a 24.73% dollar share. It was a rout.
In May, it's back closer to March numbers, with Marvel having a unit share of 39.75% and a dollar share of 40.46% against DC Comics' 38.58% unit share and 28.22% dollar share. The impact of the DC Year Of The Villain at 25 cents an issue can be seen in an increased unit share but far lower dollar count.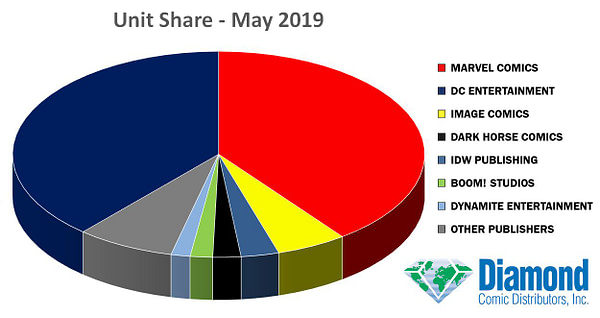 Because of its low price, it isn't counted on Diamond's chart sales statistics, however, which is how DCeased #1 tops the charts, still a surprisingly strong performance. I'm going to add Year Of The Villain to the charts below where I can…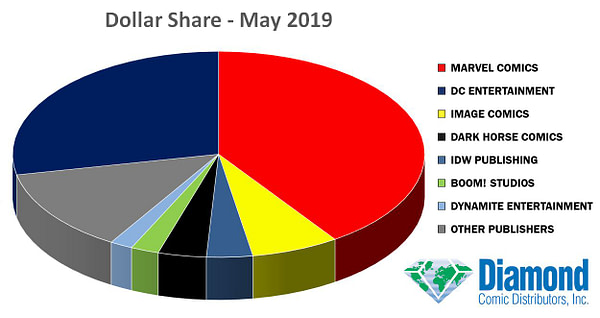 Overall though, May's numbers were down where they should have been. Upon April, sure, with a 24.51% increase in dollars and a 16.35% increase in units sold, but that was a four week compared to a five-week month. Compared to May 2018, also a five-week month, dollars were down 4.15% and unit sales were down 4.38%. Which means, for a year which was beginning to turn things around, year on year from January to May 2019 compared to 2018, dollars raised are down 0.66% and sales numbers are down 5.18%. This is not great.
Image Comics are on a relative slump, have seen their usual ten per cent share drop to a 7.93% dollar share and a 7.60% unit share in April and further to a 6.88% dollar share and a 5.53% unit share in May. Dark Horse Comics and IDW share fourth and fifth place, as Dark Horse makes some recovery from their April 2.89% dollar share and 1.92% unit share rising toa 3.78% dollar share and 2.19% unit share as  IDW Publishing see their April 3.26% dollar share and 2.76% unit share, rising to 3.61% dollar share and a 2.98% unit share. BOOM! Studios had a slight increase in April with a 2.46% dollar share and a 2.75% unit share, but falling back in May with a 2.21% dollar share and a 1.76% unit share. And Dynamite Entertainment with a 1.71% dollar share and a 1.53% unit share in April, are pretty much level pegging in May with a 1.78% dollar share and a 1.50% unit share.
So yes, if you include the excluded Year Of The Villain, DC has the top four with Year Of The Villain #1, DCeased #1, Batman: Last Knight On Earth #1 and Doomsday Clock #10. Promotional discounts saw Savage Avengers #1 beat Batman Who Laughs #5 to the next place, but if you look at dollars raised by the same-priced titles, The Batman Who Laughs beats Savage Avengers.
And, yes, event and launch issues aside, regular issues of Immortal Hulk are still outselling Batman. It was not a one-off. But this is the kind of thing that enabled DC editorial to be able to justify dropping Tom King from Batman.
Aside from the top ten, Image Comics' The Walking Dead #191 ranked #27; Dark Horse Comics' Stranger Things: Six #1 ranked #82; BOOM! Studios' Firefly #6 ranked #98; Dynamite Entertainment's Red Sonja and Vampirella Meet Betty & Veronica #1,  ranked #107; and IDW Publishing's Transformers #4 ranked #156.
Lauren Myracle and Issac Goodhart's Under the Moon: A Catwoman Tale, an original graphic novel from DC's DC Ink imprint, was May's best-selling graphic novel.
VIZ Media's My Hero Academia: School Briefs Volume 1 was May's best-selling book.
1000 Toys' Hellboy: Standard Version 1/12-Scale Figure was May's best-selling toy.
Paizo Publishing's Starfinder RPG Beginner Box, an introductory set to the space opera role-playing game, was May's best-selling game product.
TOP COMIC BOOK PUBLISHERS
PUBLISHER

DOLLAR

SHARE

UNIT

SHARE

MARVEL COMICS

40.46%

39.75%

DC COMICS

28.22%

38.58%

IMAGE COMICS

6.88%

5.53%

DARK HORSE COMICS

3.78%

2.19%

IDW PUBLISHING

3.61%

2.98%

BOOM! STUDIOS

2.21%

1.76%

VIZ MEDIA

1.84%

0.65%

DYNAMITE ENTERTAINMENT

1.78%

1.50%

ONI PRESS

0.84%

0.56%

TITAN COMICS

0.67%

0.49%

OTHER NON-TOP 10

9.72%

9.72%
 COMPARATIVE SALES STATISTICS
DOLLARS

UNITS

MAY 2019 VS. APRIL 2019

COMICS

15.60%

14.51%

GRAPHIC NOVELS

50.97%

44.63%

TOTAL COMICS/GN

24.51%

16.35%

TOYS

27.91%

46.27%

MAY 2019 VS. MAY 2018

COMICS

-7.81%

-4.30%

GRAPHIC NOVELS

5.36%

-5.36%

TOTAL COMICS/GN

-4.15%

-4.38%

TOYS

40.65%

40.25%

YEAR TO DATE 2019 VS. YEAR TO DATE 2018

COMICS

-0.45%

-5.12%

GRAPHIC NOVELS

-1.21%

-5.94%

TOTAL COMICS/GN

-0.66%

-5.18%

TOYS

23.04%

30.09%
NEW TITLES SHIPPED
PUBLISHER

COMICS SHIPPED

GRAPHIC NOVELS SHIPPED

MAGAZINES SHIPPED

TOTAL

SHIPPED

MARVEL COMICS

118

36

0

154

DC COMICS

60

33

0

93

IMAGE COMICS

38

23

0

61

IDW PUBLISHING

37

18

0

55

DARK HORSE COMICS

22

30

0

52

VIZ MEDIA

0

45

0

45

BOOM! STUDIOS

22

13

0

35

DYNAMITE ENTERTAINMENT

19

4

0

23

TITAN COMICS

10

6

2

18

ONI PRESS

9

5

0

14

OTHER NON-TOP 10

151

190

27

368

TOTAL

486

403

29

918
TOP 10 COMIC BOOKS BY UNITS SHIPPED
| | | | | |
| --- | --- | --- | --- | --- |
| RANK | DESCRIPTION | PRICE | ITEM CODE | VENDOR |
| 1 | DCEASED #1 | $3.99 | MAR190464-M | DC |
| 2 | DOOMSDAY CLOCK #10 | $4.99 | JAN190585-M | DC |
| 3 | BATMAN: LAST KNIGHT ON EARTH #1 (MR) | $5.99 | MAR190458-M | DC |
| 4 | SAVAGE AVENGERS #1 | $4.99 | MAR190757-M | MAR |
| 5 | THE BATMAN WHO LAUGHS #5 | $4.99 | MAR190495-M | DC |
| 6 | AMAZING SPIDER-MAN #21 | $3.99 | MAR190831-M | MAR |
| 7 | THE IMMORTAL HULK #17 | $3.99 | MAR190845-M | MAR |
| 8 | BATMAN #70 | $3.99 | MAR190487-M | DC |
| 9 | BATMAN #71 | $3.99 | MAR190489-M | DC |
| 10 | AMAZING SPIDER-MAN #22 | $3.99 | MAR190835-M | MAR |
TOP 10 COMIC BOOKS BY DOLLARS INVOICED
| | | | | |
| --- | --- | --- | --- | --- |
| RANK | DESCRIPTION | PRICE | ITEM CODE | VENDOR |
| 1 | DCEASED #1 | $3.99 | MAR190464-M | DC |
| 2 | BATMAN: LAST KNIGHT ON EARTH #1 (MR) | $5.99 | MAR190458-M | DC |
| 3 | DOOMSDAY CLOCK #10 | $4.99 | JAN190585-M | DC |
| 4 | THE BATMAN WHO LAUGHS #5 | $4.99 | MAR190495-M | DC |
| 5 | SAVAGE AVENGERS #1 | $4.99 | MAR190757-M | MAR |
| 6 | THE IMMORTAL HULK #17 | $3.99 | MAR190845-M | MAR |
| 7 | AMAZING SPIDER-MAN #21 | $3.99 | MAR190831-M | MAR |
| 8 | WAR OF REALMS #3 | $4.99 | MAR190765-M | MAR |
| 9 | WAR OF REALMS #4 | $4.99 | MAR190773-M | MAR |
| 10 | BATMAN #70 | $3.99 | MAR190487-M | DC |
TOP 10 GRAPHIC NOVELS & TRADE PAPERBACKS BY UNITS SHIPPED
| | | | | |
| --- | --- | --- | --- | --- |
| RANK | DESCRIPTION | PRICE | ITEM CODE | VENDOR |
| 1 | UNDER THE MOON: A CATWOMAN TALE TP | $16.99 | JAN190554 | DC |
| 2 | THE UMBRELLA ACADEMY VOL. 1: THE APOCALYPSE SUITE TP | $17.99 | SEP108136 | DAR |
| 3 | MIDDLEWEST BOOK 1 TP (MR) | $9.99 | MAR190092-M | IMA |
| 4 | THE UMBRELLA ACADEMY VOL. 2: DALLAS TP | $17.99 | DEC098005 | DAR |
| 5 | EAST OF WEST VOL. 9 TP | $16.99 | FEB190059 | IMA |
| 6 | DC SUPER HERO GIRLS: SPACED OUT TP | $9.99 | JAN190555 | DC |
| 7 | THE IMMORTAL HULK VOL. 3: HULK IN HELL TP | $15.99 | FEB190998 | MAR |
| 8 | LEGEND OF KORRA PART 1: RUINS OF EMPIRE TP | $10.99 | JAN190482 | DAR |
| 9 | RAT QUEENS VOL. 6: INFERNAL PATH TP (MR) | $16.99 | MAR190119 | IMA |
| 10 | SAGA DELUXE EDITION VOL. 3 HC (MR) | $49.99 | MAR190127 | IMA |
TOP 10 GRAPHIC NOVELS & TRADE PAPERBACKS BY DOLLARS INVOICED
| | | | | |
| --- | --- | --- | --- | --- |
| RANK | DESCRIPTION | PRICE | ITEM CODE | VENDOR |
| 1 | AMAZING SPIDER-MAN OMNIBUS VOL. 4 HC | $125.00 | NOV181004-M | MAR |
| 2 | SAGA DELUXE EDITION VOL. 3 HC (MR) | $49.99 | MAR190127 | IMA |
| 3 | AMAZING SPIDER-MAN BY J. MICHAEL STRACZYNSKI OMNIBUS VOL. 1  HC | $125.00 | NOV181006 | MAR |
| 4 | THE UMBRELLA ACADEMY VOL. 1: THE APOCALYPSE SUITE TP | $17.99 | SEP108136 | DAR |
| 5 | UNDER THE MOON: A CATWOMAN TALE TP DC INK | $16.99 | JAN190554 | DC |
| 6 | THE UMBRELLA ACADEMY VOL. 2: DALLAS TP | $17.99 | DEC098005 | DAR |
| 7 | EAST OF WEST VOL. 9 TP | $16.99 | FEB190059 | IMA |
| 8 | SIX DAYS: THE INCREDIBLE STORY OF D-DAY'S LOST CHAPTER HC | $24.99 | FEB190468 | DC |
| 9 | ABSOLUTE BATMAN: THE BLACK MIRROR HC | $99.99 | AUG180594 | DC |
| 10 | BATMAN: WHITE KNIGHT HC | $29.99 | JAN198939 | DC |
TOP 10 BOOKS BY UNITS SHIPPED
| | | | | |
| --- | --- | --- | --- | --- |
| RANK | DESCRIPTION | PRICE | ITEM CODE | VENDOR |
| 1 | MY HERO ACADEMIA: SCHOOL BRIEFS VOL. 1 SC | $10.99 | FEB192175 | VIZ |
| 2 | LULU IS A RHINOCEROS | $16.99 | FEB188267 | WIC |
| 3 | DOCTOR WHO: SCRATCHMAN HC | $23.99 | DEC181681 | PEN |
| 4 | OVERLORD VOLUME 10 HC (MR) | $20.00 | MAR192224 | YEN |
| 5 | BLOODBORNE: OFFICIAL ARTWORKS SC | $44.99 | MAR172148 | UDO |
| 6 | TALES OF THE LOST CITADEL PROSE ANTHOLOGY SC | $15.99 | JAN193197 | GRE |
| 7 | THE SHADOW DOUBLE NOVEL VOL. 141 SC | $14.95 | FEB191942 | SAN |
| 8 | AVENGERS ENDGAME: OFFICIAL MOVIE SPECIAL HC | $19.99 | JAN192125 | TTN |
| 9 | DOCTOR WHO: 13 DOCTORS 13 STORIES SC | $17.99 | DEC181677 | PEN |
| 10 | DOCTOR WHO: THE WOMEN WHO LIVED HC | $23.99 | FEB188707 | PEN |
TOP 10 TOYS BY DOLLARS INVOICED
| | | | |
| --- | --- | --- | --- |
| RANK | DESCRIPTION | ITEM CODE | VENDOR |
| 1 | HELLBOY: STANDARD VERSION 1/12-SCALE FIGURE | MAY189233 | 100 |
| 2 | POP! MARVEL: SPIDER-PUNK VINYL FIGURE | SEP188215 | FUN |
| 3 | MARVEL SELECT: ROGUE ACTION FIGURE | SEP182338 | DST |
| 4 | MARVEL GALLERY: SPIDER-MAN COMIC PVC FIGURE | SEP182341 | DST |
| 5 | DC COVER GIRLS: WONDER WOMAN BY JOELLE JONES STATUE | OCT180633 | DC |
| 6 | DARK KNIGHTS METAL: BATMAN THE DAWNBREAKER STATUE | OCT180626 | DC |
| 7 | MARVEL SELECT: JUGGERNAUT ACTION FIGURE | JUN101512 | DST |
| 8 | DC GALLERY METAL: THE RED DEATH PVC FIGURE | OCT182228 | DST |
| 9 | ONE-12 COLLECTIVE: MARVEL: BLADE ACTION FIGURE | MAR188185 | MEZ |
| 10 | BATMAN BLACK & WHITE STATUE: WHITE KNIGHT JOKER BY SEAN MURPHY | NOV180600 | DC |
TOP 10 GAMES BY DOLLARS INVOICED
| | | | |
| --- | --- | --- | --- |
| RANK | DESCRIPTION | ITEM CODE | VENDOR |
| 1 | STARFINDER RPG BEGINNER BOX | FEB193069 | PAI |
| 2 | CRITICAL ROLE: TAL'DOREI CAMPAIGN SETTING HC | JUN173357 | GRE |
| 3 | THE EXPANSE RPG HC | NOV182869 | GRE |
| 4 | MY HERO ACADEMIA CARD GAME | JUL183082 | S7 |
| 5 | STARFINDER RPG: CORE RULEBOOK HC | JUN173371 | PAI |
| 6 | PATHFINDER PAWNS BESTIARY BOX | FEB168541 | PAI |
| 7 | TOME OF BEASTS HC | JUN168476 | PAI |
| 8 | THE EXPANSE RPG: GAME MASTERS KIT HC | NOV182870 | GRE |
| 9 | PATHFINDER RPG: CORE RULEBOOK POCKET EDITION | APR168770 | PAI |
| 10 | DUNGEONS & DRAGONS: STRANGER THINGS EDITION | JAN198565 | HAS |