Old Man Quill is a series starring an over-the-hill Star-Lord and his Guardians of the Galaxy, capitalizing on the inexplicably popular genre of geriatric superhero comics. As such, we get to learn a little bit about Star-Lord's life after the ever-shifting "present" of the regular Marvel Universe. For instance, Peter had a family who are, of course, dead, because that's one of the hallmarks of Old Person Superhero comics. But we also learn that Star-Lord… continued to be a dick throughout his life, at least from what we see in this preview of Old Man Quill #5.
The Guardians stop for a rest on their trek through the Wastelands because, well, Peter is old. And it's there that he takes the opportunity to look at a hologram of his family…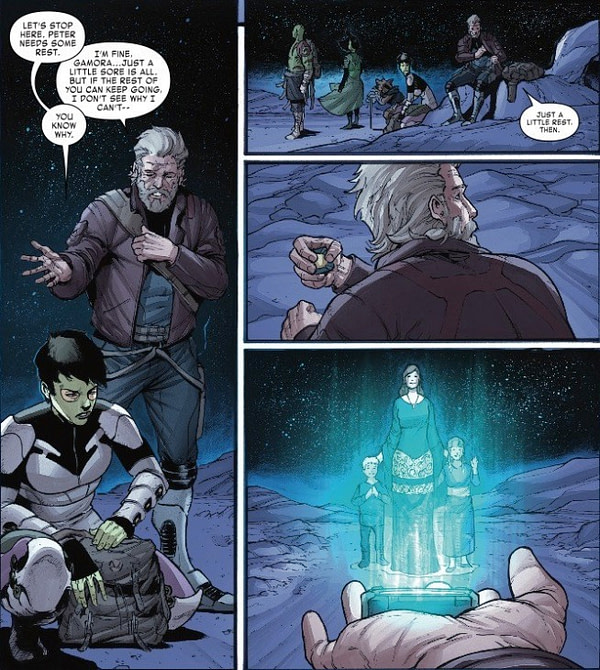 And then he remembers how, when his family was alive, he spent most of his time pining over Gamora… and lying about it.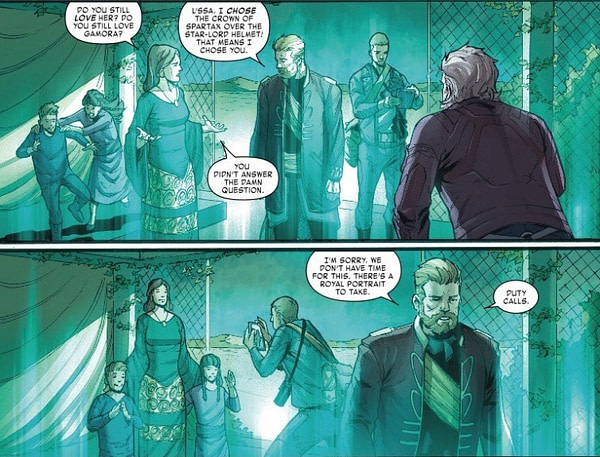 So it probably serves him right that the thing stops working.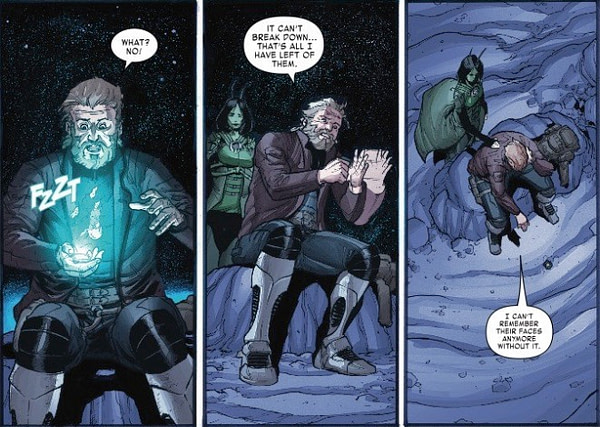 At which point, Star-Lord admits that he doesn't even remember what his wife and kids' faces look like without it.
Star-Lord: not a very good family man.
Old Man Quill #5 hits stores on Wednesday.
Old Man Quill #5 (of 12)
(W) Sacks, Ethan (A) Robert Gill (CA) John Tyler Christopher
GLADIATOR CLOSES IN!
• PETER QUILL and the GUARDIANS' good deeds across the Wastelands are starting to gain them a following…
• …which isn't as good as it sounds as GLADIATOR and his advance team from the UNIVERSAL CHURCH OF TRUTH close in!
• But it'll all be for nothing if Quill can't escape from the MADROX gang!
Parental Advisory
In Shops: May 15, 2019
SRP: $3.99