Today's Flash #65 sees Bruce Wayne and Barry Allen get down over their actions as superheroes, specifically those who have sidekicks, in the light of Wally West's death in Heroes In Crisis. Naturally the Flash is not happy with Batman and feels like it's the opportunity to speak truth to the non-powered.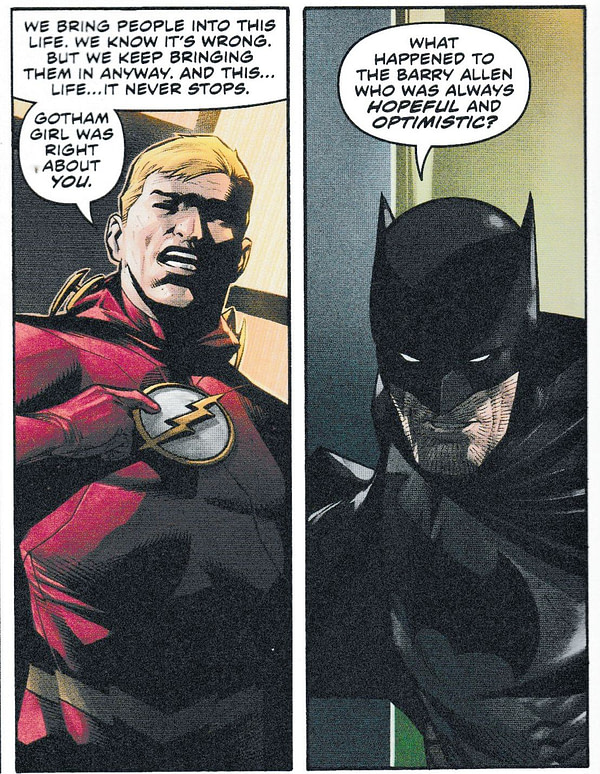 A Barry Allen full of hope? He has an answer for that.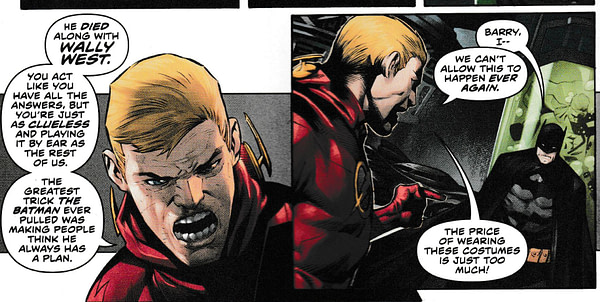 'The greatest trick the Batman ever pulled was making people think he always has a plan' is a paraphrase of the famous line "the finest trick of the devil is to persuade you that he does not exist" by nineteenth century French poet Charles Baudelaire – which goes alongside Gnaark quoting Hobbes and Keats today.
Oh go on then, it's more like a further paraphrase from 'the greatest trick the Devil ever pulled was convincing the world he didn't exist' from The Usual Suspects written by Christopher McQuarrie...
Of course, today's Heroes In Crisis #6 has Barry Allen say similar about hope to Wally West…
Guilty much, Barry? Especially as everyone else joins in…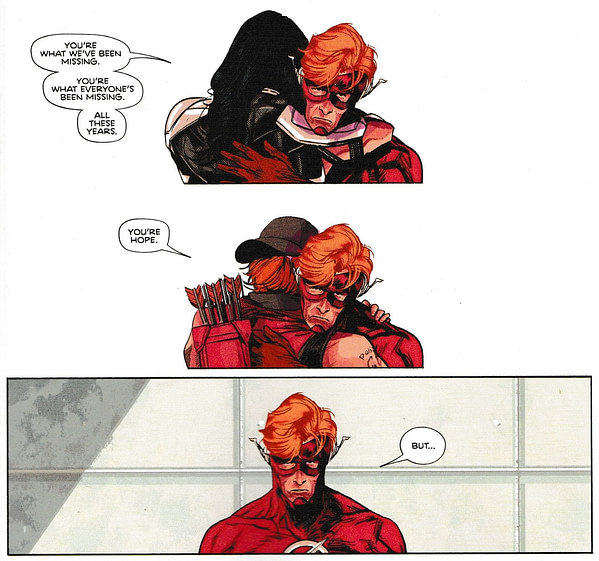 No pressure then. You can read more about today's Heroes In Crisis #6 over here. But back in Flash #65, Batman has possibly the bitchiest response possible…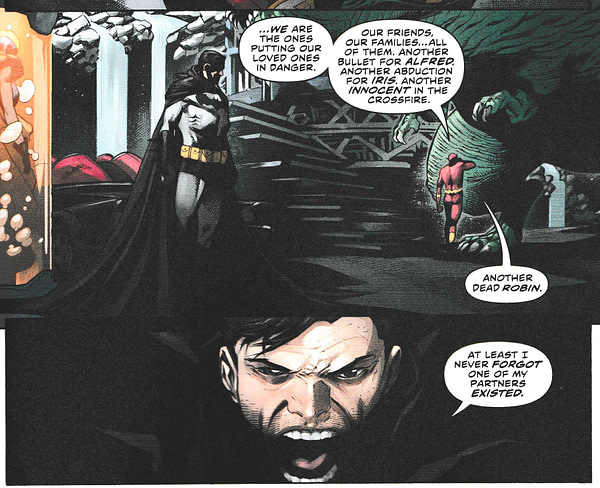 To which there can only be one response. Bat-handbags everyone…
After all Batman, you forgot that Wally West existed too. Or that Red Robin was ever Robin. And that Stephanie Brown was Robin or Batgirl. Or Cassandra Cain. Continuity changes affect you all… in the words of Jesus, mote and beam, mote and beam…
FLASH #65 THE PRICE
(W) Joshua Williamson (A) Rafael Sandoval, Jordi Tarragona (CA) Chris Burnham
"THE PRICE" finale! The two greatest detectives in the DC Universe take on the one cold case that will tear them apart!
As chief architect of the Sanctuary program that cost so much for so many, especially Wally West, Batman will be held accountable…by the Flash!
A cold case from the Justice League's past has mysteriously re-opened, and Batman and the Flash-the only two heroes who stand a chance of cracking the case-are at each other's throats! Our heroes must combat a demon from the past while burying their own inner demons in the process…and neither the World's Greatest Detective nor the Fastest Man Alive will ever be the same again! But who is really pulling the strings here? And how does Gotham Girl fit into all this? Friendships will be tested and blood will be spilled in this titanic crossover event…
RATED T+In Shops: Feb 27, 2019
SRP: $3.99

HEROES IN CRISIS #6 (OF 9)
(W) Tom King (A/CA) Mitch Gerads
Get a deeper look into the inner workings of Sanctuary. When heroes visited the facility, they relived their trauma through virtual reality, contending with the events that brought them there in the hope of reaching a meaningful resolution. That is, until the trauma took over and escalated these personal events into a full-blown crisis! Find out what pushed one of the superheroes over the edge and how it broke the machine. This special issue reunites the Eisner Award-winning MISTER MIRACLE team of writer Tom King and artist Mitch Gerads!
RATED T+In Shops: Feb 27, 2019
SRP: $3.99