One is the last of a race of alien beings, the other the Chairman of Marvel Entertainment, but DC superhero Martian Manhunter and Ike Perlmutter have more in common than you might initially believe. No, we're not saying that Martian Manhunter eats Thanksgiving dinner with Donald Trump. But just like Ike Perlmutter, Martian Manhunter is the victim of alleged DNA theft!
Just check out the reveal from this week's issue of Justice League…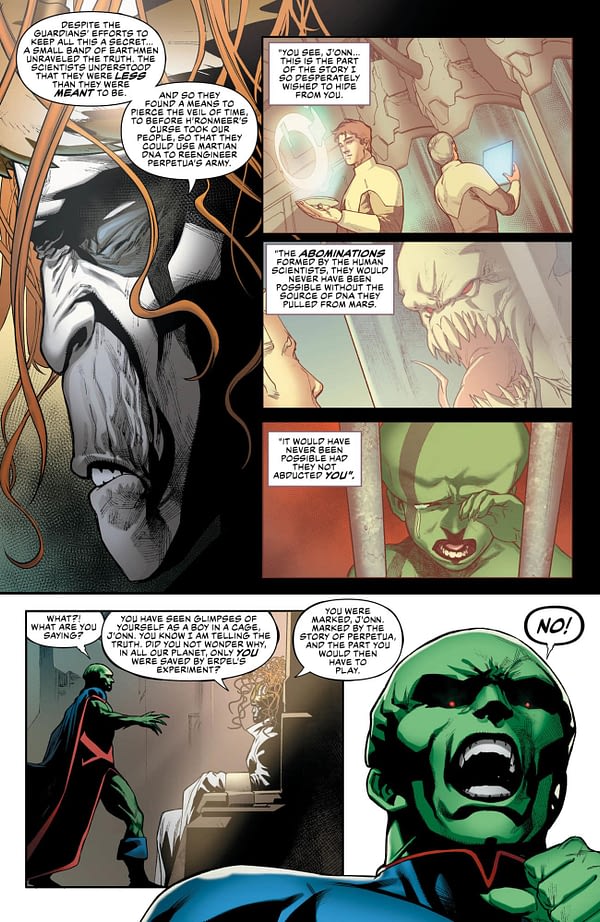 What other secrets will be revealed about Martian Manhunter in this issue? Perhaps he is secretly running the Department of Veteran's Affairs?
Justice League #16 hits stores on Wednesday.
Justice League #16
(W) James TynionIV, Scott Snyder (A) Stephen Segovia, Mark Morales (A/CA) Jim Cheung
It's a mystery in space: Why would the Guardians of the Universe hide top-secret intel deep in the bowels of a secret vault on Thanagar Prime? That's what Martian Manhunter, GL and Hawkgirl want to know! That's not the only puzzler popping off either, as an ancient connection that bonds Kendra and Shayera Hol unlocks the secret of the map on Hawkgirl's Dark Metal wings. Back on Earth, Starman and the Trinity look to create a wormhole that could transport them to Thanagar Prime. The only catch? It could vaporize them!
In Shops: Jan 23, 2019
SRP: $3.99