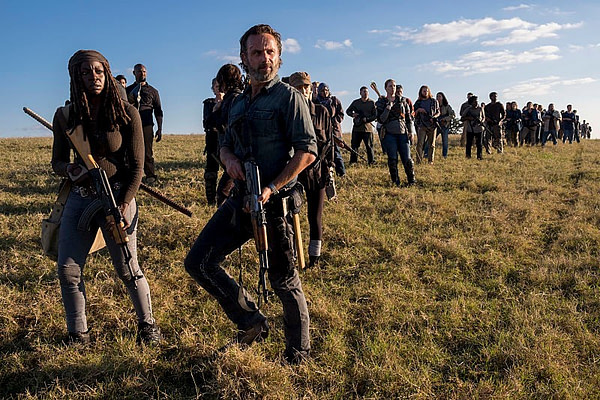 To paraphrase the title of one of the greatest power ballads to ever be released by glam metal band Cinderella in August 1988 (fact), The Walking Dead fans are finding out that they didn't know what they had until it was almost gone (just go with it). While viewers are preparing to mourn the departure of Rick Grimes during the show's upcoming ninth season (though he's expected to return the following season to direct), star Andrew Lincoln revealed exclusively to the fine folks at Entertainment Weekly that Rick was supposed to shuffle off last season – and that his initial exit plan was mapped out during the AMC series' fourth season:
"I had a conversation during season 4 with [executive producer] Scott Gimple about this. You know, we shared young families and there was a lot of synchronicity between the two of us that were two heads of a show that seemed to be getting bigger and bigger. We spoke about it and said, 'There's got to be a shape. We need a shape to work out if we get to season 5 then maybe we've got a couple more.' There were all these ifs and buts and strategies. And I said, eight sounds like a good number.' Eight seasons was certainly something. Last season was a shape that I had in my head and it was certainly something that Scott was possibly thinking about as well that was a completion of a certain chapter which could be called Rick's falling."
(Reporter's Note: Wait…"Rick's falling"? Can we read into that use of "falling" to mean that Rick wouldn't have made it out of "All-Out War" alive? Is that a bad omen for what's still to come?)
But when the time came – it didn't happen. Why? Seems like four season snuck up on Lincoln a little faster than he expected:
"Season 8 came and it got more complicated. I realized that rather than have the funeral, I had to prepare for the funeral and I had to make sure everybody was comfortable with the funeral arrangements. And I don't think I was ready for the funeral! You know what I mean? I was like, I don't think I'm ready to go yet!"
During the filming of the eighth season, Lincoln changed his mind about leaving that season – and it looks like we have San Diego Comic-Con (SDCC) to thank for keeping him around a little longer:
"It was at Comic-Con that year that I made the decision that I couldn't leave that year. I said to my wife, 'I feel overwhelmed. I don't think I'm ready. I can't do it. I've got Norman, I've got Danai, I've got Jeffrey, I've got Melissa McBride, I've got Greg Nicotero — all these beautiful friends of mine and I don't know if I can do it yet. I don't know if it's time.'"
Last season brought the culmination of "All Out War," which pitted Rick Grimes and his group of survivors against the Saviors and their cunning leader, Negan. With Negan's life in his hands, Rick had a character-defining choice in front of him. By making the unilateral decision to spare Negan, Rick upheld the values his late son, Carl, championed in order to build for the future, but created conflict within his group.

Now, we see our survivors a year and a half after the end of the war, rebuilding civilization under Rick's steadfast leadership. It is a time of relative peace among the communities as they work together, looking to the past to forge the future, but the world they knew is rapidly changing as man-made structures continue to degrade, and nature takes over, changing the landscape and creating new challenges for our survivors.

As time passes, the communities confront unexpected obstacles, danger, and of course, walkers, but nothing quite prepares them for the formidable force they are about to encounter, which threatens the very idea of civilization that our survivors have worked so hard to build.

Based on the comic book series written by Robert Kirkman and published by Image Comics, "The Walking Dead" reigns the number one drama on television among adults 18-49 for the last six seasons. The series is executive produced by chief content officer Scott M. Gimple, showrunner Angela Kang, Robert Kirkman, Gale Anne Hurd, David Alpert, Greg Nicotero, Tom Luse and Denise Huth.
The Walking Dead returns to AMC with new showrunner Angela Kang on Sunday, October 7th at 9 p.m. ET/PT, with an extended 86 minute ninth-season premiere. Here's a look at some information at the first eight episodes:
The Walking Dead s09e01 'A New Beginning' – Rick and his group make a risky run into Washington, D.C. to search for artifacts they will need to build the civilization he and Carl envisioned. Writer: Angela Kang / Director: Greg Nicotero

The Walking Dead s09e02 'The Bridge' – Writer: David Leslie Johnson-McGoldrick / Director: Daisy Mayer

The Walking Dead s09e03 'Warning Signs' – Writer: Channing Powell / Director: Dan Liu

The Walking Dead s09e04 'The Obliged' – Writer: Geraldine Inoa / Director: Rosemary Rodriguez

The Walking Dead s09e05 'What Comes After' – Writer: Matthew Negrete / Director: Greg Nicotero

The Walking Dead s09e06 'Untitled' – Writer: Eddie Guzelian / Director: Larry Teng

The Walking Dead s09e07 'Stradivarius' – Writer: Vivian Tse / Director: Michael Cudlitz

The Walking Dead s09e08 'Evolution' – Writer: David Leslie Johnson-McGoldrick / Director: Michael E. Satrazemis