The saga of what ruined Justice League and who's at fault continues! One of the biggest complaints about the movie is that Warner Bros and alleged fake feminist Joss Whedon destroyed Zack Snyder's vision by cutting out all the great Snyder scenes and replacing them with Whedon scenes featuring humorous dialogue like "Booyah!" One of the things believed to have been cut are scenes of a mustacheless Henry Cavill wearing a black Superman suit.
Rumors of the existence of those scenes were seemingly confirmed earlier this month when cinematographer Fabian Wagner stated that the suit did exist and scenes were shot with it.
"There were [scenes shot]," Wagner said. "It's a cool looking costume. Sadly, we didn't see that either in the final cut."
"Zack takes his time with telling the stories, and I've always liked that about his movies," he continued, dumping fuel on the Snyder/Whedon fire. "There are a few scenes that I was very much looking forward to seeing which unfortunately got cut."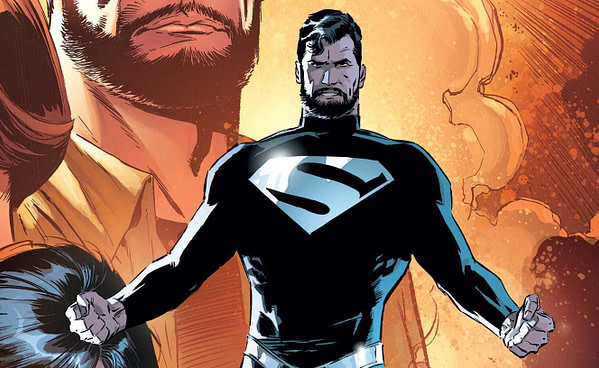 But now, it seems, Wagner is walking back his comments. In an interview with physics-themed pop culture site Collider, Wagner changed his tune a little bit.
"Yeah you know actually, to be totally honest I just can't remember if we were shooting it as a test or if we were actually shooting it as a full scene with the suit," Wagner admitted. "I definitely shot it, but I just can't remember if it was more of a test or a full scene. But definitely seeing the black costume was great. So I'm not 100% sure whether that would have been in the movie anyhow. But yeah, I mean, all the Superman scenes were great, and even just shooting Superman in his normal suit was just, you know, a lot of fun for someone who grew up in that era where the Superman movies just had come out and it was just great to shoot those iconic characters like Superman and Batman. For me that was just great fun."
Wagner also discussed the hotly contested Zack Snyder cut of Justice League.
"You it's hard to say because Zack obviously left so early," Wagner revealed. "I never got to see the final cut that Zack had done, if he ever had done a final cut—I think he might have done, but I'm not sure. So it's hard for me to say what was actually in his cut. But I know that we shot a fair bit of stuff which unfortunately isn't in the final film. But obviously they wanted to get down to a certain length that's good for the cinema. For me, I think Zack is a great storyteller and he takes his time with his movies and I always loved his cuts and his director's cuts especially, which are obviously longer. So I guess unfortunately there wasn't the time to put all of those things that we shot into the final film."
Well, there's only one way to settle this, obviously. Gotta get more signatures on that petition demanding that Warner Bros release the Snyder cut.