Secret Empire is a comic book series by Marvel about a fascist takeover of the USA by a Captain America revealed as a sleeper agent of Hydra, a non-white-supremacist-honest-but-once-allied-to-Nazis-in-WWII-and-nevertheless-fully-fascist organisation. You may have heard of it. You may have also heard that it has caused considerable concern for some who have been quite vocal on social media.
The Free Comic Book Day edition of Secret Empire have been selling copies for up to $7 on eBay. Why, when it was so widely available and so free? Well, this might be a partial explanation. People had been talking about burning copies of it.
https://twitter.com/kimyvngjun/status/860934650184818688
tell marvel to burn secret empire or i burn it for them

— abii (@pansyprat) May 5, 2017
My fave comic book store just received the secret empire comic i wanna burn it 🙃

— drea (@stylescevans) April 28, 2017
i will collect al the copies of secret empire burn them to ashes and shove the ashes up nick spencers sticky asshole

— abii (@pansyprat) April 24, 2017
so the new collector corps box comes with a copy of secret empire #0 who wants to see me burn it

— unruly goth dad (@fingerstriped) April 22, 2017
This Secret Empire arc is the biggest pile of BS I've ever seen. Burn it.

— lumpia space princess 🎄 (@artifishly) March 4, 2017
https://twitter.com/CatOperated/status/860830878582308864
And then actually burning copies of it.
.@nickspencer pic.twitter.com/mDrrIzlhTH

— Jensine (@_fakeleafsfan) May 6, 2017
Happy #freecomicbookday2017!! Did anyone else take the opportunity to pick up #SecretEmpire by #NickSpencer?? pic.twitter.com/kJTLK9ZvZY

— Jensine (@_fakeleafsfan) May 6, 2017
happy free comic book day!!! pic.twitter.com/AohvWvA263

— charlie (@tenderslices) May 6, 2017
It was pointed out by a few that burning comics in opposition to white supremacy might have tinges of irony, as traditionally, it's the Nazi white supremacists who mostly burned books. And indeed, the fascists of Hydra did so in the comic itself.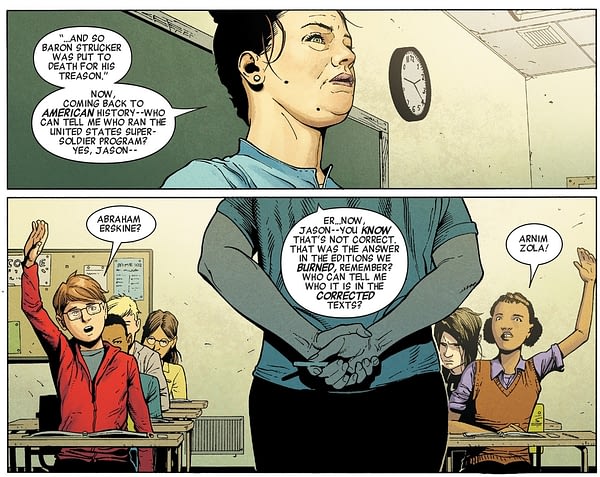 But there was also plenty of support for the action. There was what you might call a mixed response.
I SAVED IT DONT WORRY !!! pic.twitter.com/Bhac41mMvl

— charlie (@tenderslices) May 6, 2017
@tenderslices this is the best thing i have ever seen in my life ?

— raine (@skyIerwhite) May 6, 2017
You know who else burned books they didn't agree with?

I think Secret Empire is a pile of shit. Burning books just makes me uncomfortable. https://t.co/ANgpXuzDRx

— ⚧ Tamitha (@electrotamitha) May 6, 2017
Burn a brand new day, not secret empire.

— Crispy Jones™ (@PinheadWriter) May 7, 2017
LOL people calling secret empire fascist or nazi propaganda then go and burn the books? Lmao classic.

— AquamAnder (@AnderWriter) May 7, 2017
@edenburned @nickspencer Plus it might make a more interesting display
to burn the entire Secret Empire series.

— Zeta Machine (@zeta_mecha) May 7, 2017
To those who burn the FCBD: Secret Empire issue, you know no one made you pick up the book. Burning books is bad. Period.

— Wesley Messer (@CaptComicAddict) May 7, 2017
@tenderslices Oh wow. You actually got a moment of value out of that story. Well done!

— Tim Wright (@timswar) May 7, 2017
Official Statement from the Office of AEISD: if you're burning issues of Secret Empire, you're an idiot. pic.twitter.com/yL6dNWgphM

— An Englishman In San Diego (@EnglishmanSDCC) May 7, 2017
@tenderslices @SamMaggs Best use of an issue of Secret Empire I've yet to see.

— Rowan Mooney (@rowanred81) May 6, 2017
https://twitter.com/MadameHYDRA13/status/861090570772422656
@tenderslices THIS is 100% iconic

also u kind of look like gerard way¿which is great my inner comic nerd n spencer hater emo enjoys this picture v much

— 👁‍🗨👄👁‍🗨 manhu (@albinpenguins) May 7, 2017
@tenderslices I just wanted you to know this made my day awesome :D

— Clockwork Demon (@IrisKalmia) May 6, 2017
@tenderslices I wish I went to my lcs just to take a copy away from some poor soul then rip it into shreads to save the planet.

— Alexis Sergio (@TransComics) May 6, 2017
Wait, people are burning copies of Secret Empire?

Comics has completely lost it's chill. This is insane.

— Niam Suggitt (@NiamSuggitt) May 7, 2017
Oh. Good. People are actually engaging in burning the Secret Empire FCBD issue… pic.twitter.com/bhmAN54rNm

— Patrick Henry (@PHenry1991) May 7, 2017
@tenderslices THIS IS ICONIC HOLY SHIT

— Rasperbby (@pansexualshitty) May 6, 2017
And from the writer of the comic himself…
https://twitter.com/nickspencer/status/861005412778229764
@nickspencer Man you just fundamentally don't understand how free speech works, do you

— Lindsay Smith ✨💀 (@LindsaySmithDC) May 7, 2017
@nickspencer Man and it's so weird how you got mad at private citizens for punching Nazis but not at the govt jailing woman who laughed at AG Sessions

— Lindsay Smith ✨💀 (@LindsaySmithDC) May 7, 2017
@nickspencer how jealous are you that my boyfriends tweet is more popular than this one

— rice (@snackfaIcon) May 7, 2017
Maybe if the book was good more people would give a shit

— Bradley (@Bradley_1020) May 7, 2017
But one thing is sure: It's great news for comic book speculators! Maybe they can persuade folk to burn all their New Mutants #98 while they're at it, after all, Deadpool is Hydra now, too.
Related Posts
(Last Updated
May 26, 2017 3:27 pm
)
Related Posts