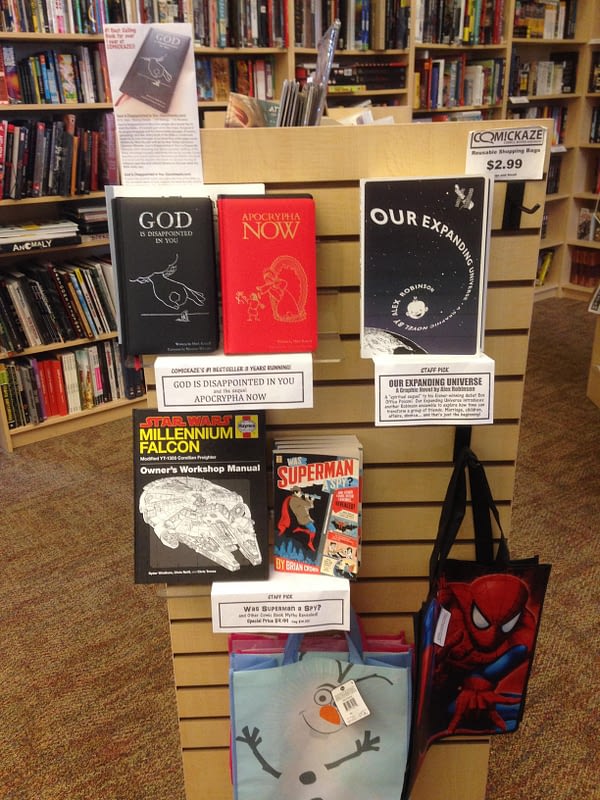 Every comic book store is different. Their customers buying practices differ massively – I see that compiling the Bestseller List for Bleeding Cool each week. There are commonalities, sure, but it's only on very rare occasions that all the shops have the same No 1.
And some stores discover a comic that they will sell more than any other, that other stores may not even realise exists.
That's the case with Comikaze in San Diego and God Is Disappointed In You by Flintstones and Prez writer Mark Russell and Too Much Coffee Man's Shannon Wheeler.
Store owner Robert Scott tells Bleeding Cool,
A few years back I mentioned how well we were doing with God is Disappointed In You, which is still our #1 overall book over the last 3 years in our Clairemont store, and now our #3 cook in our point Loma store (behind only Harry Potter and the Cursed Child and Jedi Academy Vol 1).

I bought a case of 36 GIDIY for our Point Loma store on 12/15 and just sold out.  During that time there were only 6 days we did not sell at least 1 copy and we don't "sell" the books, we just have it on an end cap with a selection of other books and let the cover do the selling.  Most people that pick it up buy it without any interaction with staff and at least 1/3 end up buying Apocrypha Now either at the same time or on a return trip.
He tells other store owners,
Some of you will also have other Shannon Wheeler work to sell and Mark Russell is writing The Flintstones, which a lot of you are also doing well with.  If you haven't carried it or have but just have it spine out on a shelf, I'd urge you to take a few and put them on an endcap or your checkout counter and see if the $20 bills start piling up on your counter.

As well as we do with Saga and Walking Dead, these books are as close to printing money as I've had.
Published by Top Shelf Comix, it's also the kind of book for which there is no discount on Amazon… here's a preview.
Enjoyed this article? Share it!