There are some very interesting things in Dynamite's July 2016 solicitations. Some of which were announced recently at Wondercon like the new Six Million Dollar Man series and Garth Ennis' return to Red Team and even the continuation of the animated series Brickleberry. But also we see here a team up decades in the making with Lone Ranger / Green Hornet and a reprinting of the original Shaft novel.
BRICKLEBERRY #1 (OF 4)
Cover: Jeffrey Rebner
Writer: Waco O'Guin, Roger Black
Art: Timothy Hopkins
"ArMOOgeddon", written by co-creators Waco O'Guin and Roger Black, takes place in the distant future. We join Steve Williams, the only Brickleberry park ranger who managed to escape death at the hands of the Alien Cow Invasion. Future Steve, as he now calls himself, was captured, but escaped and has joined forces with a small group of human rebels in an underground hidden base. With the help Dr. Kuzniak, Future Steve must travel back in time to the year 2015 and kill head ranger Woody Johnson, whose actions led to the Invasion and the destruction of all humanity.
Brickleberry had a successful three season run on cable television, popular among males 18-24, and averaging 1.6 million viewers per episode. Brickleberry's loyal fanbase still thrives on social media and they are hungry for the continuing adventures from Brickleberry National Park! LONE RANGER / GREEN HORNET #1 (OF 6)
Cover A: John Cassaday
Writer: Michael Uslan
Art: Giovanni Timpano
A tale of super-heroics and family that has taken eighty years to be told! This first chapter, entitled "Those Thrilling Days of Yesteryear," creates a world of carefully researched alternative history in 1936 as we learn whatever happened to The Lone Ranger and discover his familial link to the emergence of a man who is a modern day urban version of The Lone Ranger himself. What is the blood connection of The Green Hornet to The Lone Ranger? What is the link of Olympic runner Jesse Owens to The Green Hornet? What role does Bat Masterson play in The Lone Ranger's New York adventure? What intense rift tears a family apart just when America desperately needs a great champion of justice? The shocking answers lie in the historic first issue of "The Lone Ranger Meets the Green Hornet: Champions of Justice!" GARTH ENNIS' RED TEAM: DOUBLE TAP, CENTER MASS #1 (OF 9)
Cover A: Dan Panosian
Writer: Garth Ennis
Art: Craig Cermak
One year after the catastrophic events that ended the first series, Red Team survivors Eddie Mellinger and Trudy Giroux are in the doldrums. Considered a political liability, the two are kept busy on small-time cases by their suspicious NYPD commanders… but a chance encounter in the ghetto gives them a chance to get back in the game. Trouble is, it means going far beyond the law… which is what almost got them killed last time around.
"Red Team: Double Tap, Centre Mass features the return of two of my favorite characters, Detectives Eddie Mellinger and Trudy Giroux of the NYPD. The first Red Team saw them survive by the skin of their teeth; now they're dropped right back in at the deep end, with their growing feelings for each other only complicating matters. Writing this series is a real treat for me, and getting to work with Craig Cermak again makes it even better." – Garth Ennis SIX MILLION DOLLAR MAN: FALL OF MAN #1 (OF 5)
Cover A: Ron Salas
Writer: Van Jensen
Art: Ron Salas
The year is 1979. Iran has seized American hostages. Columbian drug cartels run rampant. And Le Chic's "Freak Out" dominates the charts. Amid this deeply troubled world, Steve Austin — everyone's favorite Six Million Dollar Man — is America's best hope in its fight against innumerable enemies. When Steve discovers disturbing secrets in OSI's past, he uses his cybernetic upgrades to rebel against the agency… but he'll face plenty of threats, like an enemy cyborg, and lasers, and ninjas!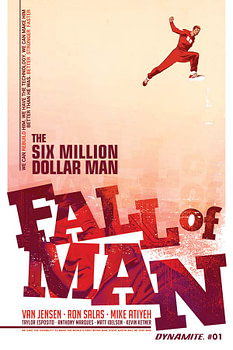 WOMEN OF DYNAMITE: RED SONJA STATUE
Cover: N/A
Writer: N/A
Art: Jason Smith (sculptor), J. Scott Campbell (artist)
The She-Devil with a Sword, poised on a snow-covered battlefield, has never looked so majestic! Based on the original design of comics sensation J. Scott Campbell and sculpted by the talented Jason Smith, Hyrkania's most lethal warrior stands approximately 11.5" in height upon a decorative 5.5" wide base. Hand-painted on cold-cast porcelain with ABS details, this highly-detailed statue comes individually numbered as part of a Limited Edition run, and is packaged in a four-color box with a hand-numbered Certificate of Authenticity. Welcome the fantasy genre's most iconic female to your collection with the Women of Dynamite: Red Sonja Statue! SHADOW: THE DEATH OF MARGO LANE #2 (OF 5)
Cover A: Matt Wagner
Writer: Matt Wagner
Art: Matt Wagner, Brennan Wagner (Colorist)
While hot on the trail of the deadly and elusive Red Empress, The Shadow attempts to rescue a missing heiress he is convinced was kidnapped by the Tong crime leader. Falling into the Chinese gang's elaborate trap, The Master of Darkness must find a way to escape certain death. All the while, Margo Lane and Moe Shrevnitz stand watch for any sign of trouble. Will Margo be able to assist her friend and companion? Or will the Tong death scenario claim her life as well? From the pen and talents of Eisner Award-winner, Matt Wagner, comes a tale of adventure and romance that will shake The Shadow's world to its very core. With colors by rising talent Brennan Wagner, this five-issue series delivers the sort of pulp action that Shadow fans have loved for decades. SHAFT: THE ORIGINAL NOVEL
Cover: Robert Hack
Writer: Ernest Tidyman
Art: N/A
Format: Mass Market Paperback
Page Count: 240 pages
Who is John Shaft? John Shaft is a private eye. John Shaft is a black man made of muscle and ice, and he has no prejudices. John Shaft will kill anyone… black or white. When the cloistered daughter of Harlem's crime boss discovers the true nature of her father's work, she runs off to be as bad as Dad. By the time she disappears, she's into sex, liquor, dope, and a few other scenes. Now, Big Daddy wants Shaft to get his baby back. The tough, take-no-guff detective goes to work… and the Mafia, the Black militants, the NYPD, and City Hall go to work on him. The original and unabridged Shaft novel by Ernest Tidyman, the 1970 tour de force of hardboiled crime fiction that introduced an unsuspecting world to a cultural icon. BOB'S BURGERS ONGOING #13
Cover A: Bernard Derriman
Cover B: Damon Wong
Writer: Justin Hook
Art: Brad Rader, Mike Guerena
The Bob's Burgers Comic Book has cooked up a special order for Issue #13: Tina's Erotic Friend Fiction presents "Enter The Tina", kicking off the first of three unique one-story issues. Tina takes over in this one and tells the tale of a masterful martial artist tasked with avenging her sister, taking down the evil Tammy, and restoring honor to her temple, with the help of newfound friends Darryl and Rudy, and newfound maybe-more-than-just-new-friend Jimmy Jr. Everyone loves Bob's Burgers, the fan-favorite animated sitcom that airs on Fox television with other hits such as The Simpsons and Family Guy!
BOB'S BURGERS: PAN FRIED Trade Paperback
Cover: Jay Howell
Writer: Jeff Drake, Brian Hall, Rachel Hastings, Mike Olsen, Anneliese Waddington
Art: Anthony Aguinaldo, Marcelo Benavides, Tom Connor, Mike Guerena, Maggie Harbaugh, Timothy Hopkins, Anthony Imperato, Circus Leveo, Adam Philipps, Hector Reynoso, Rich Wilkie
Format: Softcover
Page Count: 120 pages
Feast your eyes on new mouth-watering stories of the Belcher family, the stars of Fox Television's fan-favorite animated sitcom! Written and illustrated by the fine folks at the Emmy Award-winning studio Bento Box Entertainment, the continuing comic book hijinks of parents Bob and Linda and ragamuffins Tina, Gene, and Louise will surely satisfy fans of all ages. You've never seen daydreams quite like those of the Belchers, as Louise finds herself sucked into a videogame, Gene's rhymes climb to new heights in Jack and the Gene-stalk, and Tina takes a fateful trip to Tinagan's Island… and that's just for starters! GRUMPY CAT & POKEY #6 (OF 6)
Cover A: Agnes Garbowska
Cover B: Ken Haeser
Cover C: Ry-Spirit
Writer: Ben Fisher, Derek Fridolfs, Ilias Kyriazis
Art: Ken Haeser, Ilias Kyriazis, Steve Uy
Three more misadventures of The World's Grumpiest Cat! When two dog-loving boys visit the household, they can't wait to play fetch and take Grumpy Cat for a walk. Wait until you see how the curmudgeonly kitten teaches these kids the difference between canines and felines! Next, Grumpy and Pokey discover a supposed genie's lamp… and their wishes are whimsical and wacky! Finally, a local witch wants to recruit the two cats as her supernatural familiars. What's more superstitious than a black cat? A white-and-gray cat with a blackened spirit!
GRUMPY CAT & POKEY Hardcover
Cover: Steve Uy
Writer: Ben McCool, Elliott Serrano, Ben Fisher, Royal McGraw
Art: Agnes Garbowska, Steve Uy, Ken Haeser, Michelle Nguyen
Format: Hardcover
Page Count: 104 pages
Grumpy Cat, the internet's cutest curmudgeon, takes the world by storm with her comic book misadventures! You'll laugh yourself silly at the killjoy kitten's hilarious brand of sass, most often directed at her fun-loving, big-hearted brother Pokey. They're two cats that are too adorable for words, one with a childlike wonder, and the other with a pout so prominent, you can't help but to exclaim, "Awwwwww…!" What fun-loving escapades will Pokey dream up, and how will that adorable scamp Grumpy Cat rain on everyone's parade? As a special bonus, enjoy a Grumpy Cat pull-out poster! A TRAIN CALLED LOVE #10 (OF 10)
Cover A: Russ Braun
Writer: Garth Ennis
Art: Mark Dos Santos
The dust settles, the guns fall silent, and everyone lives happily ever after… apart from all the people that don't. Five hundred pounds of instant death shows up at Myles and Valerie's door, while Marv and Penny finally get a chance at true love, but will it be with each other? Call-Me-Dave flies off to the land of dreams, Jev gets the worst news in the world, and at long last Marcy gets to sing her own song. The cast set sail on sea of romance! ALIENS / VAMPIRELLA Hardcover
Cover: Gabriel Hardman
Writer: Corinna Bechko
Art: Javier Garcia-Miranda
Format: Hardcover
Page Count: 152 pages
Two iconic horror franchises collide, as Vampirella – the fan-favorite supernatural heroine – faces the most nightmarish creatures ever to appear in cinema: the Xenomorphs from Alien! As the first human colony on Mars digs deeper into the crimson soil, they discover the catacombs of a hibernating civilization, tens of thousands of years old. The evidence suggests that they are Nosferatu, an ancient and sinister species that Vampirella is all too familiar with. Called to the Red Planet to investigate, the monster hunter and her human allies find a chamber with hundreds of ellipsoidal, leathery eggs… and after they hatch, the true horror begins. In space, no one can hear Vampirella scream!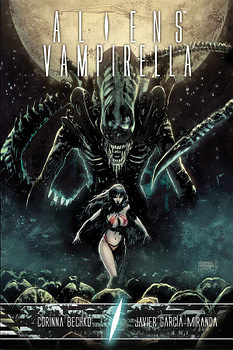 ARMY OF DARKNESS: FURIOUS ROAD #5 (OF 6)
Cover A: Gabriel Hardman
Writer: Nancy A. Collins
Art: Kewber Baal
After devastating losses, humanity's last hope for salvation is down to Ash, Eva, Dracula, and a group of kung-fu monks. But can Ash keep his head after helping the Frankenstein Monster pull himself together? CAGE HERO Trade Paperback
Cover: Renalto Rei
Writer: Kevin Eastman, Ian Parker, Mark Mastrandrea, Rik Hoskin
Art: Renalto Rei
Format: Softcover
Page Count: 112 pages
Ryder Stone, a high school student and wrestling sensation, discovers his true destiny when he's recruited to join a super-powered team of mixed martial artists! Heir to one of eight medallions forged from a radioactive meteorite, he trains with his mysterious mentor Doc Proton for the day when, with focus and resolve, he and his new friends must harness the power to become the next generation of Cage Heroes. However, an evil network known as the Shadow Empire, led by the megalomaniacal Dark Sanctum and his vicious protégé Stryker, seeks the medallions for an evil purpose: to wield in unison, plunging the world into darkness. Only by unlocking the hero within can Ryder and his teammates save civilization as we know it!
Cage Hero, the perfect blend of superhero action and mixed martial arts, makes its explosive debut, from the minds Kevin Eastman (co-creator of Teenage Mutant Ninja Turtles), former UFC manager and MMA expert Ian Parker, and MMA personality Mark Mastrandrea! Bonus materials include character designs by Renalto Rei, and an introduction ny Mike Straka, MMA journalist and host of MMA Noise. CAPTAIN VICTORY AND THE GALACTIC RANGERS Trade Paperback
Cover: Nathan Fox
Writer: Joe Casey
Art: Nathan Fox, Farel Dalrymple, Nick Dragotta, Ulises Farinas, Michel Fiffe, Jim Mahfood, Benjamin Marra, Dan McDaid, Grant Morrison, Jim Rugg, Connor Willumsen
Format: Softcover
Page Count: 168 pages
Captain Victory is the greatest space hero of all! When the fearsome warrior Mekkanos finally tracks down his ship, the valiant captain pays the ultimate price… but his death is only the beginning! Having the most strategic mind in the entire Ranger Corps, he's far too valuable to risk total annihilation, and his superiors long ago enacted a contingency plan: maintain clone bodies, that – with a memory download – can be sent into space to die again and again and again. Only this time, two copies were created, the memory downloads incomplete and bodies ejected into far-flung time and space. Can a teenage, amnesiac Victory survive the dangers of 1970s New York City? Can a scarred, hulking Victory survive a hazardous alien landscape millions of light-years away? The race is on, as the loyal crew of the Dreadnaught: Tiger embark on a mind-blowing rescue mission!
Born from the fertile imagination of comic book legend Jack Kirby, Captain Victory bounds into cosmic adventure anew courtesy of writer Joe Casey (Sex, Uncanny X-Men) and artist Nathan Fox (Blue Estate, Haunt). Boldly experimental in story and design, this worthy addition to The King's legacy features guest art contributions from Farel Dalrymple, Nick Dragotta, Ulises Farinas, Michel Fiffe, Jim Mahfood, Benjamin Marra, Dan McDaid, Grant Morrison, Jim Rugg, and Connor Willumsen. This volume collects the complete six issues of Casey's critically acclaimed, star-studded reimagining, plus sixteen pages of never-before-seen bonus material and an all-new introduction by the author. CONTROL #2 (OF 6)
Cover A: Ben Oliver
Writer: Andy Diggle, Angela Cruickshank
Art: Andrea Mutti
Detective-Sergeant Kate Burnham's homicide investigation leads to embarrassing revelations about a powerful Senator's sex life. But is his involvement a vital clue, a deliberate misdirection… or a warning? Only one surviving witness knows the awful truth – and he's next on the killer's hit list!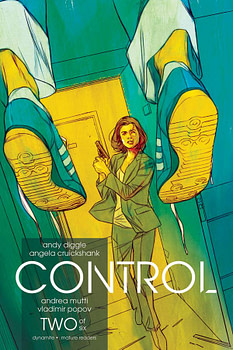 DEJAH THORIS #6 (OF 6)
Cover A: NEN
Writer: Frank J. Barbiere
Art: Francesco Manna
The thrilling conclusion to Dejah's latest adventure! Reunited with John Carter, Dejah arrives in Helium to find the city in the midst of an uproarious revolution! Will she be able to bring peace to her city and find the truth behind the disappearance of her father? GOLD KEY: ALLIANCE #4 (OF 5)
Cover A: Felipe Massafera
Writer: Phil Hester
Art: Brent Peeples
The legendary heroes Magnus, Turok, Solar, and Samson are bound by a monumental tragedy and drawn to the author of the chaos consuming their lives, the enigmatic Doctor Spektor. Is he friend, foe, or both? The breakneck series hurtles toward its mind-bending climax! JAMES BOND #8
Cover A: Dom Reardon
Writer: Warren Ellis
Art: Jason Masters
James Bond is trapped in Los Angeles with a MI6 agent under fire and a foreign intelligence service trying to put them both in bags… and possibly more than one foreign intelligence service. And things may not be any safer in Britain, with bodies dropping and ghosts moving in the political mist… JIM BUTCHER'S THE DRESDEN FILES: WILD CARD #4 (OF 6)
Cover A Main: Carlos Gomez
Writer: Jim Butcher, Mark Powers
Art: Carlos Gomez
The major factions of Chicago—the police, the White Court of Vampires, and "Gentleman" Johnny Marcone's underworld network—are officially at war! At the heart of the conflict is the malevolent, psychotic Puck. Why he's turned these forces against each other is a mystery. A bigger one is how Harry is going to track him down and defeat him while his city is engulfed in violence. Seeking the help of an even more powerful entity may be his only choice… JUSTICE, INC.: THE AVENGER Trade Paperback
Cover: Alex Ross
Writer: Mark Waid, Christopher Sequeira
Art: Ronilson Freire
Format: Softcover
Page Count: 152 pages
In the raging flame of tragedy, millionaire adventurer Richard Henry Benson was forged into something more than human… the ultimate master of disguise and deadly scourge of the underworld known as The Avenger! As world war rages in 1940, The Avenger dedicates his fortune to building a crack team of scientists and thrill-seekers, sworn to protect the homeland from gangsters and terrorists… but in this dangerous world, even the headquarters of Justice, Inc. can be infiltrated! Unknown assailants, nearly transparent and inhumanly strong, strike a fearsome blow at The Avenger's organization, subjecting a dear friend to a fate worse than death. What is the terrible secret of these invisible foes, and how does their far-reaching conspiracy threaten to drag America into war? New York Times bestselling author Mark Waid (Kingdom Come, Daredevil, Star Wars: Princess Leia) joins Christopher Sequeira (Astonishing Tales) and Ronilson Freire (The Green Hornet) for the globe-trotting Man of a Thousand Faces' epic battle against The Invisible Death, plus a bonus tale debuting the mysterious saboteur, The Sleeperman!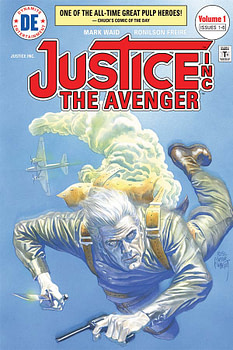 KINGS QUEST #3 (OF 5)
Cover A: Marc Laming
Cover B: Jonathan Lau
Cover C Subscription: Colton Worley
Writer: Ben Acker, Heath Corson
Art: Dan McDaid
Kings in chains! Flash Gordon, The Phantoms, Mandrake the Magician, Prince Valiant, and Jungle Jim are captives of the most merciless emperor of any galaxy… and as it turns out, it's not Ming! Spoiler: The heroes escape and there's lots and lots and lots of space-fighting.
NOTE: KINGS QUEST #1 Cover C Worley "Subscription" is only available to comic shop subscribers and limited to initial orders.
LORDS OF THE JUNGLE #5 (OF 6)
Cover A: Felipe Massafera
Cover B: Roberto Castro
Writer: Corinna Bechko
Art: Roberto Castro
With the scope of the plot behind Jane's kidnapping laid bare, Tarzan and Sheena are faced with something even more sinister: the possibility that no timeline is safe from the depredations of an apocalyptic cult! But with few resources and even fewer friends, can they wrest their fates and the future of their homes from the hands of Laine and her power mad cronies?
MISS FURY VOL. 2 #4 (OF 5)
Cover A: Tula Lotay
Cover B: Jonathan Lau
Writer: Corinna Bechko
Art: Jonathan Lau
Miss Fury uncovers the sinister facts behind what the Minor Key is planning, but is it already too late to stop them? As time grows short, Marla delves deeper into her own shadowy past in Brazil, and the true nature of the power that she barely holds in check. Can it be used for good, or is she doomed to hasten the very thing she fears will come to pass?
SMOSH #3 (OF 6)
Cover A: Franco Viglino
Cover B: Jerry Gaylord
Writer: Michael McDermott, Yale Stewart
Art: Franco Viglino, Yale Stewart
Summer is here! The Super Virgin Squad actively seek to swell their ranks as the team is confronted with their greatest challenge to date. A rival group of super powered, antagonistic teens is wreaking havoc in Smalltown, USA, and only the SVS can restore law and order to their beloved streets. Can they turn their ragtag group of new recruits into the heroes they need to be in time to save their community? When a shocking revelation shakes the entire team and their core values to their very foundation, will there even be a Super Virgin Squad left for them to join? Tune in true believers… same SMOSH time, same SMOSH comic!
With over 9 billion views and 38 million combined subscribers on YouTube, and 31 million social followers, SMOSH has one of the strongest digital footprints of any media brand in existence today. Based on the strength of this audience, SMOSH has also seen multiple chart-topping musical endeavors, record-setting channel spin-offs and top-selling mobile and gaming apps, with more than two million downloads to date. And, in Summer 2015, the brand released its first feature length film SMOSH: The Movie which debuted at #1 on the iTunes comedy chart.
THE TWILIGHT ZONE: THE SHADOW #4 (OF 4)
Cover A Main: Francesco Francavilla
Writer: David Avallone
Art: Dave Acosta
The Shadow's strange trip through time, space, and identity ends where it began: a Nazi Compound on Long Island. He confronts humiliation and death, justice and mercy, and some Shadows of his own. Submitted for your approval, the end of the Shadow's odyssey through… the Twilight Zone. VAMPIRELLA VOL. 3 #5
Cover A: Chrissie Zullo
Cover B: Sergio Davila
Writer: Kate Leth
Art: Eman Casallos
What do you get when you put two werewolves, a telepath, a vampire from space, and a demonically-charged horror queen in the basement of a mansion filled with monsters? You get the fifth issue of Vampirella, that's what – the epic conclusion to our first arc! XENA: WARRIOR PRINCESS #4
Cover: Jenny Frison
Writer: Genevieve Valentine
Art: Ariel Medel
With half the Harpies taken hostage and on their way to Rome as war prizes, Xena and Gabrielle set off on a desperate rescue mission. The Harpies are ready for battle, and even Ares has joined the fray, but with Rome hungry for victory at any cost, they might already be too late. It's battle on two fronts… and when Gabrielle faces a terrible choice, will she risk losing Xena to save the world?