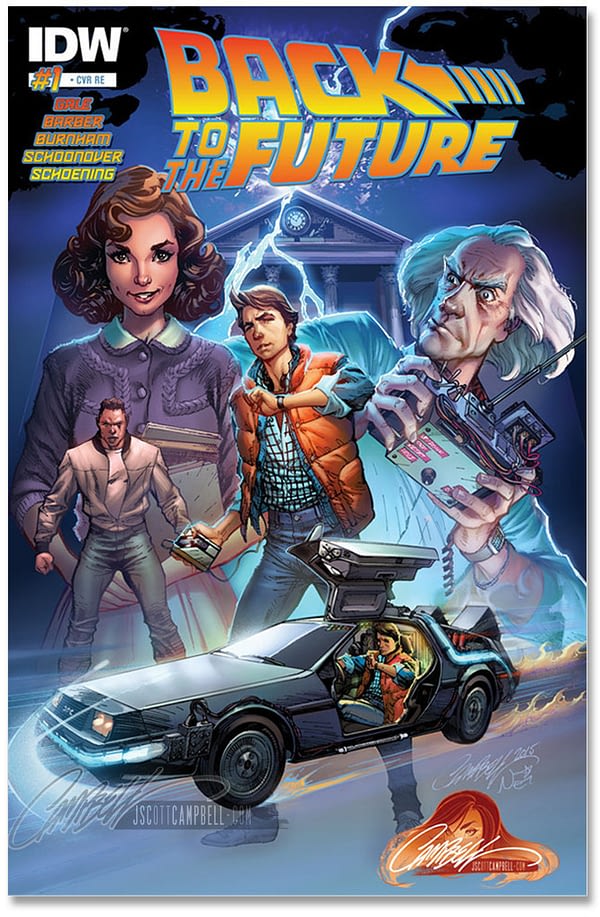 This is the Top Ten Bleeding Cool Bestseller List, as compiled by a number of comic stores from their sales on Wednesday and Thursday. It measures what are known as the "Wednesday Warriors", those who can't wait to the weekend to get this week's comics. We salute you, and the keenness you bring to your passion.
This week Star Wars titles take the top two spots. But less expected are appearances from Back To The Future, Invader Zim and… Karnak?
1. Journey Star Wars #4
2. Darth Vader #11
3. Justice League #45
4. Amazing Spider-Man #2
5. Uncanny Inhumans #1
6. Back To The Future #1
7. Invincible Iron Man #2
8. Batman Robin Eternal #3
9. Invader Zim #4
10. Karnak #1
Thanks to the following retailers,
And this is what they say,
Good week for books with Shattered Empire taking the top spot and Vader hitting triple digits. I have to say that Back to the Future did amazing with a complete sell out probably due to speculators,but that is okay since it would be ridiculous to complain about someone driving to my store and giving me money…instead of clicking a button on a computer.

IDW had a perfect storm releasing Back to the Future #1 on Back to the Future Day. It sold really well for us, and brought in a ton of new faces (thought I doubt any of them will be back for #2). Uncanny Inhumans sold okay for us, but it's not the big characters that Marvel wants them to be. Vader was the top dog for us, and Shattered Empire even got a nice bump thanks to the Force Awakens trailer hitting this week.

Sunflower from 451 Media has been a consistent seller for us all week, which was a pleasant surprise. Back To The Future has also been super strong for us, as well as Turtles #50. Invader Zim back issues are still selling like crazy too! Apparently Nickelodeon didn't like making money, cause it's still selling like mad and people STILL come in for the first 3 issues!

Good week. Darth Vader coming out again this month helped sales. Not one good thing by customers was said about Amazing Spiderman 1 but Amazing Spiderman 2 sold out. Superman Wonder Woman did very well this week. Justice League by far and away DC's best seller here. Back to the Future was very popular. Hats off to IDW getting that out on the same day as Back to the Future Day. I never dreamed months ago when I ordered it that Back to the Future Day would be such as big deal. Would have sold more if I had ordered more and if Diamond hadn't shorted us on the order.

Deadpool, Harley Quinn, and Supergirl back issues are doing well. Supergirl back issues are benefiting from the sad fact DC doesn't have a current Supergirl comic coming out. The reprint of the first issue from the cancelled Supergirl series was pretty weak.

Dark Horse Star Wars comics are on the move with people getting what they can before the movie come out. I think most people are understanding that the print runs were kinda of low on many of those titles. Healthy, but low.

DC managed to take three places in our top ten, which is an improvement. The big surprises: The strong showing of Invader Zim #4 and Back to the Future #1, both of which beat out a number of new series launches from Marvel and DC.

Pre-New 52 DCs continue to sell well, with increased interest in classic Superman thanks in part to the strong sales of Superman: Lois & Clark #1.

It was all about Back to the Future this week.  Not only did it shatter every single issue unit sales for 1 day but did it less than a hour.   Invader Zim continues to be our #1 selling comic book overall every month taking 2nd and Clean Room comes in 3rd.   Marvel comes in with Vader and Journey at 4th and 5th. Ant-Man and Inhumans takes 6th and 7th.  Karnak comes in the 8th spot and surprising sells out. Beauty comes in a strong 9th with all 3 covers selling out.  DC comics squeezed in Eternal Batman and Robin in the 10 spot.   Retro is in and people are coming in from all demographics.  We had more 1st time comic book buyers this week than any other week in our 6 years of business.  DC sales continues to drop at a alarming fast pace and Marvel #1's are starting to put customers at a budget shortage.  Our average sale has risen over $9.00 a purchase as Indies become more affordable and readable.
Enjoyed this article? Share it!