We mentioned a while ago that Marvel was to inexplicably reprint the JM DeMatteis and Mark Badger graphic novel Greenberg The Vampire from the eighties. A rights thing? No idea. Well, for whatever reason, someone has gotten round to reading it. And realising that thirty years on, there may be an issue. And, as a result, the content rating has suddenly jumped from Mature Readers to Explicit Content. But for the life of me, I can't explain why. The comic is about a Jewish vampire writer dealing with his lot in Los Angeles. There's sex, some violence, but nothing that would put it out of place in a normal Mature Ratings. What nudity there is, is artistic and minor, rather than masturbatory material. There are no racial epithets of note. The language is AMC rather than HBO.
Then I realised what it was. It is shown that the lead character has his first sexual experience, after his bar mitzvah. He was thirteen.
And something that was able to be shown without as much concern in the eighties is now seen in a very different light.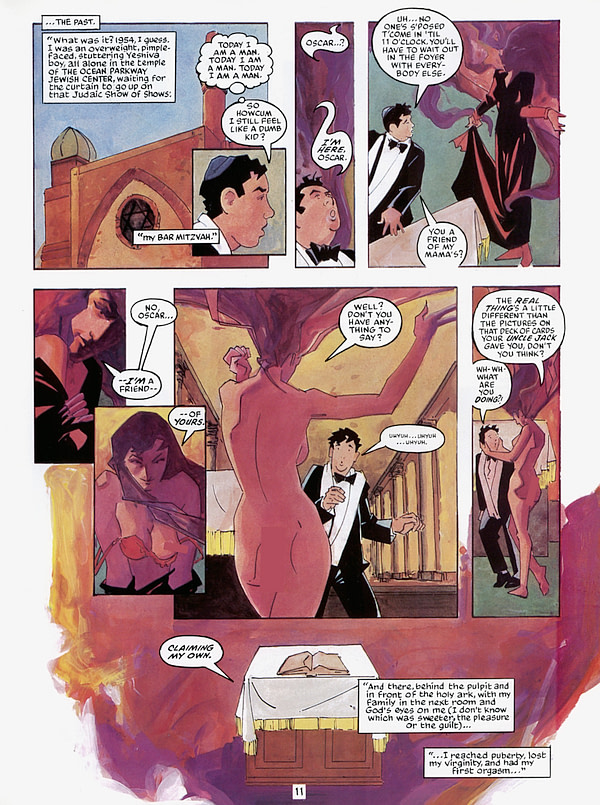 The religious aspect probably doesn't help either. But it is evidence how something more acceptable in one decade is less acceptable in another.