By Abdulkareem Baba Aminu
There initially were questions about the wisdom of following the megahit Frozen with an adaptation of a Marvel comic by Walt Disney Animation Studios. But the mash-up of sorts is a tale full of heart, memorable characters and it proves to be a brilliant idea. It also is the perfect movie to watch (or re-watch) during the holiday season.
Sourced loosely from a relatively obscure Marvel Comics title and set in a futuristic city where cable cars, cherry blossoms and schools for nerds are part of everyday life, Big Hero 6 is the story of a teen techie and a robot his brother built.
Co-directed by Don Hall and Chris Williams (of Frozen fame), the movie boasts of many things. But the best thing about it is its heart. There was proof in front of me, as I watched a special night screening and I noticed even at that hour, many viewers had kids tagging along. I sat in the back row, so I could adequately gauge that both adults and children had a great time watching it. There are robots, superheroes and a villain to die for, so you'd guess that means there's a ton of action scenes and set pieces to whet any blockbuster-hungry appetite. The plot goes: Hiro Hamada, 14, is a prodigy who graduated from high school at 13 but isn't living up to his potential, spending time entering his microbot in back-alley bot-fights.
He loses the guidance of his brother and Hiro takes comfort in Baymax, a gentle robot invented by his late brother. Hiro later discovers that the loss of his brother was no accident, so he upgrades Baymax and they go after the culprit. Tadashi's friends later join in the fray in truly hilarious circumstances.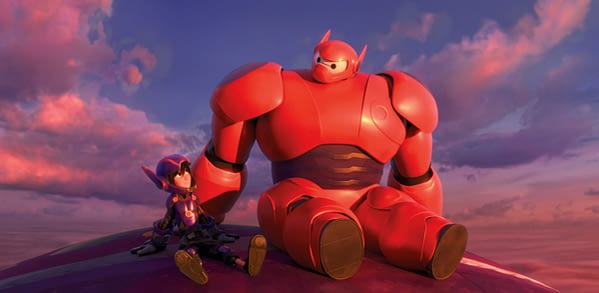 The rest of the 6 include GoGo, Wasabi, Honey Lemon and Fred, all memorable in their own unique ways. This movie is actually a coup of character development if I've ever seen any and their appeal guarantees a strong potential for sequels.
The movie isn't only perfect for holiday viewing because it's heart-warming and action-packed fun, but the kinetic music, the witty humor, the spot-on voice acting, the top-notch animation and the breath-taking action scenes make it perfect, period.
Abdulkareem Baba Aminu is a Bleeding Cool contributor, award-winning journalist, cartoonist, comicbook creator and painter. The Nigeria-based writer has reviewed comics, novels, movies and music for a variety of platforms. He is currently the Editor of the Weekly Trust, one of the most influential newspapers in his country. You can follow him on Twitter @KareemReal
Enjoyed this article? Share it!