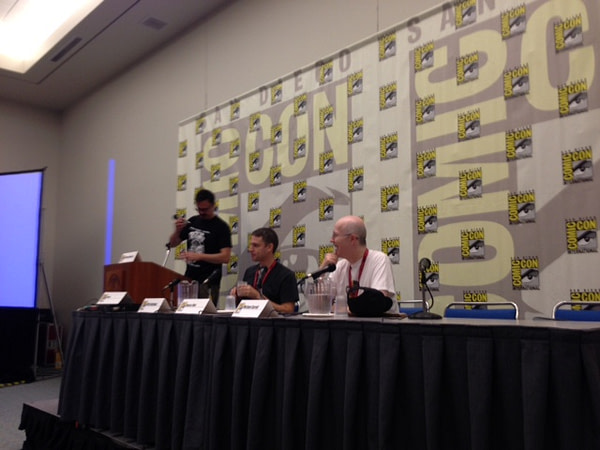 It's that time of year again, when the 2000AD crew turns out to have an interactive prize-wielding panel at San Diego Comic Con. Chris Burnham, Michael Carroll, Henry Flint, and Jock took the podium MCed by Michael Molcher, who was in fine form.
Chris Burnham, new this year to 2000AD, appeared in the Free Comic Book Day issue. Drawing Dredd was "wild" for this American, and Matt Smith included his all time favorite villains, the Blobs, in the issue for him. Removing the facial features from famous people and all wearing the same clothes is "so weird" and he had the opportunity to make sure they got "brutally slaughtered". He was nervous to tackle his first Dredd artwork, and found some difficulty in deciding on visor arrangement, finding his own ways to evoke the character. As an America, Molcher asked, which "clearly isn't your own fault, but we won't hold it against you", he said, "What is it about Dredd you like so much?" Burnham said that not knowing what kind of story, what kind of Dredd you're going to get is "morally challenging" and interesting.
Henry Flint thinks when you get a script, you ask yourself, "What does this story need?" Is it a comedy, a grittier story? That leads to different art interpretation methods and moods to suit the themes, creating very different "looks" for stories.
As a veteran of Dredd, Jock was involved in creating the "look" of the Dredd movie. the hardback script and visuals collection is currently available at the Rebellion booth at SDCC. He said that seeing his work collected in a volume like this is "surreal and amazing and makes me very proud, to be honest". Growing up with Dredd made him want to draw comics for a living. Jock has worked on a few other films now and though it's always strange to see your stuff on screen that changes the work a little and thinking to yourself "The gun's mine. The helmet as well, that's close to the comic", and picking those influences a part. The book is a collection of his work on the film and he's worked with the designer at Rebellion through multiple versions to produce the best final result.
Michael Carroll has been working on Dredd for a few years, a relative newcomer, but he's been reading every issue from the beginning. It's "weird" being up here, he said, since he's previously been in the front of panels and asking for free graphic novels. Being forbidden to request one this time, he said, "I hereby announce my retirement", jokingly. "I'm Irish, I know how to fight", he warned. Working on Dredd there was a very quick turnaround, and recently he had a 6 page script and found out on the interwebs that Bryan Talbot, a legend, will be drawing it and that made his day.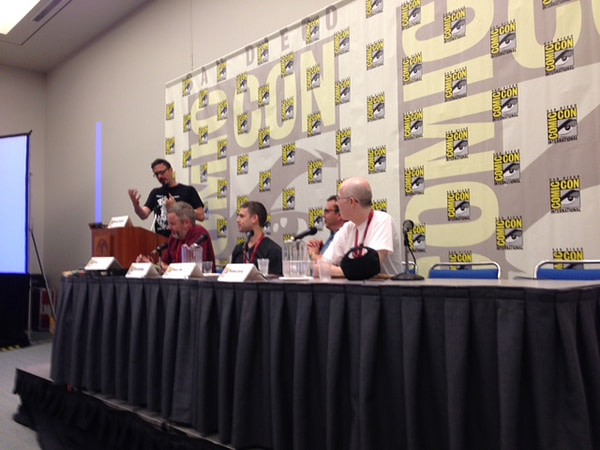 Michael Molcher had concocted a new game for fans that he actually derived from a dream called "Thrill or Shill", making 4 volunteers listen to lines and determine whether they were real lines from Judge Dredd comics in the hopes of winning a free graphic novel. Lines like "Kiss my Axe" were "thrills", real lines, but the comedy was also provided by panelists misreading their lines and Molcher calling them "illiterate". "Shill lines" included, "The crime is life, the sentence is 36 hours of community service". There was also dispute about whether lines from the movie ought to count as subject matter, and Jock overrode Michael to keep a competitor in the game.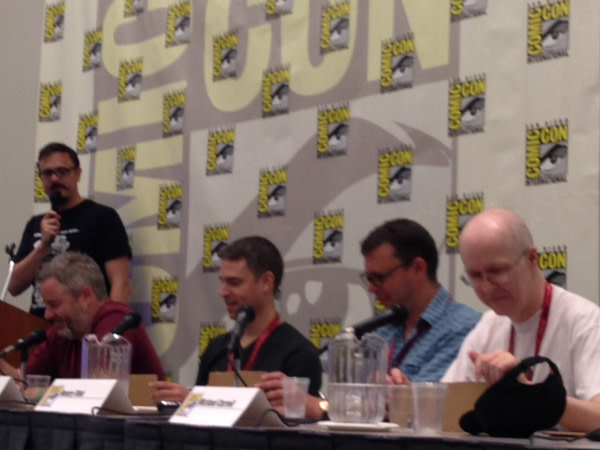 Molcher asked Jock about his highlights of non Dredd 2000AD comics, and he called for Halo Jones by Alan Moore, out of print at the moment but in shops soon. ABC Warriors, Slaine were also contenders. The Horned God, Simon Bisley's first fully painted "explosion" in comics is also out there. Burnham chose Strontium Dogs, described as "Fistful of Dollars in Space". Flint called out Kevin O'Neill's Nemesis. Caroll chose DR & Quinch and 2000AD's incarnation of Dan Dare. For people thinking about picking up 2000AD might not realize that many of the creators are also on the American market like Alan Moore, Brian Bolland, and Grant Morrison.
This October, Molcher reminded, Morrison's Zenith is coming out. It answers questions like "What if the only superhero in the world was a spoiled brat?" and was a big hit when it was released, now highly recommended. Molcher would "pitch in" Bad Company as a favorite.
The panel broke into Q&A before another game session and artists were asked about their choice in the aesthetics of Dredd compared to past traditions with a "squarer" design. Caroll said that there was a certain amount of "copying" and channeling among artists early on in Dredd history, but moving away from copying is always exciting.
Another topic of discussion is the aging of Dredd, who is getting much older, and so what's coming for Dredd? Carroll said "Well, he's younger than my Dad and I wouldn't put my Dad down just yet", laughing. He compared Dredd to Gran Torino and Clint Eastwood. There could also be clone bodies, he suggested. Flint said that he heard a conversation a few years ago in a pub and heard talk of treating Dredd as Batman, just add a year every year but hope no one notices. Once he reaches a certain point, he could go backward again. Jock joked that they are going to let him get to 124 and then keep him there. Another possibility would be coming up with a death for Dredd that's not simply a gun shot to make things more human.
A final game called "Play Your Thargs Right", where each of the panelists were given giant 2000AD cards, involved the audience encouraged to guess whether cards following an initial card was higher or lower than the first. The giant cards showed off 2000AD artwork.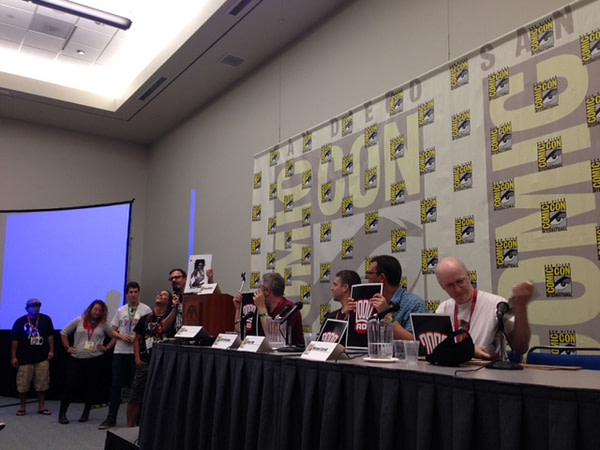 It would be impossible not to acknowledge that this game really brought the hilarity with panelists and audience alike. But Molcher forgot to give away a hardback Dredd book, so had to add a final challenge. It, in the end, went to someone with "faces on his crotch" prepared to dance.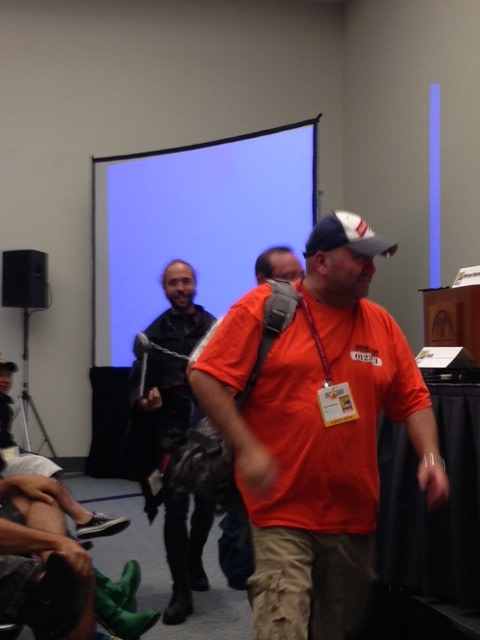 This "shambolic 2000AD panel" lived up to their previous reputation for utter madness and lots of fun, free books, and Dredd as well as 2000AD outreach to fans new and old.