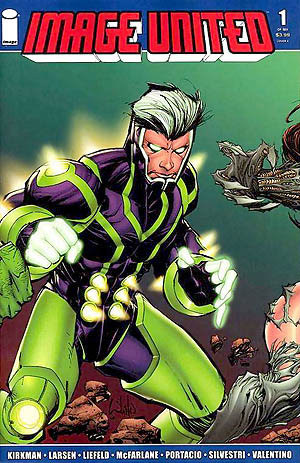 Once upon a time, there was a comic called Image United. Written by Robert Kirkman, it featured the Image founder's characters in one comic, and was drawn by them all, Whilce Portacio, Jim Valentino, Marc Silvestri, Rob Liefeld, Erik Larsen and Todd McFarlane, with each artist drawing their characters and Jim Lee drawing covers.
. Issue 1 came out in 2009. Issue 2 shortly after, then a nine month wait until Issue 3. No more issues of the series have been published, though there were additional Image United #0 and Image United Prelude to fill the scheduling gaps. But of issue 4 there is still no sign.
From The Savage Fincast Episode 26 – an interview with Erik Larsen…
Between 06:30 to 09:15
Image United, always, nothing ever happens on that, ever. Every time that it's brought up to the group, it makes it dead, you know? It's like the thread killer, or whatever you call that. There's a perfectly fine discussion of all of us and somebody goes 'Hey, how about Image United?', suddenly it's like no responses now. What the hell? We were all patting each others' backs there a second ago, but now we're not talking anymore.

There's been, as far as I can tell, absolutely no movement on it. I don't have any pages here; there's nothing I can do.
And, concerning if he thinks the founders are just going to call it a day on the comic?
I don't know that we will ever officially make an announcement. It's sort of like, you know, people send out wedding announcements, they don't send out divorce announcements.

So I think that there would be retailers who would be sitting there going 'You promised us this book was going to be completed, it's never completed, now we want to return these things we've been sitting on for 10 years'. So, I don't know that anybody's like 'Yeah, let's do that!'. Although, I frankly think we should. I think we should just say 'You know what? It's never going to happen. Sorry, but we're a bunch of dicks'.
And about getting asked about it,
As the years go on, it's less and less, and it would be really weird to be working on it again just because Malcolm (Dragon) is such a pipsqueak in the book (Image United). It's like 'How obvious is it that you guys have been dragging your ass when this one character is like 300 lbs lighter than he is now?'