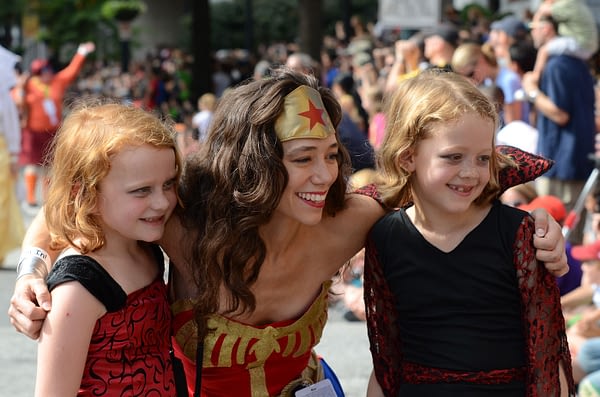 Bill Meeks, Senior Dragon*Conrespondent for Bleeding Cool writes;
If Dragon*Con… I mean Dragon Con… was High School this would be my senior year.
I'm Bill Meeks and while this is my third year covering one of America's largest fan conventions it's my 4th year attending it. >Here's a list of last year's coverage if you want to check it out.
A lot is changing about the convention this year, especially behind the scenes. The biggest change for me as somebody who writes a lot about the convention is that there isn't a * in the name any more. It's been screwing me up for the past couple weeks, so I apologize in advance for making the mistake several times.
The reason? As Bleeding Cool reported last month Edward Kramer, the controversial Dragon*Con shareholder that inspired a boycott earlier this year, was bought out by the other sharehodlers and the company behind the convention was reformed as Dragon Con/ACE, Inc..
Dragon Con is known for it's more… ahem… salacious side but like many conventions this year they've released an official harassment policy that's appropriately strict. It boils down to what any rational person would expect: No means no, cosplay is not consent, and treat others with respect. Unfortunately at a convention this large there are plenty of people that aren't rational (as well as rational people who drink away a bit of their rationality) so it has to be spelled out. If you are attending the convention and run into any issues you can talk to any of the volunteers wearing a red lanyard and they'll take of of the problem person.
Some other changes this year: vendors are now by the food court, there's a new parade route, and they'll be even tougher on checking badges this year.
If you're going to Atlanta this Labor Day weekend you are going to want to bookmark this handy wifi guide that lets you know where you can find free wifi during the convention.
I'm on a few panels this year and I'd love to see some Bleeding Cool readers in the audience. Both panels are on Saturday. Here's the details:
How To Start A Fancast About Your Favorite TV Show – Hilton 203, Saturday 8/31 11:30 AM: (Bill Meeks,Anne Marie DeSimone, Justin Robert Young, Kevin Bachelder, Darrell Darnell, Stephanie Smith, Les Howard) Are you passionate about a certain TV show (new or old) and interested in starting a podcast centered around it? If so, come to this panel to hear from podcasters who've already done this. What approaches have worked and what pitfalls to avoid.
Once Upon it's Second Season – Marriott M301- 302, Saturday 8/31 5:30 PM: (Bill Meeks, Margaret Parsons, Rebecca Johnson, Hope Mullinax, Shannon Conley) Widening its fairy tale web, Storybrooke casts its net wider, adding more tales, and brings a spin off into being.
Yes, I have a fancast about Once Upon A Time. Don't judge.
There are several panels comic books fans might want to attend. I'm going to try and film at least one of these if possible and post it here.
Before Watchmen – Hyatt Hanover F, Saturday 8/31 2:30 PM: (Amanda Conner, Darwyn Cooke) Hear what it's like to add to a classic.
DC Legends – Hyatt Hanover F, Saturday 8/31 4:00 PM: (Neal Adams, other?) A chat with men who have forever altered the legacies of Superman, Swamp Thing, Hawkman, Batman, Green Arrow, and Wonder Woman
Hulk – Hyatt Hanover F, Sunday 9/1 11:30 AM: (Peter David, Paul Jenkins) Hulk Smash! Get an inside peek at the talent behind the many incarnations of the Hulk.
There will also be panels devoted to Mighty Morphin Power Rangers, The Fraggles, Firefly, Doctor Who, Being Human, and tons of other fandoms. The great thing about Dragon Con is that if it exist, there is probably an event for it at this convention.
I'm looking for cosplayers that would like to be interviewed in-character. Follow me on Twitter @billmeeks and let me know if you're interested. That might be a good idea anyway. You never know who might dance their cares away while I'm around.
I'm graduating Dragon Con this year. Time to see old friends, bond with other fans, maybe drink a little, and bring you folks a ton of great coverage. Keep an eye on Bleeding Cool all weekend for updates.
Enjoyed this article? Share it!