First of all, the Uncanny Avengers #1 cover we ran the other day as the nineteenth cover is confirmed as a Hastings Exclusive cover, available in all Hastings stores. More on them in a minute. Because last week a whole bunch of retailers received  two copies of Uncanny Avengers #1 in advance…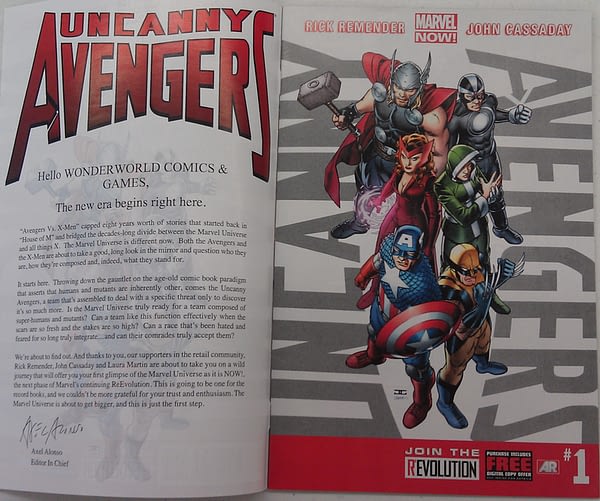 That's right, each was individualised to the store in question, usually sent to five hundred retailers. Does this mean that this cover, without UPC code or price, is the twentieth variant cover of Uncanny Avengers #1… or the five hundred and nineteenth?
Thanks to Wonderworld Comics & Games for the scan.
But talking of that Hastings cover. Available easily, freely and for cover price in all Hastings stores. But not available where there is no Hastings, and they don't do mail order either.
Just take a look at the price of these recently released Avengers Vs X-Men #12 and Doctor Who #1 Hastings variants. $24 for Doctor Who and.,.. seriously? $60 for Avengers Vs X-Men #12…
(Last Updated
October 8, 2012 1:17 pm
)
Related Posts
None found