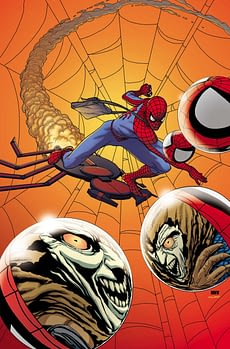 Marvel Comics is amending the solicitations for a number of titles that were solicited in Previews with the wrong maturity rating.
Amazing Spider-Man #697 and #698, Avengers #33 and #34, Fantastic Four #1, FF #1, New Avengers #33 and #34, Wolverine And X-Men #20 and #21, X-Men #38, and X-Men Legacy #1 and #2 have all been switched from T to T+.
Wolverine & The X-Men started with a T+ but with issue 7 moved to T, until issue #16 when it jumped back up top T+ again.
Amazing Spider-Man was T, but with #693 has jumped to T+.
Avengers was T all the way up to issue 29 when it went to T+
Fantastic Four was T up until #610 when it went to T+.
X-Men was T up until issue 36, when it switched to T+.
And X-Men Legacy, before the relaunch was also a T title. Now it is T+.
More and more Marvel Universe titles are switching to T+ it seems. The codes, they are a-changin'. Here's the difference:
T: appropriate for ages 9 and up.
T+: appropriate for most readers 12 and up, parents are advised that they might want to read before  or with younger children.
Oh, and X-Men Legacy will no longer be $3.99 but $2.99 a copy… so there's that.
Enjoyed this article? Share it!