Now there's a blast from the past.
Andrew Hope was the artist on Shadowmen in the early nineties, a comic book written by the teenage Mark Millar and published by Trident Comics. Working and living in Glasgow, Hope also wrote a couple of stories for Trident Magazine. He was then flown out by AC Comics to Florida to discuss writing Ms. Victory, but it all come to nothing. And then Trident went bust.
So that was Alan Hope's history in the comic book industry. Until now, over twenty years later.

Represented by Jon Campbell, the man who represented Mick Anglo to Marvel, Andrew Hope now living in Minnesta, has just landed a writing gig at Marvel for next year. What, we have no idea, but he seems rather pleased. Certainly his tweets show his pleasure. With Marvel at least.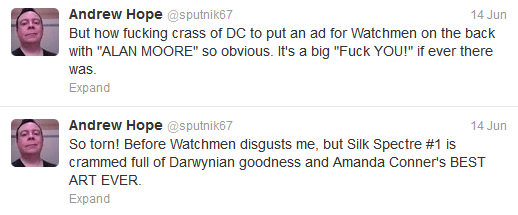 You can take the biy out of Glasgow, but you can't take Glasgow out of the boy. Looking forward to seeing what happens next…