Again, one day before the comics could be bought at Walmart, weeks, or in some cases a month earlier, DC released the last of the solict information for their Giant Line, with solict information for Wonder Woman Giant #3 finally made available. As early as Thursday though, Walmarts throughout the United States already had copies for Wonder Woman Giant #3, as well as Batman Giant #3, Swamp Thing #3, The Flash Giant #3, and Birds of Prey Giant #1 out for sale.  Up to five for this month the releases seem to be odd numbered months getting
Batman Giant Volume 2
Wonder Woman Giant Volume 2
Swamp Thing Giant Volume 2
Flash Giant Volume 2
Plus a special one shot of some sort. With the even-numbered months getting
Superman Giant Volume 2
Aquaman Giant Volume 1
DC Super Hero Girls Giant Volume 1
Teen Titans Go! Giant Volume 1
Plus a special one shot of some sort. Though next month there may be some shuffling around as the second issue of Crisis on Infinite Earths Giant tying into the Arrowverse crossover event should be in stores, only a month after the crossover has already finished… Plus there is the DC War Giant #1 with the promised Jim Lee/Brad Meltzer combo, but when that will be published is anyone's guess. For this month though we get Batman Giant #3 with a fun quick Bruce Wayne versus Joker tale and a great story explaining why Two-Face can't stop being a villain.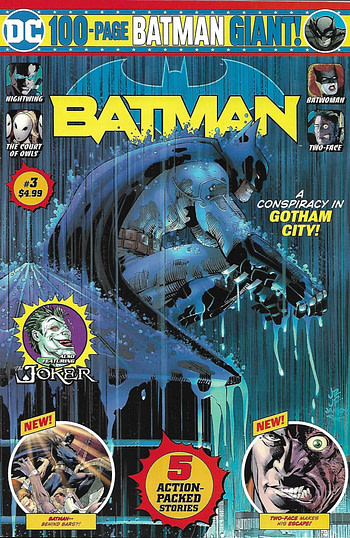 Swamp Thing Giant #3 continues Mark Russell's ongoing take on Swamp Thing, making three of the ongoing Giant books this month have the same writers who are basically doing shortened ongoing stories,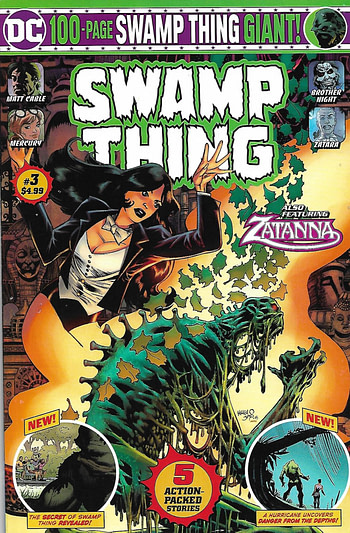 With Wonder Woman Giant #3 continuing Amanda Conner and Jimmy Palmiotti's run on Wonder Woman,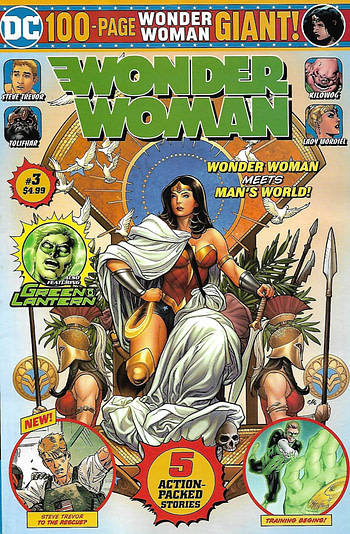 And Gail Simone continuing on The Flash Giant #3.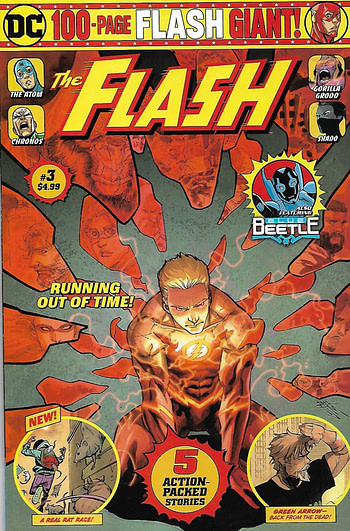 However, Gail Simone also brings something else special to the Flash this month with her return to also writing her creation Ryan Choi as the Atom, guest-starring to help out the Flash against time anomalies.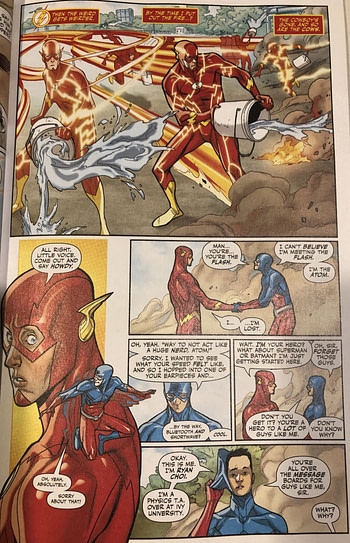 And Gail also writes the lead in Birds of Prey Giant #1 with a story focusing on the "new" Birds of Prey Black Canary, the Rebirth version of Huntress, Harley Quinn, and Poison Ivy…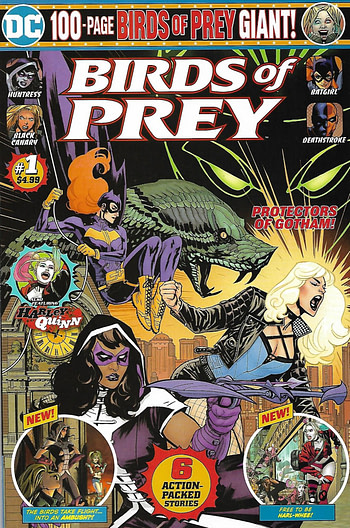 In addition Harley Quinn and Huntress get their own new solo tales, as Huntress fights Deathstroke written by Chew co-creator John Layman and drawn by great Cully Hamner.  Also the Birds of Prey Giant continues the habit of the "special" one –shot issues getting 32 pages of all-new content, versus the other ongoing books only having 24 pages of new content. All the Giant Line issues out this month have short stories, 8 or 16 pages that fit fine in the current DC Rebirth continuity, except for the lead story in the Flash Giant #3 written by Gail Simone who is continuing her own "micro-continuity" for Flash, continuing from the Flash Giant Volume 1. Out this weekend, Walmarts around the United States received four new books sporting their Walmart exclusive reprint covers (as shown below):
BATMAN GIANT #3
Reprint cover by John Romita Jr.
This issue includes two new stories:
o "Dragnet", a 16-page story written by Mark Russell with art by Ryan Benjamin
o "A Flip Of The Coin", an eight-page Two-Face story written by Frank Tieri with art by Scott Eaton
Plus, these reprint tales:
o "The Thirteenth Hour", from BATMAN #3
o "Elegy Part Two", from DETECTIVE COMICS #855
o "Better than Batman Part Three", from NIGHTWING #3
In Walmarts:  January 16, 2020 (two and a half weeks before comic shops) SRP: $4.99
THE FLASH GIANT #3
Reprint cover by Francis Manapul
This issue includes two new stories:
o "The Accelerated and the Infinitesimal", a 16-page story by Gail Simone and Clayton Henry.
o "The Pied Piper's Refrain", an 8-page story by Josh Trujillo and Andie Tong
Plus, these reprint tales:
o "Gorilla Warfare Part Three", from THE FLASH #15
o "Erasure", from GREEN ARROW #2

o "The Past Is Another Country", from BLUE BEETLE #3
In Walmarts:  January 16, 2020 (three and a half weeks before comic shops) SRP: $4.99
SWAMP THING  GIANT #3
Reprint cover by Kelly Jones

This issue includes two new stories:
o "Gods Of The Abyss", written by Mark Russell with art by Marco Santucci

o "The Courser", written by Phil Hester with art by Tom Mandrake

Plus, these reprint tales:
o "Fateful Reunion", from SWAMP THING #3

o "The Poison Truth Part Three", from THE HELLBLAZER #3
o "Night On Devil Mountain", from ZATANNA #3
In Walmarts:  January 16, 2020 (five and a half weeks before comic shops) SRP: $4.99
WONDER WOMAN GIANT #3

Reprint cover by Frank Cho

This issue includes two new stories:
o "Planned Extinction", a 16-page story written by Jimmy Palmiotti and Amanda Conner with art by Daniel Sampere.

o "Couldn't Live", an 8-page story written & drawn by Scott Kolins.

Plus, these reprint tales:
o "Year One Part 3", from WONDER WOMAN #6

o "Secret Origin Part 3", from GREEN LANTERN #31

o "The Cataclysm Part 3: The Path of Heart" from SWORD OF SORCERY #2
In Walmarts:  January 16, 2020 (four and a half weeks before comic shops) SRP: $4.99
BIRDS OF PREY GIANT #1

Cover by Yanick Paquette

This issue includes three new stories:
o "Fight Or Flight", a 16-page Birds Of Prey team-up story with Black Canary, Huntress, Harley Quinn, & Poison Ivy, written by Gail Simone with art by Inaki Miranda.

o "Disguises", an 8-page Harley Quinn story written by Robert Venditti with art by Isaac Goodhart.

o "The Killing", an 8-page Huntress versus Deathstroke story written by John Layman with art by Cully Hamner.

Plus, these reprint tales:
o "Gotham City Limits", from BATGIRL AND THE BIRDS OF PREY #14
o "Please, Please, Please, Let Me Get What I Want", from BLACK CANARY #9
o "Good Morning Gotham!". from New Talent Showcase #1
In Walmarts:  January 16, 2020 (five days before comic shops) SRP: $4.99. Expect next month:
Superman Giant Volume 2 #2
Aquaman Giant #3
Crisis on Infinite Earths Giant #2
DC Super Hero Girls Giant Volume 1 #3
And probably Teen Titans Go! Giant #2