Bleeding Cool has been of late not just reporting Diamond's Top 500 ordered comics and graphic novels by North American comic book stores, but also combining split covers, where one cover is at a different price than another, into a more representative chart. This was kicked off by DC Comics decision to publish cardstock covers for a dollar more, but there are other publishers such as Boom and Albatross Funnybooks that are affected.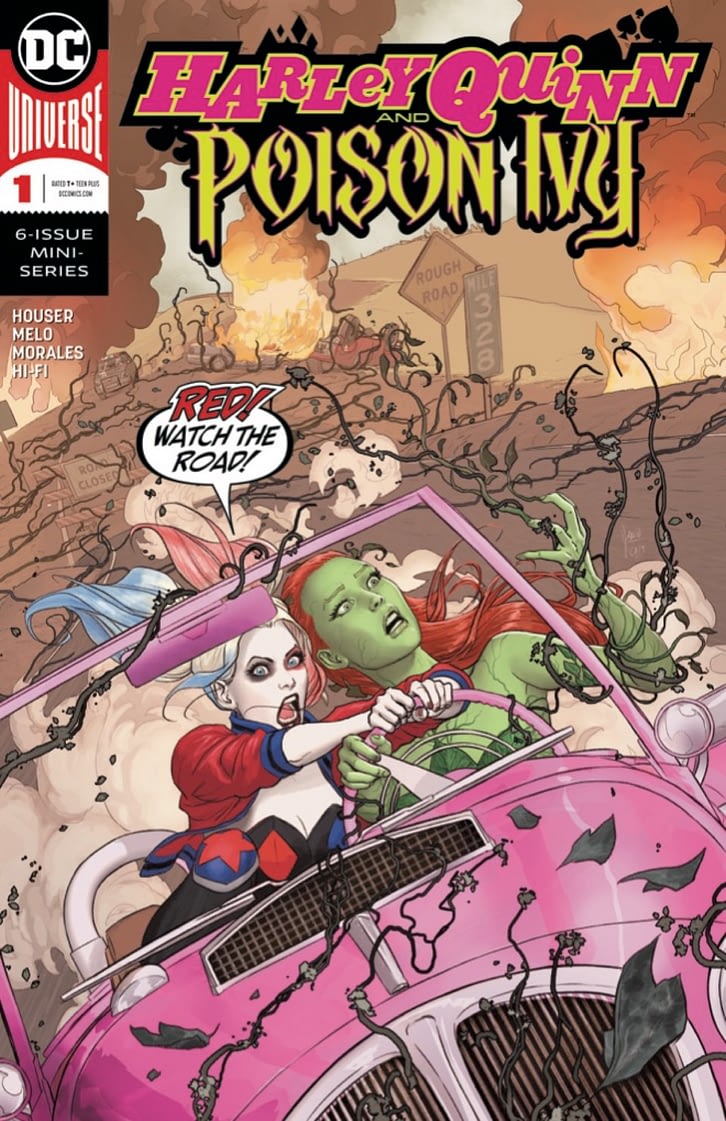 And for September, that means a big rise for the launch of Harley Quinn/Poison Ivy beating out Batman (which also got a lift), Absolute Carnage and DCeased, with other significant jumps for Action Comics, Event Leviathan, Supergirl, Event Leviathan and more from DC Comics, Goon from Albatross Funnybooks and Power Rangers and Faithless from Boom Studios.
Take a shufty at the new top 500… or rather the top 484 now that sales have been combined.
| | | | | | |
| --- | --- | --- | --- | --- | --- |
| Quantity rank | Retail rank | Index | Product | Price | Publisher |
| 1 | 1 | 324.28 | SPAWN #300 | $7.99 | IMA |
| 2 | 2 | 193.10 | SPIDER-MAN #1 | $4.99 | MAR |
| 3 | 3 | 172.03 | HOUSE OF X #5 | $4.99 | MAR |
| 4 | 5 | 169.86 | POWERS OF X #5 | $4.99 | MAR |
| 5 | 6 | 156.92 | POWERS OF X #4 | $4.99 | MAR |
| 6 | 7 | 147.40 | HOUSE OF X #4 | $4.99 | MAR |
| 7 | 8 | 143.02 | DOOMSDAY CLOCK #11 | $4.99 | DC |
| 8 | N/A | 136.24 | HARLEY QUINN & POISON IVY #1 | 3.99/4.99 | DC |
| 9 | 9 | 117.98 | ABSOLUTE CARNAGE #3 AC | $4.99 | MAR |
| 10 | 10 | 111.16 | DCEASED A GOOD DAY TO DIE #1 | $4.99 | DC |
| 11 | 4 | 104.70 | HARLEEN #1 (MR) | $7.99 | DC |
| 12 | N/A | 103.88 | BATMAN #79 | 3.99/4.99 | DC |
| 13 | 14 | 100.00 | BATMAN #78 | $3.99 | DC |
| 14 | 13 | 98.98 | AMAZING SPIDER-MAN #30 AC | $3.99 | MAR |
| 15 | 12 | 83.77 | BATMAN CURSE OF THE WHITE KNIGHT #3 | $4.99 | DC |
| 16 | 15 | 81.10 | VENOM #18 | $3.99 | MAR |
| 17 | 37 | 81.00 | STRIKEFORCE #1 | $3.99 | MAR |
| 18 | N/A | 80.87‬ | JUSTICE LEAGUE #31 | 3.99/4.99 | DC |
| 19 | 16 | 80.32 | AMAZING SPIDER-MAN #29 | $3.99 | MAR |
| 20 | N/A | 76.62 | BATMAN SUPERMAN #2 | 3.99/4.99 | DC |
| 21 | 21 | 72.20 | FANTASTIC FOUR #14 | $3.99 | MAR |
| 22 | 22 | 70.06 | IMMORTAL HULK #23 | $3.99 | MAR |
| 23 | 23 | 68.82 | KING THOR #1 | $3.99 | MAR |
| 24 | N/A | 63.18‬ | ACTION COMICS #1015 | 3.99/4.99 | DC |
| 25 | 29 | 62.36 | SILVER SURFER BLACK #4 | $3.99 | MAR |
| 26 | 27 | 62.26 | DETECTIVE COMICS #1011 | $3.99 | DC |
| 27 | 28 | 61.79 | DETECTIVE COMICS #1012 | $3.99 | DC |
| 28 | 19 | 59.75 | LEGION OF SUPER HEROES MILLENNIUM #1 | $4.99 | DC |
| 29 | 55 | 59.45 | ABSOLUTE CARNAGE SCREAM #2 AC | $3.99 | MAR |
| 30 | 30 | 59.10 | SUPERMAN #15 | $3.99 | DC |
| 31 | N/A | 58.48‬ | EVENT LEVIATHAN #4 | $3.99 | DC |
| 32 | 26 | 57.02 | FLASH FORWARD #1 | $3.99 | DC |
| 33 | 32 | 55.42 | ABSOLUTE CARNAGE VS DEADPOOL #2 AC | $3.99 | MAR |
| 34 | 34 | 55.09 | SAVAGE AVENGERS #5 | $3.99 | MAR |
| 35 | 35 | 54.90 | AVENGERS #24 | $3.99 | MAR |
| 36 | 20 | 52.84 | ABSOLUTE CARNAGE SYMBIOTE SPIDER-MAN #1 AC | $4.99 | MAR |
| 37 | N/A | 52.72 | CATWOMAN #15 | 4.99/3.99 | DC |
| 38 | 36 | 52.46 | ABSOLUTE CARNAGE MILES MORALES #2 AC | $3.99 | MAR |
| 39 | 65 | 51.28 | TONY STARK IRON MAN #16 | $3.99 | MAR |
| 40 | 42 | 51.08 | BLOODSHOT (2019) #1 | $3.99 | VAL |
| 41 | 39 | 50.68 | GREEN LANTERN #11 | $3.99 | DC |
| 42 | 25 | 50.22 | ABSOLUTE CARNAGE SYMBIOTE OF VENGEANCE #1 AC | $4.99 | MAR |
| 43 | 95 | 49.25 | BLACK PANTHER AND AGENTS OF WAKANDA #1 | $3.99 | MAR |
| 44 | 73 | 48.86 | VALKYRIE JANE FOSTER #3 | $3.99 | MAR |
| 45 | 40 | 48.62 | BATMAN VS RAS AL GHUL #1 | $3.99 | DC |
| 46 | 33 | 47.70 | WEB OF BLACK WIDOW #1 | $3.99 | MAR |
| 47 | 45 | 47.60 | GUARDIANS OF THE GALAXY #9 | $3.99 | MAR |
| 48 | 44 | 46.87 | JUSTICE LEAGUE #32 | $3.99 | DC |
| 49 | 31 | 46.16 | MILES MORALES SPIDER-MAN #10 | $4.99 | MAR |
| 50 | 48 | 45.73 | STAR WARS #71 | $3.99 | MAR |
| 51 | 47 | 45.29 | FLASH #78 | $3.99 | DC |
| 52 | 51 | 44.04 | FLASH #79 | $3.99 | DC |
| 53 | 57 | 43.64 | DAREDEVIL #11 | $3.99 | MAR |
| 54 | 62 | 42.49 | CAPTAIN AMERICA #14 | $3.99 | MAR |
| 55 | 54 | 42.45 | TMNT ONGOING #98 | $3.99 | IDW |
| 56 | 61 | 42.45 | ABSOLUTE CARNAGE LETHAL PROTECTORS #2 AC | $3.99 | MAR |
| 57 | 46 | 41.55 | SOMETHING IS KILLING CHILDREN #1 CVR A DELL | $3.99 | BOO |
| 58 | 139 | 39.58 | AGENTS OF ATLAS #2 | $3.99 | MAR |
| 59 | 64 | 39.31 | SHAZAM #7 | $3.99 | DC |
| 60 | 41 | 39.05 | NEW MUTANTS WAR CHILDREN #1 | $4.99 | MAR |
| 61 | 66 | 37.22 | WONDER WOMAN #78 | $3.99 | DC |
| 62 | 67 | 37.17 | WONDER WOMAN #79 | $3.99 | DC |
| 63 | 49 | 36.66 | HISTORY OF MARVEL UNIVERSE #3 | $4.99 | MAR |
| 64 | 70 | 36.34 | FRIENDLY NEIGHBORHOOD SPIDER-MAN #12 | $3.99 | MAR |
| 65 | 50 | 36.15 | AMAZING SPIDER-MAN GOING BIG #1 | $4.99 | MAR |
| 66 | 52 | 35.85 | WOLVERINE ANNUAL #1 | $4.99 | MAR |
| 67 | 121 | 35.16 | INVISIBLE WOMAN #3 | $3.99 | MAR |
| 68 | 71 | 34.68 | GOTHAM CITY MONSTERS #1 | $3.99 | DC |
| 69 | 43 | 34.59 | AERO #3 | $3.99 | MAR |
| 70 | 72 | 34.46 | JUSTICE LEAGUE DARK #15 | $3.99 | DC |
| 71 | 58 | 34.04 | LEX LUTHOR YEAR OF THE VILLAIN #1 | $4.99 | DC |
| 72 | 75 | 33.96 | CAPTAIN MARVEL #10 | $3.99 | MAR |
| 73 | 87 | 33.87 | ONCE & FUTURE #2 | $3.99 | BOO |
| 74 | 60 | 33.41 | RIDDLER YEAR OF THE VILLAIN #1 | $4.99 | DC |
| 75 | 78 | 33.25 | CONAN THE BARBARIAN #9 | $3.99 | MAR |
| 76 | 76 | 32.89 | BATMAN TEENAGE MUTANT NINJA TURTLES III #5 | $3.99 | DC |
| 77 | N/A | 32.43 | YOUNG JUSTICE #8 | 3.99/4.99 | DC |
| 78 | 79 | 32.21 | HARLEY QUINN #65 | $3.99 | DC |
| 79 | 81 | 31.93 | GHOST-SPIDER #2 | $3.99 | MAR |
| 80 | 82 | 31.77 | STAR WARS AOR KYLO REN #1 | $3.99 | MAR |
| 81 | 83 | 31.52 | STAR WARS TARGET VADER #3 | $3.99 | MAR |
| 82 | 84 | 31.51 | PUNISHER #15 | $3.99 | MAR |
| 83 | 85 | 31.16 | BLACK CAT #4 | $3.99 | MAR |
| 84 | 136 | 30.94 | SPIDER-MAN VELOCITY #2 | $3.99 | MAR |
| 85 | N/A | 30.62 | SUPERGIRL #33 | 3.99/4.99 | DC |
| 86 | 88 | 30.38 | DEAD MAN LOGAN #11 | $3.99 | MAR |
| 87 | 90 | 30.21 | STAR WARS AOR REY #1 | $3.99 | MAR |
| 88 | 68 | 30.18 | MOON KNIGHT ANNUAL #1 | $4.99 | MAR |
| 89 | 140 | 30.06 | GWENPOOL STRIKES BACK #2 | $3.99 | MAR |
| 90 | N/A | 29.90 | SUPERGIRL #34 | 3.99/4.99 | DC |
| 91 | 142 | 29.78 | PUNISHER KILL KREW #2 | $3.99 | MAR |
| 92 | 94 | 29.71 | DOCTOR STRANGE #19 | $3.99 | MAR |
| 93 | 93 | 29.30 | LOIS LANE #3 | $3.99 | DC |
| 94 | 98 | 28.99 | THANOS #6 | $3.99 | MAR |
| 95 | 146 | 28.91 | AGE OF CONAN VALERIA #2 | $3.99 | MAR |
| 96 | 100 | 28.65 | STAR WARS JEDI FALLEN ORDER DARK TEMPLE #1 | $3.99 | MAR |
| 97 | 101 | 28.22 | STAR WARS AOR SUPREME LEADER SNOKE #1 | $3.99 | MAR |
| 98 | 99 | 28.05 | BATMAN AND THE OUTSIDERS #5 | $3.99 | DC |
| 99 | N/A | 27.78 | AQUAMAN #52 | 3.99/4.99 | DC |
| 100 | 74 | 27.65 | GUARDIANS OF THE GALAXY PRODIGAL SUN #1 | $4.99 | MAR |
| 101 | 103 | 27.34 | TEEN TITANS #34 | $3.99 | DC |
| 102 | 104 | 27.18 | JUSTICE LEAGUE ODYSSEY #13 | $3.99 | DC |
| 103 | 89 | 27.17 | VAMPIRELLA RED SONJA #1 | $3.99 | DE |
| 104 | 105 | 26.84 | NIGHTWING #64 | $3.99 | DC |
| 105 | 156 | 26.84 | FUTURE FOUNDATION #2 | $3.99 | MAR |
| 106 | 77 | 26.72 | GHOST SPIDER ANNUAL #1 | $4.99 | MAR |
| 107 | 91 | 26.59 | VAMPIRELLA #3 | $3.99 | DE |
| 108 | 109 | 26.06 | SAVAGE SWORD OF CONAN #9 | $3.99 | MAR |
| 109 | 108 | 25.85 | DIE #7 (MR) | $3.99 | IMA |
| 110 | 80 | 25.48 | BATMAN UNIVERSE #3 | $4.99 | DC |
| 111 | 111 | 25.39 | STAR WARS AOR ROSE TICO #1 | $3.99 | MAR |
| 112 | 110 | 25.33 | BATMAN #181 FACSIMILE EDITION | $3.99 | DC |
| 113 | 112 | 25.32 | STAR WARS DOCTOR APHRA #36 | $3.99 | MAR |
| 114 | 116 | 24.89 | STAR WARS JEDI FALLEN ORDER DARK TEMPLE #2 | $3.99 | MAR |
| 115 | 115 | 24.65 | INFERIOR FIVE #1 | $3.99 | DC |
| 116 | 114 | 24.54 | BLACK HAMMER JUSTICE LEAGUE #3 | $3.99 | DAR |
| 117 | N/A | 24.28‬ | BATGIRL #39 | 3.99/4.99 | DC |
| 118 | 294 | 24.22 | DOLLAR COMICS BATMAN #608 | $1.00 | DC |
| 119 | 119 | 24.19 | SUPERIOR SPIDER-MAN #11 | $3.99 | MAR |
| 120 | 298 | 23.80 | DOLLAR COMICS CRISIS ON INFINITE EARTHS #1 | $1.00 | DC |
| 121 | 107 | 23.72 | FIREFLY #9 | $3.99 | BOO |
| 122 | 97 | 23.36 | MARVEL COMICS PRESENTS #9 | $4.99 | MAR |
| 123 | 96 | 23.26 | AVENGERS LOKI UNLEASHED #1 | $4.99 | MAR |
| 124 | N/A | 22.85 | MIGHTY MORPHIN POWER RANGERS #43 | $3.99 | BOO |
| 125 | 125 | 22.75 | RED HOOD OUTLAW #38 | $3.99 | DC |
| 126 | 123 | 22.75 | DEATHSTROKE #47 | $3.99 | DC |
| 127 | 102 | 22.55 | ALPHA FLIGHT TRUE NORTH #1 | $4.99 | MAR |
| 128 | 113 | 22.50 | RICK & MORTY VS D&D II PAINSCAPE #1 (MR) | $3.99 | ONI |
| 129 | 128 | 22.38 | SUPERMANS PAL JIMMY OLSEN #3 | $3.99 | DC |
| 130 | 118 | 21.86 | BUFFY THE VAMPIRE SLAYER #8 | $3.99 | BOO |
| 131 | 129 | 21.60 | LOKI #3 | $3.99 | MAR |
| 132 | 106 | 21.48 | SUPERMAN UP IN THE SKY #3 | $4.99 | DC |
| 133 | 307 | 21.01 | DOLLAR COMICS DETECTIVE COMICS #854 | $1.00 | DC |
| 134 | 131 | 20.77 | OBLIVION SONG BY KIRKMAN & DE FELICI #19 (MR) | $3.99 | IMA |
| 135 | 122 | 20.61 | SFSX SAFE SEX #1 (MR) | $3.99 | IMA |
| 136 | 133 | 20.37 | HAWKMAN #16 | $3.99 | DC |
| 137 | 141 | 19.94 | BLACK PANTHER #16 | $3.99 | MAR |
| 138 | 318 | 19.34 | DOLLAR COMICS HARLEY QUINN #1 | $1.00 | DC |
| 139 | 144 | 19.11 | DOOM PATROL WEIGHT OF THE WORLDS #3 (MR) | $3.99 | DC |
| 140 | 120 | 19.05 | FEARLESS #3 | $4.99 | MAR |
| 141 | 126 | 18.75 | CHASTITY #1 (MR) | $3.99 | DE |
| 142 | 149 | 18.70 | PUNISHER KILL KREW #3 | $3.99 | MAR |
| 143 | 86 | 18.67 | HOUSE OF X #1 | $5.99 | MAR |
| 144 | 148 | 18.51 | CATWOMAN #15 | $3.99 | DC |
| 145 | 211 | 18.36 | SWORD MASTER #3 | $3.99 | MAR |
| 146 | 127 | 18.31 | HOUSE OF X #3 | $4.99 | MAR |
| 147 | 326 | 18.12 | TRUE BELIEVERS HULK HEAD OF BANNER #1 | $1.00 | MAR |
| 148 | 138 | 18.06 | TRANSFORMERS GALAXIES #1 | $3.99 | IDW |
| 149 | 151 | 18.01 | TERRIFICS #20 | $3.99 | DC |
| 150 | 327 | 17.93 | TRUE BELIEVERS HULK PROFESSOR HULK #1 | $1.00 | MAR |
| 151 | 173 | 17.62 | TREES THREE FATES #1 (MR) | $3.99 | IMA |
| 152 | 157 | 17.32 | BATMAN BEYOND #36 | $3.99 | DC |
| 153 | 143 | 17.28 | BERSERKER UNBOUND #2 | $3.99 | DAR |
| 154 | 335 | 17.09 | TRUE BELIEVERS HULK GRAY HULK RETURNS #1 | $1.00 | MAR |
| 155 | 161 | 16.90 | INVADERS #9 | $3.99 | MAR |
| 156 | 132 | 16.72 | HOUSE OF X #2 | $4.99 | MAR |
| 157 | 164 | 16.70 | OLD MAN QUILL #9 | $3.99 | MAR |
| 158 | N/A | 16.48 | FAITHLESS #6 (MR) | 3.99/4.99 | BOO |
| 159 | 343 | 16.40 | TRUE BELIEVERS HULK INTELLIGENT HULK #1 | $1.00 | MAR |
| 160 | 152 | 16.37 | BLADE RUNNER 2019 #3 (MR) | $3.99 | TTN |
| 161 | 153 | 16.35 | JIM HENSON DARK CRYSTAL AGE RESISTANCE #1 | $3.99 | BOO |
| 162 | 344 | 16.31 | TRUE BELIEVERS HULK OTHER HULKS #1 | $1.00 | MAR |
| 163 | 166 | 16.17 | MAGNIFICENT MS MARVEL #7 | $3.99 | MAR |
| 164 | 63 | 16.09 | MARVEL COMICS #1000 | $9.99 | MAR |
| 165 | 130 | 15.87 | PLOT #1 (MR) | $3.99 | VAU |
| 166 | 347 | 15.82 | TRUE BELIEVERS HULK RED HULK #1 | $1.00 | MAR |
| 167 | 169 | 15.64 | CRIMINAL #8 (MR) | $3.99 | IMA |
| 168 | 159 | 15.49 | GI JOE #1 | $3.99 | IDW |
| 169 | 170 | 15.44 | CHAMPIONS #9 | $3.99 | MAR |
| 170 | 349 | 15.36 | TRUE BELIEVERS HULK JOE FIXIT #1 | $1.00 | MAR |
| 171 | 197 | 15.35 | PRETTY DEADLY RAT #1 (MR) | $3.99 | IMA |
| 172 | 147 | 15.29 | POWERS OF X #3 | $4.99 | MAR |
| 173 | 162 | 15.12 | ANGEL #5 | $3.99 | BOO |
| 174 | 355 | 15.02 | TRUE BELIEVERS HULK MINDLESS HULK #1 | $1.00 | MAR |
| 175 | 155 | 14.64 | DAREDEVIL #181 FACSIMILE EDITION | $4.99 | MAR |
| 176 | 176 | 14.52 | DREAMING #13 (MR) | $3.99 | DC |
| 177 | 183 | 14.24 | SEA OF STARS #3 | $3.99 | IMA |
| 178 | 184 | 14.08 | COFFIN BOUND #2 (MR) | $3.99 | IMA |
| 179 | 188 | 13.99 | BATMAN #77 DARK GIFTS | $3.99 | DC |
| 180 | 370 | 13.92 | TRUE BELIEVERS HULK DEVIL HULK #1 | $1.00 | MAR |
| 181 | 187 | 13.80 | FREEDOM FIGHTERS #9 | $3.99 | DC |
| 182 | 158 | 13.73 | WONDER WOMAN COME BACK TO ME #3 | $4.99 | DC |
| 183 | 171 | 13.70 | RED SONJA #8 | $3.99 | DE |
| 184 | 179 | 13.67 | TRANSFORMERS #12 | $3.99 | IDW |
| 185 | 190 | 13.49 | BATTLEPUG #1 | $3.99 | IMA |
| 186 | 160 | 13.40 | TITANS BURNING RAGE #2 | $4.99 | DC |
| 187 | 178 | 13.12 | ARCHIE VS PREDATOR 2 #2 | $3.99 | ARC |
| 188 | 180 | 13.04 | RED SONJA VAMPIRELLA BETTY VERONICA #5 | $3.99 | DE |
| 189 | 168 | 12.97 | LADY MECHANIKA SANGRE #3 | $3.99 | BEN |
| 190 | 182 | 12.97 | PANDEMICA #1 | $3.99 | IDW |
| 191 | 165 | 12.72 | WHITE TREES #2 (MR) | $4.99 | IMA |
| 192 | 201 | 12.66 | MARVEL TEAM-UP #6 | $3.99 | MAR |
| 193 | 202 | 12.65 | IRONHEART #10 | $3.99 | MAR |
| 194 | 191 | 12.63 | TRANSFORMERS GHOSTBUSTERS #4 | $3.99 | IDW |
| 195 | 198 | 12.60 | LUCIFER #12 (MR) | $3.99 | DC |
| 195 | 199 | 12.59 | BOOKS OF MAGIC #12 (MR) | $3.99 | DC |
| 196 | 204 | 12.33 | REAVER #3 (MR) | $3.99 | IMA |
| 197 | 209 | 12.27 | SPIDER-WOMAN #1 FACSIMILE EDITION | $3.99 | MAR |
| 198 | 154 | 12.22 | POWERS OF X #1 | $5.99 | MAR |
| 199 | 208 | 11.98 | ISOLA #9 CVR A KERSCHL | $3.99 | IMA |
| 200 | 229 | 11.92 | WICKED & DIVINE #45 | $3.99 | IMA |
| 201 | 177 | 11.90 | POWERS OF X #2 | $4.99 | MAR |
| 202 | 192 | 11.79 | SPACE BANDITS #3 (MR) | $3.99 | IMA |
| 203 | 212 | 11.78 | BLACK HAMMER AGE OF DOOM #12 | $3.99 | DAR |
| 204 | 193 | 11.74 | USAGI YOJIMBO #4 | $3.99 | IDW |
| 205 | 213 | 11.70 | MIDDLEWEST #11 (MR) | $3.99 | IMA |
| 206 | 195 | 11.69 | GO GO POWER RANGERS #23 | $3.99 | BOO |
| 207 | 185 | 11.66 | SECOND COMING #3 (MR) | $3.99 | AHO |
| 208 | 218 | 11.54 | HELLBOY AND THE BPRD SATURN RETURNS #2 | $3.99 | DAR |
| 209 | 257 | 11.53 | SONATA #4 (MR) | $3.99 | IMA |
| 210 | 200 | 11.48 | RED SONJA BIRTH OF SHE DEVIL #4 | $3.99 | DE |
| 211 | 223 | 11.47 | DEATHS HEAD #3 | $3.99 | MAR |
| 212 | 167 | 11.39 | RICK AND MORTY PRESENT FLESH CURTAINS #1 | $4.99 | ONI |
| 213 | 217 | 11.30 | CANTO #4 | $3.99 | IDW |
| 214 | 226 | 11.18 | WONDER TWINS #7 | $3.99 | DC |
| 215 | 224 | 11.03 | CRITICAL ROLE VOX MACHINA ORIGINS SERIES II #3 | $3.99 | DAR |
| 216 | 205 | 11.03 | KICK-ASS #17 (MR) | $3.99 | IMA |
| 217 | 207 | 10.78 | EVERYTHING #1 | $3.99 | DAR |
| 218 | 227 | 10.65 | SONIC THE HEDGEHOG TANGLE & WHISPER #2 | $3.99 | IDW |
| 219 | 216 | 10.62 | SABRINA TEENAGE WITCH #5 | $3.99 | ARC |
| 220 | 215 | 10.48 | HIT-GIRL SEASON TWO #8 (MR) | $3.99 | IMA |
| 221 | 219 | 10.45 | ELVIRA MISTRESS OF DARK #9 | $3.99 | DE |
| 222 | 228 | 10.44 | MARVEL ACTION SPIDER-MAN #8 | $3.99 | IDW |
| 223 | 220 | 10.41 | RICK & MORTY #54 | $3.99 | ONI |
| 224 | 196 | 10.35 | IMMORTAL HULK DIRECTORS CUT #3 | $4.99 | MAR |
| 225 | 235 | 10.32 | BLACK SCIENCE #43 (MR) | $3.99 | IMA |
| 226 | 194 | 10.24 | SCOOBY DOO 50TH ANNIVERSARY GIANT #1 | $4.99 | DC |
| 227 | 234 | 10.19 | ALIENS RESCUE #3 | $3.99 | DAR |
| 228 | 242 | 10.10 | UNBEATABLE SQUIRREL GIRL #48 | $3.99 | MAR |
| 229 | 240 | 10.00 | DIAL H #7 | $3.99 | DC |
| 230 | 239 | 9.98 | HOUSE OF WHISPERS #13 (MR) | $3.99 | DC |
| 231 | 231 | 9.89 | STAR TREK YEAR FIVE #6 | $3.99 | IDW |
| 232 | 221 | 9.88 | NAPOLEON DYNAMITE #1 | $3.99 | IDW |
| 233 | 246 | 9.82 | SON OF SATAN MARVEL SPOTLIGHT #12 FACSIMILE EDITION | $3.99 | MAR |
| 234 | 222 | 9.78 | STAR WARS ADVENTURES #25 | $3.99 | IDW |
| 235 | 237 | 9.68 | STAR WARS ADVENTURES #26 | $3.99 | IDW |
| 236 | 270 | 9.54 | TEEN TITANS GO #36 | $2.99 | DC |
| 237 | 247 | 9.50 | PRETTY VIOLENT #2 (MR) | $3.99 | IMA |
| 238 | 403 | 9.47 | TRUE BELIEVERS HULK RETURNS #1 | $1.00 | MAR |
| 239 | 249 | 9.46 | DEADLY CLASS #40 (MR) | $3.99 | IMA |
| 240 | 241 | 9.37 | MY LITTLE PONY FRIENDSHIP IS MAGIC #82 | $3.99 | IDW |
| 241 | 225 | 9.16 | IMMORTAL HULK DIRECTORS CUT #4 | $4.99 | MAR |
| 242 | 251 | 9.10 | COLLAPSER #3 (MR) | $3.99 | DC |
| 243 | 250 | 8.89 | MARVEL ACTION CAPTAIN MARVEL #2 | $3.99 | IDW |
| 244 | 282 | 8.85 | SCOOBY DOO TEAM UP #50 | $2.99 | DC |
| 245 | 256 | 8.78 | UNEARTH #3 (MR) | $3.99 | IMA |
| 246 | 230 | 8.60 | ARCHIE 1955 #1 | $3.99 | ARC |
| 247 | 233 | 8.39 | ABSOLUTE CARNAGE #2 AC | $4.99 | MAR |
| 248 | 258 | 8.34 | FIGHT CLUB 3 #9 (MR) | $3.99 | DAR |
| 249 | 238 | 8.26 | YOU ARE OBSOLETE #1 | $3.99 | AFT |
| 250 | 254 | 8.22 | BETTIE PAGE UNBOUND #4 | $3.99 | DE |
| 251 | 163 | 8.19 | MARVEL TALES BLACK PANTHER #1 | $7.99 | MAR |
| 252 | 264 | 8.19 | ARCHIE #707 | $3.99 | ARC |
| 253 | 252 | 8.15 | STEEPLE #1 | $3.99 | DAR |
| 254 | 261 | 7.86 | TRIAGE #1 | $3.99 | DAR |
| 255 | 260 | 7.83 | ORVILLE #3 WORD OF AVIS | $3.99 | DAR |
| 256 | 255 | 7.78 | STAR TREK DISCOVERY AFTERMATH #1 | $3.99 | IDW |
| 257 | 248 | 7.77 | MIDNIGHT VISTA #1 | $3.99 | AFT |
| 258 | 262 | 7.63 | MAN-EATERS #11 | $3.99 | IMA |
| 259 | 243 | 7.61 | RAGNAROK BREAKING OF HELHEIM #2 | $4.99 | IDW |
| 260 | 245 | 7.34 | RELICS OF YOUTH #1 | $3.99 | VAU |
| 261 | 271 | 7.16 | MANOR BLACK #3 | $3.99 | DAR |
| 262 | 276 | 7.01 | STRAYED #2 | $3.99 | DAR |
| 263 | 278 | 6.88 | REDNECK #23 (MR) | $3.99 | IMA |
| 264 | 259 | 6.85 | STAR TREK DISCOVERY AFTERMATH #2 | $3.99 | IDW |
| 265 | 263 | 6.84 | INVADER ZIM #47 | $3.99 | ONI |
| 266 | 281 | 6.74 | RAT QUEENS #18 (MR) | $3.99 | IMA |
| 267 | 284 | 6.71 | HIGH LEVEL #6 (MR) | $3.99 | DC |
| 268 | 285 | 6.68 | EXCELLENCE #5 | $3.99 | IMA |
| 269 | 265 | 6.65 | RONIN ISLAND #6 | $3.99 | BOO |
| 270 | 268 | 6.64 | FALLEN WORLD #5 | $3.99 | VAL |
| 271 | 253 | 6.59 | ZOMBIE TRAMP ONGOING #64 (MR) | $4.99 | ACT |
| 272 | 272 | 6.58 | DOCTOR MIRAGE #2 | $3.99 | VAL |
| 273 | 288 | 6.56 | WEATHERMAN VOL 2 #4 (MR) | $3.99 | IMA |
| 274 | 291 | 6.53 | MOON GIRL AND DEVIL DINOSAUR #47 | $3.99 | MAR |
| 275 | 274 | 6.47 | JAMES BOND 007 #11 | $3.99 | DE |
| 276 | 269 | 6.47 | TOMMY GUN WIZARDS #2 | $3.99 | DAR |
| 277 | 275 | 6.46 | KILLERS #3 | $3.99 | VAL |
| 278 | 292 | 6.36 | ETHER DISAPPEARANCE OF VIOLET BELL #1 | $3.99 | DAR |
| 279 | 203 | 6.32 | ABSOLUTE CARNAGE #1 AC | $7.99 | MAR |
| 280 | 279 | 6.26 | ROBOTECH #24 | $3.99 | TTN |
| 281 | 280 | 6.24 | FIVE YEARS #4 | $3.99 | ABS |
| 282 | 266 | 6.02 | MIDNIGHT SKY #1 | $3.99 | SCO |
| 283 | 286 | 5.98 | DOCTOR WHO 13TH #12 | $3.99 | TTN |
| 284 | 297 | 5.97 | NO ONE LEFT TO FIGHT #3 | $3.99 | DAR |
| 285 | 273 | 5.85 | DEATH-DEFYING DEVIL #2 | $3.99 | DE |
| 286 | 295 | 5.75 | CROW HACK SLASH #3 | $3.99 | IDW |
| 287 | 313 | 5.71 | TAROT WITCH OF THE BLACK ROSE #118 HALLOWEEN WITCH (MR) | $2.95 | BRO |
| 288 | 304 | 5.65 | SECTION ZERO #6 | $3.99 | IMA |
| 289 | 293 | 5.63 | DARK RED #6 | $3.99 | AFT |
| 290 | 296 | 5.51 | PSI-LORDS #4 | $3.99 | VAL |
| 290 | 302 | 5.44 | ARCHIE MARRIED LIFE 10 YEARS LATER #2 | $3.99 | ARC |
| 292 | 283 | 5.37 | THUMBS #4 (MR) | $4.99 | IMA |
| 293 | 290 | 5.34 | DARK AGE #2 | $3.95 | RED |
| 294 | 300 | 5.32 | KISS END #5 | $3.99 | DE |
| 295 | 311 | 5.30 | VENOM #17 | $3.99 | MAR |
| 296 | 301 | 5.02 | ONCE & FUTURE #1 | $3.99 | BOO |
| 297 | 393 | 5.00 | CIVIL WAR II #0 | $4.99 | MAR |
| 298 | 306 | 4.95 | XENA WARRIOR PRINCESS #6 | $3.99 | DE |
| 299 | 317 | 4.92 | BIRTHRIGHT #39 | $3.99 | IMA |
| 300 | 299 | 4.87 | MYSTERE #1 | $3.99 | ZEN |
| 301 | 310 | 4.71 | LIVEWIRE #10 | $3.99 | VAL |
| 302 | 312 | 4.66 | WARLORD OF MARS ATTACKS #4 | $3.99 | DE |
| 303 | 401 | 4.62 | FANTASTIC FOUR #1 | $5.99 | MAR |
| 304 | 324 | 4.62 | OUTER DARKNESS #10 (MR) | $3.99 | IMA |
| 305 | 316 | 4.52 | KNIGHTS TEMPORAL #3 | $3.99 | AFT |
| 306 | 308 | 4.34 | STREET FIGHTER AKUMA VS HELL #1 | $3.99 | UDO |
| 307 | 309 | 4.34 | GRIMM FAIRY TALES #31 | $3.99 | ZEN |
| 308 | 329 | 4.33 | CURSE WORDS #24 (MR) | $3.99 | IMA |
| 309 | 320 | 4.28 | TUROK #5 | $3.99 | DE |
| 310 | 323 | 4.21 | BLOODBORNE #15 CVR A HARDING (MR) | $3.99 | TTN |
| 311 | 314 | 4.16 | MARVEL COMICS PRESENTS #7 | $4.99 | MAR |
| 312 | 337 | 4.15 | RIDE BURNING DESIRE #4 (MR) | $3.99 | IMA |
| 313 | 267 | 4.03 | WATCHER #2 (MR) | $5.99 | ZEN |
| 314 | 328 | 4.03 | BABYTEETH #16 (MR) | $3.99 | AFT |
| 315 | 380 | 4.02 | LOONEY TUNES #251 | $2.99 | DC |
| 316 | 333 | 3.95 | SAMURAI JACK LOST WORLDS #4 | $3.99 | IDW |
| 317 | 351 | 3.93 | CAPTAIN MARVEL #8 | $3.99 | MAR |
| 318 | 277 | 3.85 | TALES OF TERROR BRIDGEWATER TRIANGLE #1 | $5.99 | ZEN |
| 318 | 325 | 3.85 | CARE BEARS UNLOCK THE MAGIC #2 | $3.99 | IDW |
| 320 | 322 | 3.85 | FOREVER MAPS #1 | $3.99 | SCO |
| 321 | 334 | 3.84 | JUGHEAD TIME POLICE #4 | $3.99 | ARC |
| 322 | 338 | 3.81 | BAD RECEPTION #2 | $3.99 | AFT |
| 323 | 340 | 3.75 | STEVEN UNIVERSE ONGOING #32 | $3.99 | BOO |
| 324 | 341 | 3.73 | OCTOBER FACTION #1 SPECIAL EDITION | $3.99 | IDW |
| 325 | 353 | 3.73 | ANALOG #8 (MR) | $3.99 | IMA |
| 326 | 354 | 3.71 | GOGOR #5 | $3.99 | IMA |
| 327 | 356 | 3.70 | RUMBLE #16 (MR) | $3.99 | IMA |
| 328 | 352 | 3.67 | DISNEY FROZEN HERO WITHIN #3 | $3.99 | DAR |
| 329 | 361 | 3.66 | GHOST-SPIDER #1 | $3.99 | MAR |
| 330 | 360 | 3.64 | CAPTAIN MARVEL #9 | $3.99 | MAR |
| 331 | 345 | 3.63 | OVER GARDEN WALL SOULFUL SYMPHONIES #2 | $3.99 | BOO |
| 332 | 346 | 3.61 | ANIMOSITY #23 (MR) | $3.99 | AFT |
| 333 | 366 | 3.58 | MAGNIFICENT MS MARVEL #5 | $3.99 | MAR |
| 334 | 359 | 3.58 | ABSOLUTE CARNAGE SCREAM #1 AC | $3.99 | MAR |
| 335 | 369 | 3.57 | ABSOLUTE CARNAGE VS DEADPOOL #1 FERRY VAR AC | $3.99 | MAR |
| 336 | 331 | 3.54 | ABSOLUTE CARNAGE SEPARATION ANXIETY #1 | $4.99 | MAR |
| 337 | 339 | 3.47 | VAN HELSING VS DRACULAS DAUGHTER #2 | $3.99 | ZEN |
| 338 | 368 | 3.46 | CROWDED #9 | $3.99 | IMA |
| 339 | 321 | 3.40 | VAMPBLADE SEASON 4 #5 (MR) | $4.99 | ACT |
| 340 | 319 | 3.34 | STARCADIA QUEST #1 | $4.99 | IDW |
| 341 | 375 | 3.29 | BEAUTY #29 (MR) | $3.99 | IMA |
| 342 | 362 | 3.29 | TMNT RISE OF TMNT SOUND OFF #3 | $3.99 | IDW |
| 343 | 382 | 3.24 | STAR WARS GALAXYS EDGE #5 | $3.99 | MAR |
| 344 | 363 | 3.19 | CHARLIES ANGELS VS BIONIC WOMAN #3 | $3.99 | DE |
| 345 | 365 | 3.18 | LUMBERJANES #66 | $3.99 | BOO |
| 346 | 348 | 3.17 | OZ HEART OF MAGIC #5 | $3.99 | ZEN |
| 347 | 350 | 3.14 | MALL #2 (MR) | $3.99 | VAU |
| 348 | 460 | 3.13 | CONAN THE BARBARIAN #1 | $4.99 | MAR |
| 349 | 332 | 3.12 | VAMPBLADE SEASON 4 #4 (MR) | $4.99 | ACT |
| 350 | 371 | 3.10 | GOING TO THE CHAPEL #1 | $3.99 | ACT |
| 351 | 379 | 3.06 | WYRD #4 | $3.99 | DAR |
| 352 | 374 | 3.03 | GHOSTED IN LA #3 | $3.99 | BOO |
| 353 | 357 | 3.01 | OMNI #2 (MR) | $3.99 | HUM |
| 354 | 465 | 2.99 | RED KOI #1 (MR) | $1.50 | ALT |
| 355 | 400 | 2.96 | ARCHIE & FRIENDS BACK TO SCHOOL #1 | $2.99 | ARC |
| 356 | 458 | 2.92 | STAR WARS VADER DARK VISIONS #1 | $4.99 | MAR |
| 357 | 452 | 2.90 | AVENGERS #11 | $3.99 | MAR |
| 358 | 367 | 2.90 | MARVEL COMICS PRESENTS #8 | $4.99 | MAR |
| 359 | 376 | 2.88 | FATHOM VOL 8 #5 | $3.99 | ASP |
| 360 | 364 | 2.87 | VAMP #1 (MR) | $3.99 | MYT |
| 361 | 386 | 2.84 | BATMAN #76 DARK GIFTS | $3.99 | DC |
| 362 | 373 | 2.77 | IGNITED #4 (MR) | $3.99 | HUM |
| 363 | 389 | 2.72 | BATMAN SUPERMAN #1 | $3.99 | DC |
| 364 | 388 | 2.70 | POSTAL DELIVERANCE #3 (MR) | $3.99 | IMA |
| 365 | 383 | 2.66 | LOLA XOXO VOL 3 #2 | $3.99 | ASP |
| 366 | 392 | 2.66 | SILVER SURFER BLACK #3 | $3.99 | MAR |
| 367 | 336 | 2.64 | WHITE WIDOW #2 2ND PTG CVR A GOLD HOLOGRAPHIC FOIL LOGO | $4.99 | RED |
| 368 | 377 | 2.60 | BELLE OATH OF THORNS #2 | $3.99 | ZEN |
| 369 | 378 | 2.56 | FANTASTIC FOUR #12 | $4.99 | MAR |
| 370 | 381 | 2.54 | SERA & ROYAL STARS #3 | $3.99 | VAU |
| 371 | 485 | 2.54 | UNCANNY X-MEN #11 | $7.99 | MAR |
| 372 | 305 | 2.53 | FROM HELL MASTER EDITION #7 (MR) | $7.99 | IDW |
| 373 | 330 | 2.39 | KNIGHTS OF THE DINNER TABLE #266 | $5.99 | KEN |
| 374 | 384 | 2.37 | BUTCHER QUEEN #1 | $3.95 | RED |
| 375 | 385 | 2.34 | RESONANT #3 (MR) | $3.99 | VAU |
| 376 | 487 | 2.27 | MEET THE SKRULLS #1 | $3.99 | MAR |
| 377 | 486 | 2.27 | CAPTAIN AMERICA #6 | $3.99 | MAR |
| 378 | 504 | 2.26 | DOMINO HOTSHOTS #1 | $3.99 | MAR |
| 379 | 484 | 2.26 | MOON KNIGHT #188 | $3.99 | MAR |
| 380 | 396 | 2.25 | ZORRO RISE OF THE OLD GODS #1 | $3.99 | AME |
| 381 | 408 | 2.24 | COFFIN BOUND #1 (MR) | $3.99 | IMA |
| 382 | 397 | 2.23 | CHAINSAW REINDEER ONE SHOT | $3.99 | ACT |
| 383 | 399 | 2.22 | GIANT DAYS #54 | $3.99 | BOO |
| 384 | 505 | 2.20 | COSMIC GHOST RIDER DESTROYS MARVEL HISTORY #1 | $3.99 | MAR |
| 385 | 410 | 2.20 | OUTPOST ZERO #13 | $3.99 | IMA |
| 386 | 492 | 2.19 | INVINCIBLE IRON MAN #10 | $3.99 | MAR |
| 387 | 417 | 2.17 | IMMORTAL HULK #20 | $3.99 | MAR |
| 388 | 412 | 2.15 | EVOLUTION #18 (MR) | $3.99 | IMA |
| 389 | 496 | 2.15 | X-MEN GRAND DESIGN #2 | $5.99 | MAR |
| 390 | 390 | 2.08 | WHITE TREES #1 (MR) | $4.99 | IMA |
| 391 | 405 | 2.08 | SOULFIRE VOL 8 #4 | $3.99 | ASP |
| 392 | 544 | 2.03 | PETER PARKER SPECTACULAR SPIDER-MAN #1 | $4.99 | MAR |
| 393 | 409 | 2.02 | PELLUCIDAR WINGS OF DEATH #1 | $3.99 | AME |
| 394 | 513 | 1.99 | GENERATIONS MS MARVEL & MS MARVEL #1 | $4.99 | MAR |
| 395 | 549 | 1.98 | UNCANNY X-MEN #1 | $7.99 | MAR |
| 396 | 516 | 1.95 | X-MEN BLUE #5 | $3.99 | MAR |
| 397 | 550 | 1.94 | GODS AND GEARS #1 | $1.50 | ALT |
| 398 | 515 | 1.94 | DAREDEVIL #612 | $4.99 | MAR |
| 399 | 518 | 1.93 | THOR #8 | $3.99 | MAR |
| 400 | 520 | 1.90 | ASTONISHING X-MEN #2 | $3.99 | MAR |
| 401 | 521 | 1.89 | X-MEN GOLD #5 | $3.99 | MAR |
| 402 | 522 | 1.89 | UNCANNY X-MEN ANNUAL #1 | $4.99 | MAR |
| 403 | 421 | 1.85 | BEWARE THE WITCHS SHADOW #1 | $3.99 | AME |
| 404 | 424 | 1.85 | DESCENDENT #5 | $3.99 | AFT |
| 405 | 435 | 1.84 | FANTASTIC FOUR #13 | $3.99 | MAR |
| 406 | 358 | 1.84 | AMAZING SPIDER-MAN VENOM 3D #1 POLYBAGGED | $7.99 | MAR |
| 407 | 531 | 1.83 | MAN-THING #1 | $3.99 | MAR |
| 408 | 532 | 1.83 | INFINITY COUNTDOWN #5 | $4.99 | MAR |
| 409 | 551 | 1.82 | TYPHOID FEVER SPIDER-MAN #1 | $4.99 | MAR |
| 410 | 411 | 1.82 | ZORRO SACRILEGE #3 | $3.99 | AME |
| 411 | 557 | 1.81 | THOR #1 | $5.99 | MAR |
| 412 | 541 | 1.78 | DAREDEVIL #609 | $3.99 | MAR |
| 413 | 542 | 1.78 | AMAZING SPIDER-MAN #7 2ND PTG RAMOS VAR | $3.99 | MAR |
| 414 | 415 | 1.78 | STRANGELANDS #3 (MR) | $3.99 | HUM |
| 415 | 414 | 1.77 | UNDERDOG & PALS #2 BUZ SAVES THE DAY CVR | $3.99 | AME |
| 416 | 438 | 1.76 | SAVAGE AVENGERS #4 | $3.99 | MAR |
| 417 | 439 | 1.75 | AMAZING SPIDER-MAN #27 2ND PTG WALKER VAR | $3.99 | MAR |
| 418 | 391 | 1.74 | BATMAN LAST KNIGHT ON EARTH #2 | $5.99 | DC |
| 419 | 419 | 1.74 | DARK AGE #1 | $3.95 | RED |
| 420 | 548 | 1.74 | X-MEN WEDDING SPECIAL #1 | $4.99 | MAR |
| 421 | 420 | 1.71 | SCRATCHER #1 | $3.99 | ANT |
| 422 | 422 | 1.70 | TEST #4 | $3.99 | VAU |
| 423 | 446 | 1.68 | STAR WARS GALAXYS EDGE #4 | $3.99 | MAR |
| 424 | 404 | 1.68 | BOOGILY HEADS #2 | $4.50 | DEV |
| 425 | 423 | 1.68 | INFINITE PUNISHMENT ESCAPE FROM HELL #1 | $3.99 | FAN |
| 425 | 395 | 1.68 | SATANIKA VS MORELLAS DEMON #1 | $4.95 | VER |
| 427 | 425 | 1.67 | SAMURAI GRANDPA #3 | $3.99 | SOU |
| 428 | 552 | 1.65 | DAREDEVIL #1 | $4.99 | MAR |
| 429 | 586 | 1.64 | BLOOD REALM VOL 2 #3 (MR) | $1.50 | ALT |
| 429 | 577 | 1.64 | FANTASTIC FOUR #5 | $7.99 | MAR |
| 431 | 433 | 1.64 | IRON MANTICORE ONE SHOT | $4.00 | AAR |
| 432 | 560 | 1.62 | X-MEN GRAND DESIGN #1 | $5.99 | MAR |
| 433 | 436 | 1.61 | GRUMBLE #10 | $3.99 | ALB |
| 434 | 567 | 1.60 | DAREDEVIL #611 | $3.99 | MAR |
| 435 | 565 | 1.59 | CAPTAIN MARVEL #1 | $4.99 | MAR |
| 436 | 570 | 1.58 | AVENGERS #9 | $3.99 | MAR |
| 437 | 427 | 1.58 | MALL #5 | $3.99 | SCO |
| 438 | 571 | 1.58 | MULTIPLE MAN #1 | $3.99 | MAR |
| 439 | 568 | 1.57 | FANTASTIC FOUR #3 | $3.99 | MAR |
| 440 | 573 | 1.55 | VENOM #8 | $3.99 | MAR |
| 441 | 533 | 1.55 | IT CAME OUT ON A WEDNESDAY #8 | $1.99 | ALT |
| 442 | 576 | 1.53 | FANTASTIC FOUR WEDDING SPECIAL #1 | $4.99 | MAR |
| 443 | 431 | 1.53 | NO ONES #4 | $3.99 | CAV |
| 444 | 582 | 1.53 | MILES MORALES SPIDER-MAN #3 | $3.99 | MAR |
| 445 | 613 | 1.52 | MARVEL LEGACY #1 | $5.99 | MAR |
| 445 | 430 | 1.52 | SHOWS END #2 | $3.99 | MAD |
| 445 | 579 | 1.52 | AMAZING SPIDER-MAN #10 2ND PTG RAMOS VAR | $3.99 | MAR |
| 448 | 450 | 1.51 | STARCRAFT SURVIVORS #3 | $3.99 | DAR |
| 449 | 387 | 1.50 | RED RANGE PIRATES OF FIREWORLD #1 | $5.99 | IT' |
| 450 | 615 | 1.49 | ADV OF MR CRYPT & BARON RAT #1 | $1.50 | ALT |
| 451 | 580 | 1.49 | SPIDER-GEDDON #4 | $3.99 | MAR |
| 452 | 454 | 1.49 | LOKI #2 | $3.99 | MAR |
| 453 | 583 | 1.48 | AVENGERS NO ROAD HOME #2 | $3.99 | MAR |
| 454 | 585 | 1.47 | AVENGERS #10 | $5.99 | MAR |
| 455 | 453 | 1.46 | PRETTY VIOLENT #1 (MR) | $3.99 | IMA |
| 456 | 587 | 1.46 | BLACK PANTHER #4 | $3.99 | MAR |
| 457 | 441 | 1.45 | BLADE RUNNER 2019 #2 (MR) | $3.99 | TTN |
| 458 | 589 | 1.45 | SPIDER-GEDDON #3 | $3.99 | MAR |
| 459 | 591 | 1.44 | AMAZING SPIDER-MAN #800 3RD PTG IMMONEN VAR | $9.99 | MAR |
| 460 | 437 | 1.44 | DEADLY TEN PRESENTS BLADE THE IRON CROSS (MR) | $3.99 | FUL |
| 461 | 614 | 1.44 | AGE OF CONAN BELIT #1 | $3.99 | MAR |
| 462 | 594 | 1.43 | AMAZING SPIDER-MAN #9 2ND PTG RAMOS VAR | $3.99 | MAR |
| 463 | 596 | 1.42 | SHURI #3 | $3.99 | MAR |
| 464 | 604 | 1.40 | AVENGERS NO ROAD HOME #1 | $4.99 | MAR |
| 465 | 599 | 1.39 | AVENGERS NO ROAD HOME #4 | $3.99 | MAR |
| 466 | 602 | 1.39 | INVINCIBLE IRON MAN #11 | $3.99 | MAR |
| 466 | 603 | 1.39 | SHURI #2 | $3.99 | MAR |
| 468 | 600 | 1.39 | TONY STARK IRON MAN #4 | $3.99 | MAR |
| 469 | 605 | 1.38 | AVENGERS NO ROAD HOME #3 | $3.99 | MAR |
| 470 | 442 | 1.38 | BRONZE AGE BOOGIE #6 | $3.99 | AHO |
| 471 | 443 | 1.37 | AGENTS OF ATLAS #1 | $4.99 | MAR |
| 472 | 610 | 1.37 | MOON GIRL AND DEVIL DINOSAUR #32 | $3.99 | MAR |
| 473 | 609 | 1.36 | MOON GIRL AND DEVIL DINOSAUR #25 | $3.99 | MAR |
| 474 | 597 | 1.36 | DEFENDERS DOCTOR STRANGE #1 | $4.99 | MAR |
| 475 | 466 | 1.36 | AVENGERS #22 | $3.99 | MAR |
| 476 | 631 | 1.36 | MIDNIGHT MYSTERY VOL 02 CITY OF GHOSTS #2 | $1.50 | ALT |
| 477 | 628 | 1.33 | GUARDIANS OF THE GALAXY #1 | $4.99 | MAR |
| 478 | 616 | 1.31 | STAR WARS AGE REPUBLIC QUI-GON JINN #1 | $3.99 | MAR |
| 479 | 447 | 1.31 | RED WINTER #3 | $3.99 | SCO |
| 480 | 617 | 1.30 | AMAZING SPIDER-MAN RENEW YOUR VOWS #14 2ND PTG STEGMAN VAR L | $3.99 | MAR |
| 481 | 621 | 1.26 | AMAZING SPIDER-MAN #11 2ND PTG OTTLEY VAR | $3.99 | MAR |
| 482 | 622 | 1.26 | IRONHEART #2 | $3.99 | MAR |
| 482 | 462 | 1.25 | CANTO #1 | $3.99 | IDW |
| 484 | 627 | 1.23 | AVENGERS NO ROAD HOME #6 | $4.99 | MAR |