Yesterday's Tony Stark: Iron Man #16 by Dan Slott, Jim Zub and Valerio Schiti began the Ultron Agenda storyline, as all the cast of Machine Man 2020 continue to rejoin and plotlines merge together. Not the only things that are merging together… as Tony Stark has to deal with a fused-together Simon Williams and The Vision.
The series has been hard on sci-fi regarding artificial intelligence and the reveal that Tony Stark… is not Tony Stark. Not the original, that is, but a copy.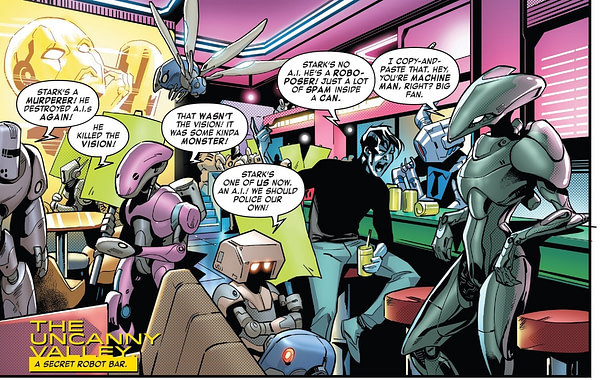 He is the memory of him, in digital form, embedded into a recreated human body, encased in armour.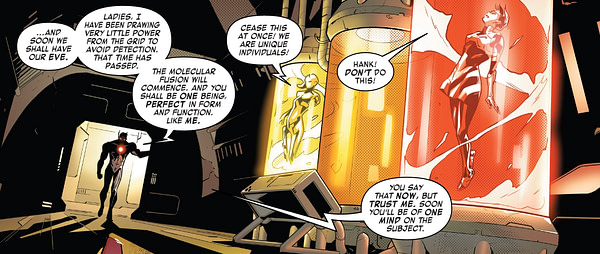 But today it went from cerebral Ex Machina stuff to the body horror… as Jocasta and Janet Van Dyne were destined to a similar fate, all to provide a bride for Ultron.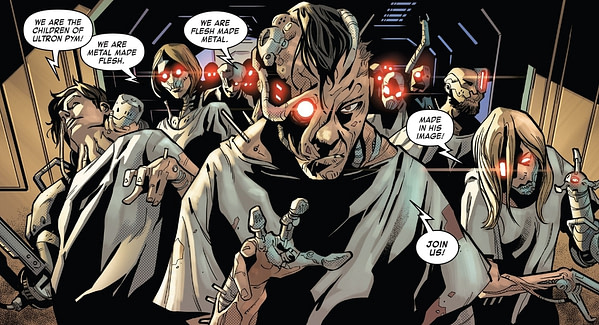 And bringing in the likes of David Cronenberg and The Fly. And yesterday's Tony Stark: Iron Man gave us a very different Tony Stark by its end.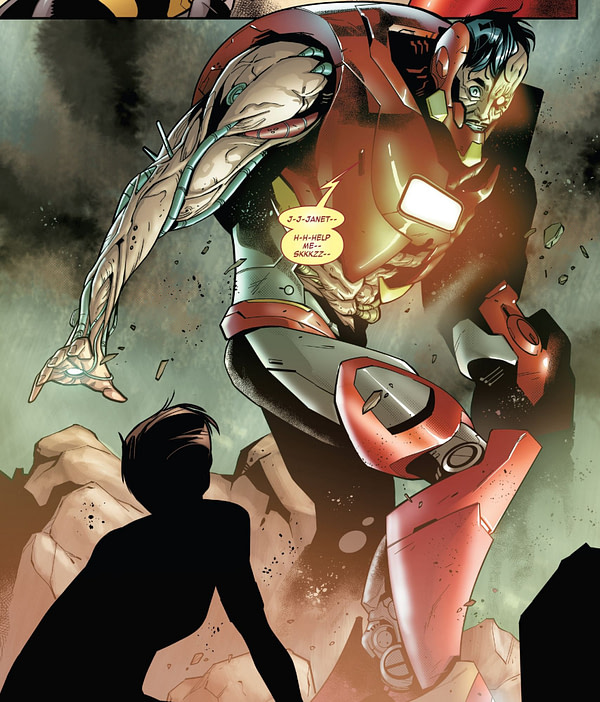 Fused between his organic body and his Iron Man suit. Is he life, Memorex or something else entirely now?
2020 is not far away… Marvel has been teasing an Iron Man 2020 event, and the comic has filled its cast with characters more familiar to those who read the Machine Man 2020 series from the eighties, with Aaron Stark, Jocasta, Machine Man, Baintronics and more. How will this newly fused Tony Stark lead into that?
TONY STARK IRON MAN #16
(W) Dan Slott, Jim Zub (A) Valerio Schiti (CA) Alexander Lozano
"THE ULTRON AGENDA" STARTS HERE!
Watch out, Iron Man! The Robot Uprising of the Marvel Universe has begun! But it's NOT Ultron leading the charge… it's Machine Man?! The A.I.'s are on the attack – and they might be in the right. Battle lines are being drawn, and it's time for Tony Stark, Jocasta, Andy Bhang and the rest of the cast to pick sides.
Rated T+In Shops: Sep 18, 2019
SRP: $3.99