Monstress Vol 3: Haven by Marjorie Liu and Sana Takeda won the 2019 Hugo Award for Best Graphic Story, presented at WorldCon in Dublin this week. As a result, Image Comics has rushed a special deal for retailers who may want to catch up on stocking the volume, given new award-driven interest.
For the following week-and-a-bit, retailers who order the first two volumes of Monstress, Volume 1: Awakening and Volume 2: The Blood, will get a free copy of Monstress Vol 3: Haven with every copy of Vol 1 and 2 they order.
It's a good excuse to get copies of the new volume in – but also keep up copies of the previous volumes as well.
And it's all ahead of the release of Monstress Vol 4: The Chosen at the end of September. With new stock coming in for October…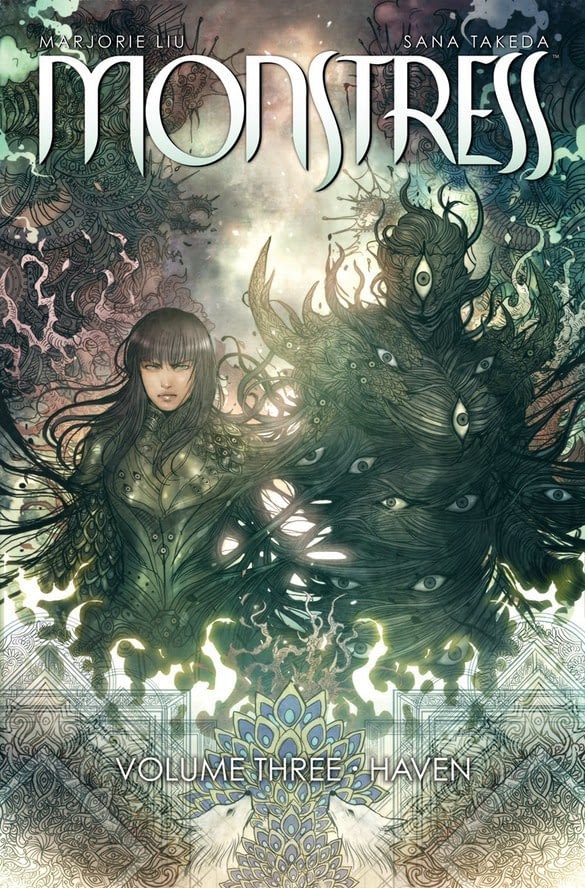 MONSTRESS TP VOL 01 (APR160803) (MR)
(W) Marjorie M. Liu (A/CA) Sana Takeda
Set in an alternate matriarchal 1900's Asia, in a richly imagined world of art deco-inflected steampunk, MONSTRESS tells the story of a teenage girl who is struggling to survive the trauma of war, and who shares a mysterious psychic link with a monster of tremendous power, a connection that will transform them both. Entertainment Weekly praised MONSTRESS as "one of Image Comics' most imaginative and daring new series" and dubbed it the "Best New Original Series" in their year-end "Best Comics of 2015" list. Collects MONSTRESS #1-6.In Shops: Oct 16, 2019 SRP: $9.99

MONSTRESS TP VOL 02 (APR170834) (MR)
(W) Marjorie M. Liu (A/CA) Sana Takeda
The Eisner-nominated MONSTRESS is back! Maika, Kippa, and Ren journey to Thyria in search of answers to her past…and discover a terrible new threat. Collects MONSTRESS #7-12.In Shops: Oct 23, 2019 SRP: $16.99

MONSTRESS TP VOL 03 (JUL180261) (MR)
(W) Marjorie M. Liu (A/CA) Sana Takeda
A Hugo and British Fantasy Award-winning series-and current Eisner Award nominee for Best Continuing Series, and Best Publication for Teens, with Marjorie Liu nominated for Best Writer and Sana Takeda nominated for Best Painter and Best Cover Artist! Maika has spent most of her life learning how to fight, but how will she fare when the only way to save her life… is to make friends? Collects MONSTRESS #13-18.In Shops: Oct 16, 2019 SRP: $16.99

MONSTRESS TP VOL 04 (MR)
(W) Marjorie M. Liu (A/CA) Sana Takeda
Maika and Corvin make their way through a warped and lethal land in search of Kippa, who is faced with her own terrible monsters. But when Maika comes face-to-face with a stranger from her deep past, startling truths are uncovered, and at the center of it all lurks a dangerous conspiracy that threatens the Known World. Maika is finally close to getting all the answers she ever wanted, but at what price?  With war on the horizon-a war no one wants to stop-whose side will Maika choose?  Collects MONSTRESS #19-24 In Shops: Sep 25, 2019 SRP: $16.99
Enjoyed this article? Share it!