Psyonix revealed the brand new additions coming with Rocket Pass 4 when it is officially launched into Rocket League on August 28th. You can read the full details here, and we have some of the main points for you here below with the trailer. But the shorthand is the pass will be available the same day Season 12 goes live, which will include new items for cars and new challenges to tackle. The pass will go live in Rocket League at 10am PDT on August 28th and ends on December 4th. You can unlock Rocket Pass Premium with 10 Keys, or get a head start with the Premium Bundle which costs 20 Keys. The Premium Bundle comes with Rocket Pass Premium, plus an additional 12 Tiers!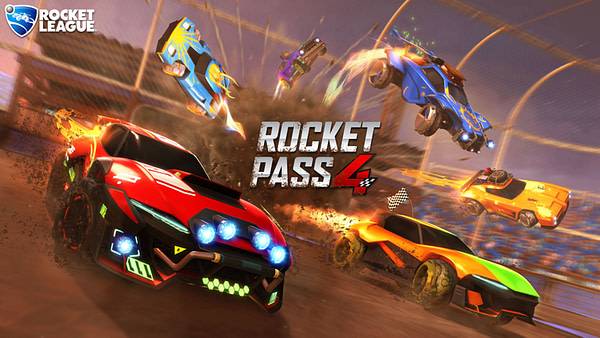 Leading the pack of new rewards only found in Rocket Pass 4 is none other than Mudcat, the new rally-inspired Battle-Car. As was the case in previous Rocket Passes, you'll unlock Mudcat as soon as you purchase Rocket Pass Premium and begin your journey to unlocking the Mudcat GXT and access to Pro Tiers. Take a look at this rugged ride and some of the other featured items in the Rocket Pass 4 trailer below!

Based on community feedback, Rocket Pass 4's Weekly Challenges are changing! New Challenges won't expire after their week concludes. Now, you'll be able to complete Weekly Challenges at your leisure throughout the duration of Rocket Pass 4.

Just like in Rocket Pass 3, both the Free and Premium tracks will get three new challenges each week. Weekly Challenges help you climb your Tiers even faster with Tier Points. Each Weekly Challenge is worth three, five, or eight Tier Points. Rocket Pass 4 features 70 Tiers, but getting to Tier 70 is only the beginning. Pro Tiers grant Painted or Special Edition versions of select Rocket Pass 4 items, all of which are tradable.