Okay, let's see how long this will last. During San Diego Comic-Con, Bleeding Cool reported that Greg Nicotero was publishing Creepshow #0 with Heavy Metal Magazine. And, alongside a sneak peek at the upcoming AMC/Shudder series based on the 80's films of the same name, Heavy Metal were selling a limited release Creepshow #0 comic book produced in collaboration with Nicotero.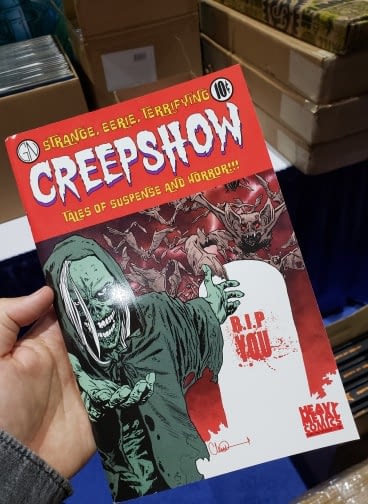 The comic sold for $20 and limited to 1,000 numbered pieces, has a cover by The Walking Dead artist, Charlie Adlard and two original stories – one by Nicotero & Jordan's Arkin and drawn by Chris Anderson and another by Byron Willinger & Philip De Blasi with art by Gideon Kendall. Artist Kelley Jones, who provided art for the upcoming series has an intro and exit as well.
Well, since then, a signed copy has sold on eBay for $150.
And unsigned copies are available for $75. But it's worth noting that folks can also pick up a copy online from the Heavy Metal website for twenty bucks… I am told they have about a hundred of the thousand print run still available. Your call…