Raina Telgemeier's Share Your Smile, her how-to-make-comics guide was published last month (a week early in comic stores too) and today Midtown Comics Downtown has the author and the best-selling Western comic book creator through its doors to sign copies.
The signing will run from 7pm and will be an open signing, first come first served, and given Raina's popularity, best to turn up early. You'll need to have bought a copy of Share Your Smile from Midtown Comics and keep the receipt to get a line ticket.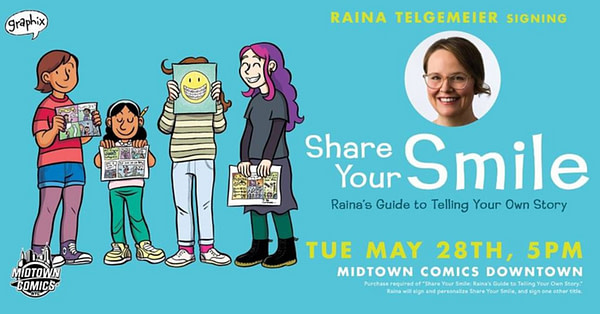 Raina will sign and personalize a copy of Share Your Smile, and sign one other title.
Be the first to see Raina Telgemeier on her New York adventure, as she stops by Midtown Comics Downtown before heading off to Book Expo! With a series of amazing autobiographical books including "Smile" and "Sisters," her newest book, "Share Your Smile: Raina's Guide to Telling Your Own Story" will pass on her storytelling knowledge so you can start working on your own autobiography!
Raina will be doing this signing before heading to Book Expo. If you are heading down to get a copy signed, do let us know.
Get ready to journal and learn to tell your own story with Raina Telgemeier, the #1 New York Times-bestselling creator of Smile, Sisters, Drama, and Ghosts! Have you ever thought about telling your own story, whether it be true or imagined? Are you interested in writing, drawing, or both? If the answer is yes, this fun, colorful, and interactive journal is for you! With guidance from Raina herself, brainstorm ideas, make lists, paste in personal photos, and use your imagination like never before to create your own stories. For additional inspiration, behind-the-scenes info from Raina's own comics-making adventures is featured inside. Plus, a special preview of of Raina's next graphic novel, Guts, is included!In Shops: Apr 24, 2019
SRP: $12.99
Here's a preview of the book…