Review Box 0
10 / 10 Reviewer
{{ reviewsOverall }} / 10 Users (0 votes)
Summary
Script: G. Willow Wilson Art: Christian Ward Letters: Sal Cipriano Editor: Karen Berger Publisher: Dark Horse Comics Release Date: March 20, 2019 Cover Price: $3.99 28 pages.
Have you ever looked at a new comic, drawn to the dynamic cover, and been compelled to buy it, only to face massive disappointment when you take a look inside?
That's not going to happen with Invisible Kingdom.
While the cover gives nothing away, it is a great taste of the beautiful book that lies beneath. Christian Ward's art is boldly evocative, each panel populated with a cast of characters and locations that transport you effortlessly into the story.
And what a story!
It's still too early to tell where Invisible Kingdom is going, but I haven't had this kind of reaction to a sci-fi comic since the first issue of Saga. G. Willow Wilson has created a universe filled with shadowy corporations, mysterious religions, and the people that are inexplicably populating them.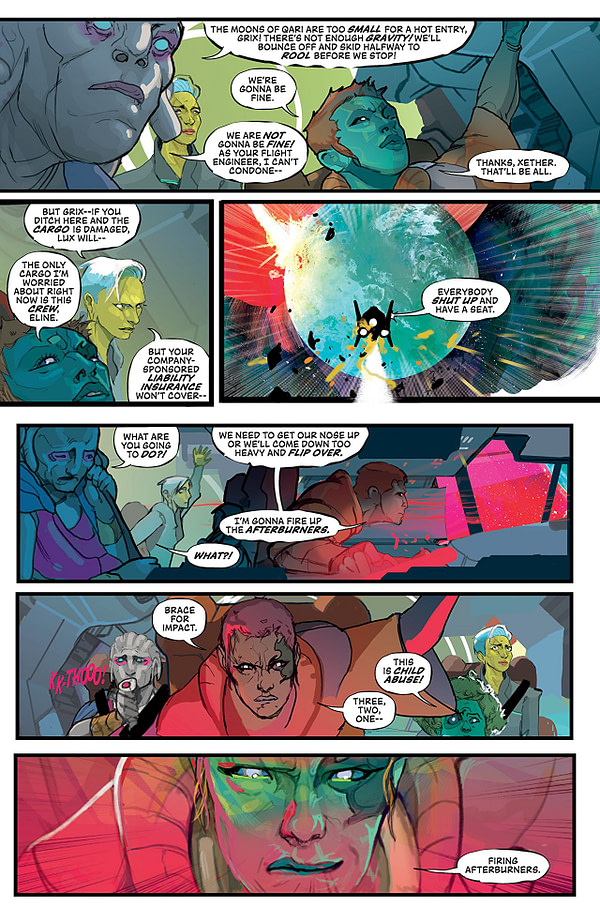 There's Vess, who wants to become a None at the monastery of the Siblings of Severity. Vess is accepted by the monastery, but faces some prejudice from a few of the established Nones.
Then there's Grix and her transport crew, who are forced into a crash landing, which prompts a shocking discovery about their cargo.
The two story-lines are woven together, often merging into each other, but never once in a confusing way.
Ward's art carries the story along beautifully, with rich, vibrant colors that make each page a joy to look at. Sometimes the backgrounds come across as simple, then others are mind-blowingly detailed. The characters are all so very real, even though most of them are clearly not human. Or maybe they are human, but we've introduced a lot more hues into our pigmentation spectrum!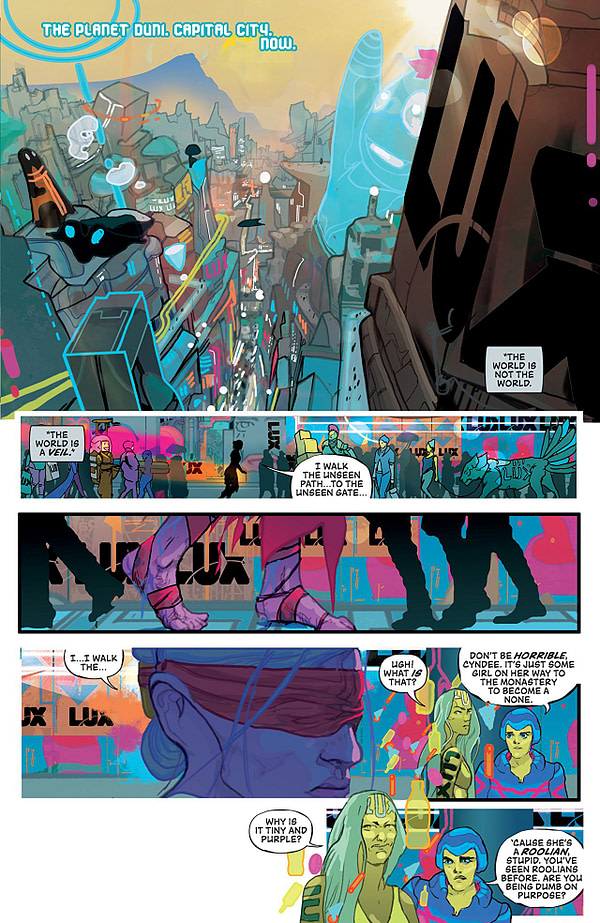 Invisible Kingdom is highly recommended for fans of science fiction/fantasy, and people burned out on standard superhero fare. This is a great debut issue, and I can't wait to see where Invisible Kingdom takes us next!
SUMMARY: Script: G. Willow Wilson; Art: Christian Ward; Letters: Sal Cipriano; Editor: Karen Berger; Publisher: Dark Horse Comics; Release Date: March 20, 2019; Cover Price: $3.99; 28 pages.
What people say...
Leave your rating
Order by:
Be the first to leave a review.
Show more