Well, that was a thing. The 2018 Steam Awards were announced earlier today, and they failed to do the one thing an awards show should do: honor the previous year's games. As we've discussed earlier, every year the awards are voted on by the users of Steam, and usually, all they ever do is post a tiny logo on that game's page to show they got the award. This year they made a whole presentation of it, which we originally assumed was done for ads but none were to be found in the whole 18-minute video (which you can watch below). Instead, we got some pre-recorded vignettes from the winners, some funny and some bland, but only one of the games (Assassin's Creed Odyssey) was released in 2018.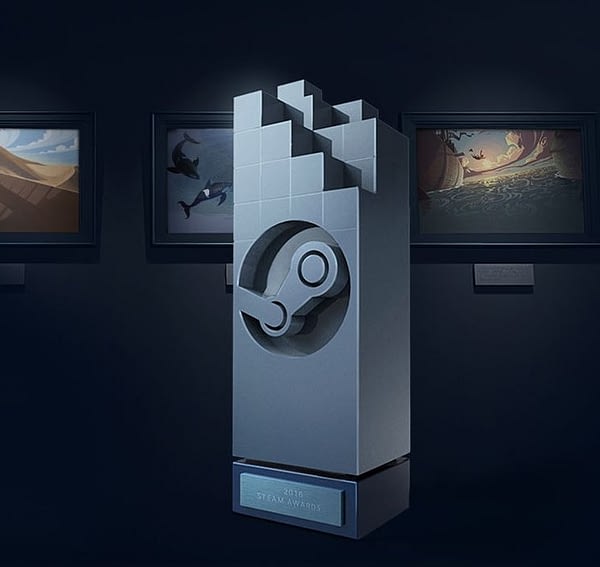 In fact, if you take out the Developer Award at the bottom of the complete list below, less than 20% of the nominees are 2018 games. And while it's nice to see CD Projekt Red win an award, the company only released two games in 2018 (neither of them nominated), and both were spinoffs of The Witcher 3, another game not released in 2018. We get what Steam was going for and also incorporating their audience for interaction, and we give them kudos for that. But as far as award shows go that are supposed to honor a specific year of gaming, they couldn't have missed the mark any harder.
Game of the Year

PlayerUnknown's Battlegrounds
Monster Hunter: World
Kingdom Come: Deliverance
Hitman 2
Assassin's Creed Odyssey

VR Game of the Year

The Elder Scrolls V: Skyrim VR
VRChat
Beat Saber
Fallout 4 VR
SUPERHOT VR

Labor of Love Award

Grand Theft Auto V
Dota 2
No Man's Sky
Path of Exile
Stardew Valley

Best Environment Award

The Witcher 3: Wild Hunt
Subnautica
Shadow of the Tomb Raider
Far Cry 5
Dark Souls III

Better with Friends Award

Tom Clancy's Rainbow Six Siege
Counter-Strike: Global Offensive
Payday 2
Dead by Daylight
Overcooked! 2

Best Alternate History Award

Assassin's Creed Odyssey
Wolfenstein II: The New Colossus
Hearts of Iron IV
Sid Meier's Civilization VI
Fallout 4

Most Fun with a Machine Award

Rocket League
Euro Truck Simulator 2
NieR: Automata
Factorio
Space Engineers

Best Developer Award

CD PROJEKT RED
Ubisoft
Bethesda
Rockstar Games
Digital Extremes Ltd.
Square Enix
Capcom
Paradox Interactive
BANDAI NAMCO Entertainment
Klei
Enjoyed this article? Share it!