As we near the end of the horror show that was 2018 and approach what's sure to be an even worse year in 2019, Twitter has taken to commemorating some 2018 highlights in "moments." One such "moment" commemorated Wednesday was WWE handing out championship belts to pretty much every major sports star on the planet… except their own Finn Balor, who still does not have a championship belt, much to the chagrin of the WWE Universe.
Here's a championship belt WWE sent to the Eagles after they won the Superbowl back in February, around the same time Balor lasted nearly an hour in the Men's Royal Rumble match only to return immediately to languishing in the mid-card.
To quote @ZERTZ_86, you're "the World Champions" …. so you need a World Title! Congratulations @Eagles! #SuperBowl #FlyEaglesFly pic.twitter.com/jFmgg8aJNy

— Triple H (@TripleH) February 5, 2018
And in May, WWE sent championship belts to Manchester City FC for their victories in the Premier League. Just two days after these tweets, Finn Balor would not even have a match on the card at WWE Backlash.
Most consecutive wins in a season. Fastest team to score 100 goals in a season.
Winners of the @PremierLeague title.

From @WWE to @ManCity… Congratulations! #Champions pic.twitter.com/TW11a0p6p0

— Triple H (@TripleH) May 6, 2018
The Champs are here… 🏆

Thanks @WWE and @WWEUK! #mancity pic.twitter.com/8kTO7JdbXK

— Manchester City (@ManCity) May 6, 2018
In June, it was both the Stanley Cup champion Washington Capitals and NBA champion Golden State Warriors who received WWE Championship belts, unlike Finn Balor, who was used as merely an accessory for Braun Strowman's Money in the Bank ladder match win that same month.
Congratulations to the @Capitals, @ovi8, and the city of Washington, DC for their FIRST EVER #StanleyCup. To celebrate like the World Champions you are…

…you will need one of these. #ALLCAPS pic.twitter.com/ASvA7IHvwF

— Triple H (@TripleH) June 8, 2018
Hey @WWE and @TripleH – thanks for the Title Belt for the Championship Parade!! #ALLCAPS #StanleyCup pic.twitter.com/Z6yR73rxDX

— Washington Capitals (@Capitals) June 12, 2018
Three @NBA Championships out of the last four years. Congratulations to the @warriors and the entire Bay Area on a dominating performance in this year's #NBAFinals. Now you need another championship to add to the collection! #DubNation pic.twitter.com/Ouhiruur0m

— Triple H (@TripleH) June 9, 2018
While in July, Real Madrid CF received belts for winning the Champions League while Finn Balor fought Baron Corbin at Extreme Rules and won with a roll-up.
💪🏆😎 @WWE Champions too…
WWE Superstars, it'd be great if you could come to our game tomorrow!#RMTour | #SpeakWWE pic.twitter.com/gWrt8RG2My

— Real Madrid C.F. 🇬🇧🇺🇸 (@realmadriden) July 30, 2018
In September, after Finn Balor defeated Corbin again at August's SummerSlam, WWE sent championship belts to the London Spitfire, champions of the Overwatch League (a competitive video game league).
After an exceptional resurgence, history was captured at the @OverwatchLeague's First Finals. Congrats @Spitfire and @Cloud9! @JackEtienne, this custom title is coming to you! #AcesHigh pic.twitter.com/Pi6wUPgu33

— Triple H (@TripleH) September 13, 2018
#OWL2018… And @WWE Champions as well!

Check out the unboxing, made by @JackEtienne, of this magnificent gift we received from our friends from WWE!
👊💪 @TripleH #AcesHigh #SpeakWWE pic.twitter.com/ekrMTGaah8

— London Spitfire (@Spitfire) September 14, 2018
Later that month, after Balor was left completely off the card of Hell in the Cell, WWE sent belts to WNBA champs the Seattle Storm.
It's about time the 2018 @WNBA Champions @seattlestorm celebrated like the CHAMPS they are! 🏆🏀 @TripleH https://t.co/AXVO5vaAFq

— WWE (@WWE) September 26, 2018
New hardware for the People's Champ has arrived! 🏆💯

Thank you @TripleH for the custom #WNBAChampions belt! #SpeakWWE #WeRepS3ATTLE pic.twitter.com/go58BAreTv

— Seattle Storm (@seattlestorm) October 8, 2018
October saw the World Series champions, the Boston Red Sox, walk away with belts while Balor failed to appear at the Australian Super Showdown PPV.
Congratulations to the 2018 #WorldSeries Champions @RedSox! The duck boats are ready for the parade, but you'll need one more thing to celebrate like a champion. From the @WWE Universe to #RedSox Nation … wear this @WWE Championship with pride! #DAMAGEDONE pic.twitter.com/fpWoFXIC8S

— Triple H (@TripleH) October 30, 2018
More hardware! #SpeakWWE | @WWE pic.twitter.com/FMtCq8bIMy

— Red Sox (@RedSox) October 31, 2018
As 2018 comes to a close, Finn Balor has still not been awarded a championship belt by WWE. As 2019 begins, perhaps he would have better luck taking up another sport, such as competitive video gaming?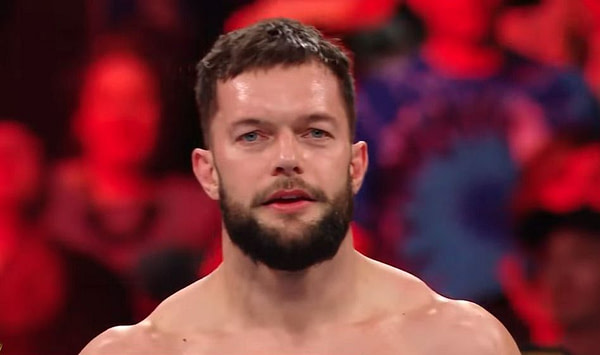 Enjoyed this article? Share it!