Welcome to Bleeding Cool's weekly review of AMC's The Walking Dead, as we take a look at the fourth episode (and the second-to-last episode for Andrew Lincoln's Rick Grimes) in the game-changing ninth season of the long-running drama-horror series, 'The Obliged.'
Less than two years after Rick, Maggie (Lauren Cohan), Michonne (Danai Gurira), and the rest of the communities banded together to bring down Negan (Jeffrey Dean Morgan) and the Saviors, work on rebuilding society continues on – as Negan stews in a prison cell. And while the communities may be working together, not all are created equal: the Sanctuary is unable to grow its own food – or move out from under the shadow of the Saviors, thanks to those still loyal. Add to that a growing view among the communities that they shouldn't feel obligated to save a community that once tortured and killed their citizens – a view Maggie's shared since Rick made the decision to let Negan live.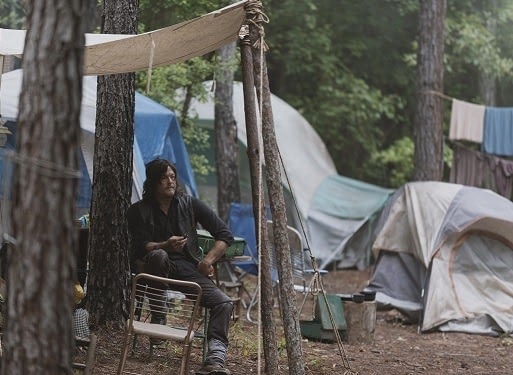 After last week's episode, Maggie and Daryl (Norman Reedus) decided on a more "permanent" solution to the communities' "Saviors problem" – starting with Negan. In this week's episode, we see how their plan unfolds – and if Rick can make things right before Negan's words ring true.
Check out our review of 'The Obliged' below to see how the series got itself back on track in a big way this week…
Spoiler Warning: I'll be covering some themes and takeaways involving major and minor plot points from the episode, so please keep that in mind. Definitely not looking for pitchforks and torches outside my apartment.
The Walking Dead s09e04 'The Obliged': Rick's vision of a civilized future is threatened by a sudden reckoning with past sins that remain unavenged and unforgiven.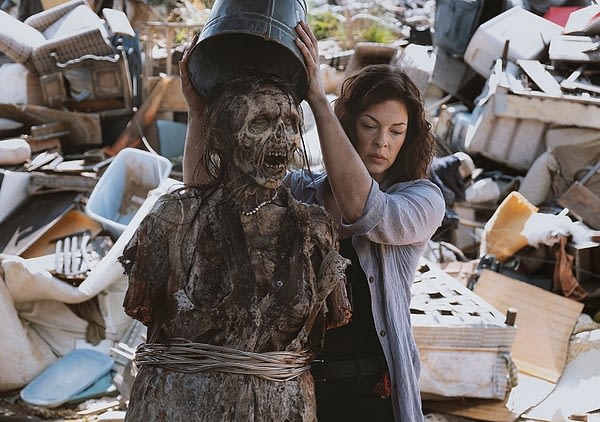 After eight seasons of hope, heartbreak, tragedy, and triumph, Andrew Lincoln's Rick Grimes is set to depart the AMC's The Walking Dead with the next episode of season 9, 'What Comes After.' While we're still not sure what Rick's final fate will be, considering the condition and position he finds himself in going into his final episode…well… let's just say that the trailer below doesn't do much to make us feel confident that Rick's coming back for Thanksgiving dinners and Super Bowl parties.
Last season brought the culmination of "All Out War," which pitted Rick Grimes and his group of survivors against the Saviors and their cunning leader, Negan. With Negan's life in his hands, Rick had a character-defining choice in front of him. By making the unilateral decision to spare Negan, Rick upheld the values his late son, Carl, championed in order to build for the future, but created conflict within his group.

Now, we see our survivors a year and a half after the end of the war, rebuilding civilization under Rick's steadfast leadership. It is a time of relative peace among the communities as they work together, looking to the past to forge the future, but the world they knew is rapidly changing as man-made structures continue to degrade, and nature takes over, changing the landscape and creating new challenges for our survivors.

As time passes, the communities confront unexpected obstacles, danger, and of course, walkers, but nothing quite prepares them for the formidable force they are about to encounter, which threatens the very idea of civilization that our survivors have worked so hard to build.

Based on the comic book series written by Robert Kirkman and published by Image Comics, "The Walking Dead" reigns the number one drama on television among adults 18-49 for the last six seasons. The series is executive produced by chief content officer Scott M. Gimple, showrunner Angela Kang, Robert Kirkman, Gale Anne Hurd, David Alpert, Greg Nicotero, Tom Luse, and Denise Huth
Enjoyed this article? Share it!