Funcom announced this week they'll be adding in a new major content update for Conan Exiles called Savage Frontier, which has now been added to the game. The short version to this free update is that you get to train animals, a new dungeon called Midnight Grove, and a new religion allowing players to summon the massive flying avatar of Jhebbal Sag. Enjoy a quote from the devs about it below along with a fresh trailer showing off what you can now do in Conan Exiles.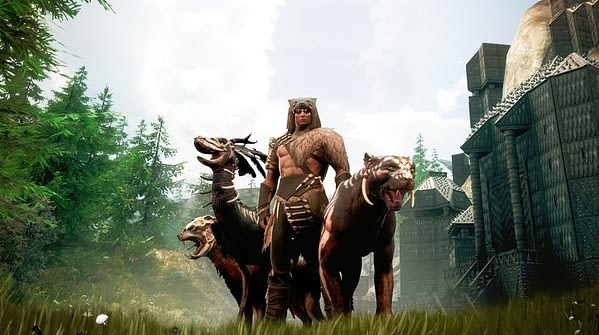 "Pets and taming are important new additions to the gameplay in Conan Exiles," says Creative Director Joel Bylos. "This is something players have been asking for and we are very excited to finally be able to bring it to them. First you must head out into the world and either find an animal egg or a baby, put them in your animal pen, and then make sure you feed them properly. Once grown up they can become trusty companions in battle or even useful in production of materials. From tigers to rhinos – there are many different pets to tame and if you feed them right they might even turn into a rare version of that animal."
Enjoyed this article? Share it!