Welcome back to End of Days! Bleeding Cool's 'American Horror Story: Apocalypse' Live-Blog as we take a look at the fourth episode of Ryan Murphy and Brad Falchuk's horror anthology, 'Could It Be…Satan?'.
Not saying Murphy and Falchuk read my rant last week but…you're welcome. ;-)
After weeks of building anticipation (and a sternly-worded commentary from Bleeding Cool last week), viewers of FX's American Horror Story: Apocalypse were finally treated to the return of Coven's Cordelia Goode (Sarah Paulson), Madison Montgomery (Emma Roberts), and Myrtle Snow (Frances Conroy) – who swept into Outpost 3 to save their "sisters" Mallory (Billie Lourd), Dinah (Adina Porter), and Coco (Leslie Grossman). Now they're ready to take the fight to Michael Langdon (Cody Fern) in this week's 'Could It Be…Satan?' – but then there's this thing about Mallory…
American Horror Story: Apocalypse s08e04 'Could It Be … Satan?': Written by Tim Minear; Directed by Sheree Folkson
● This page should update…but just to be on the safe side I strongly suggest you refresh every now and then to make sure because I've been known to ramble often and quickly.
● If you're going to social media to talk about what we're talking about, go with: #AHSBC #AHSApocalypse
● While you're waiting (or if you just need a breather from my raw, uncut cult-of-personality), check out some cool American Horror Story: Apocalypse "extras" we have waiting for you below.

Last week's key takeaway scene from 'Forbidden Fruit' demonstrates the ultimate in loyalty…
Here's a look at the season's official trailer, as well as a look ahead to the fifth episode:
American Horror Story: Apocalypse s08e05 'Boy Wonder': Written by John J. Gray; Directed by Gwyneth Horder-Payton.
Fans of American Horror Story were treated to two great news drops at this year's Television Critics Association (TCA) summer press event:
● the horror anthology series had been renewed for a 10th season (FX Networks CEO John Landgraf: "He (Murphy) asked for a 10th season of American Horror Story which we were happy to give to him");
● Jessica Lange is reprising her Murder House role as Constance Langdon, appearing in the sixth episode – also marking Paulson's directorial debut on the show (Paulson: "I have the great pleasure of saying, yes, she (Lange) will be back").
Paulson, Lange, Emma Roberts, Connie Britton, Dylan McDermott, Evan Peters, Kathy Bates, Cheyenne Jackson, Billie Lourd, Billy Eichner, Adina Porter, Leslie Grossman,  Taissa Farmiga, Gabourey Sidibe, Lily Rabe, Frances Conroy, and Stevie Nicks have returned to Murphy's horrific universe. Joan Collins (Dynasty), Cody Fern (House of Cards), Ashley Santos (We All Fall Down), and Kyle Allen (The Path) are new cast members for the season..
Now get your scorecards out to see how everyone matches up, AHS fans! Rabe appeared in the Murder House, Coven, Hotel, and Roanoke seasons, while Sidibe appeared in Coven, Freak Show, and Hotel. Farmiga appeared in Murder House, Coven, and Roanoke; AHS mainstay Conroy has appeared in six seasons: Murder House, Asylum, Coven, Freak Show, Roanoke, and Cult. Nicks appeared as the White Witch during Coven.
Meanwhile… Paulson's Billie Dean Howard appeared in Murder House, and her Cordelia Foxx appeared in Coven. Peters played ghostly teen Tate Langdon in Murder House and fraternity president Kyle Spencer in Coven. Lange's Constance Langdon appeared in Murder House, while Bates and Roberts joined the franchise during Coven as Madame Delphine LaLaurie and Madison Montgomery, respectively.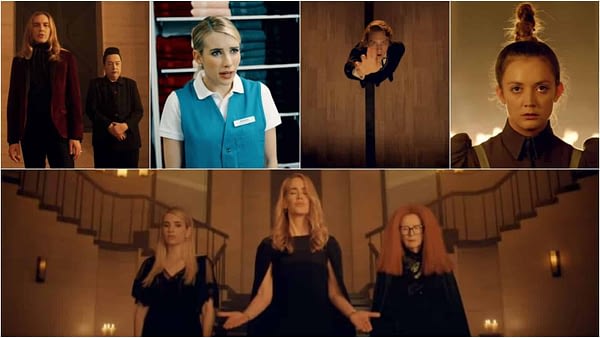 And then we have new characters… Paulson as Ms. Wilhemina Venable, Peters as Mr. Gallant, Bates as Ms. Miriam Mead, Grossman as Coco St. Pierre Vanderbilt, Lourd as Mallory, and Porter as Dinah Stevens.
(Last Updated
October 3, 2018 4:11 pm
)
Related Posts
None found