In the latest example of the WWE Women's Evolution (TM), a movement celebrating WWE's advancements in treating female performers with respect in order to correct the decades of mistreatment that were inflicted by… er… WWE, Renee Young has been promoted to full-time Monday Night Raw commentator, replacing Jonathan Coachman. WWE revealed the news in a press release on their website, writing:
Starting tonight, Renee Young will be the first woman to join the Raw broadcast booth full-time.

She will now bring her unique voice and perspective to the longest-running weekly episodic program in the U.S. as she joins Michael Cole and Corey Graves at the commentary desk. Renee joined WWE in 2012 and has served as a backstage interviewer and commentator on Raw, SmackDown LIVE and NXT. She is currently part of the Mae Young Classic commentary team on WWE Network.

In turn, Jonathan Coachman will take over as the new host of WWE's pay-per-view kickoff shows. A veteran broadcaster with more than 20 years of experience hosting shows for WWE, ESPN, MSG Network and the Golf Channel, Coachman will bring his unique style to millions of viewers around the world on WWE Network, YouTube, Facebook, Twitter and WWE.com, as the host of WWE's pay-per-view kickoff shows. Coachman will begin his new role this Sunday, Sept. 16 alongside WWE Hall of Famer Booker T, David Otunga, Sam Roberts and Peter Rosenberg prior to WWE's Hell in a Cell pay-per-view event.
Coachman responded to the news on Twitter:
A sincere congratulations to @ReneeYoungWWE for a much deserved move to the table on Raw. To be part of a team means understanding your strengths and using them to help the team grow. I have always embraced with positivity any role asked of me. That will not change.

— Jonathan Coachman (@TheCoachrules) September 10, 2018
While Young posted:
I am so so so insanely excited about this! To be the first woman to take over that chair that so many amazingly talented voices and personalities have sat in before me! Thank you to @VinceMcMahon @StephMcMahon @TripleH @MichaelCole and @WWEGraves (and MANY others) ❤️⚡️⚡️ https://t.co/fOKRKlheHE

— Renee Young (@ReneeYoungWWE) September 10, 2018
And also responded to a tweet by Stephanie McMahon, who some people (such as Stephanie McMahon) say started the Women's Evolution (TM).
Thank you Steph!! Can't wait to add my voice/ opinion/ love to the announce booth! Thanks for rooting for us women! https://t.co/KgQBX2O85U

— Renee Young (@ReneeYoungWWE) September 10, 2018
As well as to Charlotte Flair:
Thanks Queen!!

— Renee Young (@ReneeYoungWWE) September 10, 2018
Young's first day as full-time commentator is tonight, so be sure to tune in!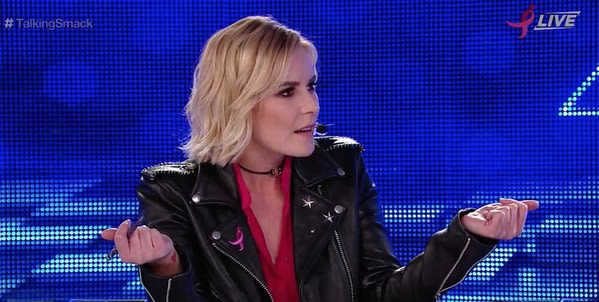 (Last Updated
September 10, 2018 11:00 am
)
Related Posts
None found