While some publishers are doing their best to destroy the direct market as we know it by selling a couple of comics in Walmart, Valiant Entertainment has renewed its commitment to comics retailers by naming Matthew Klein, a veteran of the comics retail world, as its new Director of Sales. In a press release, Valiant explains what Klein will be responsible for:
Valiant Entertainment is proud to announce that it has named comics retailer veteran Matthew Klein its Director of Sales. Klein will oversee the publisher's much-lauded Sales team to actively engage with comic shop owners and assist them in maximizing sales of Valiant's titles in their stores, including the current HARBINGER WARS 2 crossover event; the much-anticipated BRITANNIA: LOST EAGLES OF ROME; and the recently announced VALIANT BEYOND initiative that includes FAITH: DREAMSIDE in September, BLOODSHOT RISING SPIRIT in November, LIVEWIRE in December, and INCURSION in February of next year.

Klein's first work in comics was as a Retail Associate at Forbidden Planet in Manhattan, where he would go on to train incoming employees. He joined the Valiant team in November 2014 as a Sales Manager and worked to create awareness within the retailer community for such epic titles as BLOODSHOT REBORN, NINJAK, BOOK OF DEATH, and X-O MANOWAR (2017). While at Valiant, Klein has driven to shops and conventions all over North America, and has likely called your local comic shop multiple times. Klein has also freelanced on behalf of creator-owned projects and for Z2 Comics, and is a founding member of the theater company Reign or Shine Productions.
Valiant publisher Fred Pierce said of Klein:
Matthew was with us once before and quickly showed he had a keen aptitude for Sales, from his innovative ideas to his smooth working relationships with store owners. I'm happy to welcome him back to lead our Sales team as we look forward to an ambitious slate to close out the year and to an aggressive publishing plan in 2019.
And Klein said:
I'm incredibly excited to be stepping into this role for Valiant!" Valiant has been, in the three years since I've been a part of this family, a leading voice when it comes to retailer relationships in the industry. Ask a retailer who works the hardest to address their needs and wants, and I would bet my salary that if they've spoken to our team, they'll say Valiant. And there's no slowing down! I can't wait for retailers and fans to see what fantastic new initiatives we have in store for them.
Director of Sales is an important position at a comic book publisher. It seems clear that Marvel Vice President of Sales David Gabriel is the real power behind the throne at Marvel, for example, dictating the company's publishing initiatives that drive its stories and its relaunches. Bleeding Cool congratulates Klein on his newfound power, and hope he wields it wisely.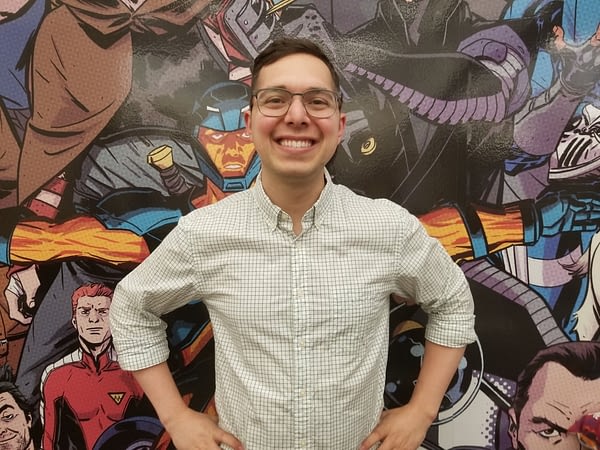 Enjoyed this article? Share it!