Brilliant Trash #5
{{ reviewsOverall }} / 10
Users
(0 votes)
Writer: Tim Seeley, Artist: Priscilla Petraites, Color Artist: Marco Lesko, Story by Tim and Steve Seeley, Letters: Marshall Dillon, Cover by: Mike Norton and Addison Duke, Logo Designer: John J. Hill, Production: Charles Pritchett, Editor: Mike Marts, Publisher: AfterShock, Release Date: Out Now, Price: $3.99
Jim and Kennedy are pinned down in Lifespan's headquarters, and Cromwell is somewhere inside plotting his next move to capture Kennedy. Outside, the FDA has arrived with an army of their own. Jim and Kennedy need to escape and keep Zhen's secrets away from both Cromwell and the FDA.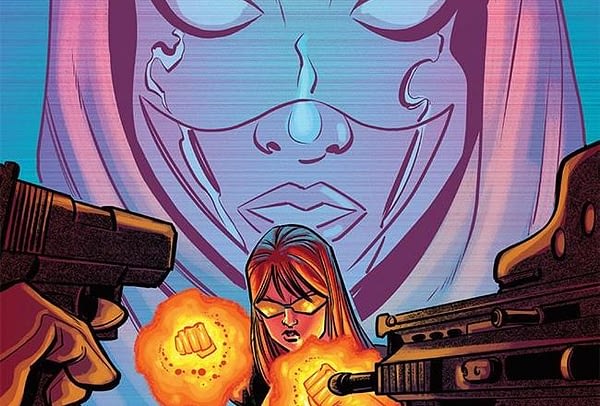 The beginning of Brilliant Trash #5 presents a tense setup for our heroes, especially when the imminence of Jim's "burning out" is revealed. It's a very visceral and physical threat to their safety, and, potentially, to the world at large.
We are shown bloody and violent clashes between Cromwell's people and FDA, reminding the audience of the brutal fate that awaits Kennedy and Jim should they be captured.
Then Brilliant Trash goes off the rails. It's hard to talk about this without stepping in spoiler territory, but I'll try to keep things as vague as possible.
Kennedy explains a parenting guide she wrote about how to handle two kids fighting over a toy. It doesn't take the King Solomon turn though; her idea is to give everyone the toy. It tries to bring a humanist conclusion to a very nihilistic story, and I'm not sure that it sticks the landing. It gets very metaphorical and philosophical, and then it finishes with a time skip centered around Jim. Oddly enough, that doesn't end this story either; the comic still previews the cover to Brilliant Trash #6.
Priscilla Petraites's artwork continues to look good while measuring up to the task of the narrative. She plays with the cybernetic and biological modifications well. Fight scenes are brutal and unnerving. The overall aesthetic is slightly stylized but wavers towards realism, which jives well with the visceral brutality of the comic. Marco Lesko's color palette is quite tame, and it matches the tone well.
Brilliant Trash #5 is an interesting comic. Your mileage on the ending will likely vary, but I don't feel that it sticks the landing with its "people are naturally good" given how brutal and nihilistic the story has been thus far. It feels like its stretching for a meaning it can't quite justify. I can recommend it to those who like the series, as it will doubtless stick with you for a time afterwards regardless of whether the ending satisfies you. Feel free to check it out.
What people say... Leave your rating
Order by:
Be the first to leave a review.
Show more
(Last Updated
April 7, 2018 3:36 pm
)
Related Posts
None found