Luke Skywalker likes his milk. This is almost canon, as Aunt Beru gave him blue Bantha milk in the first Star Wars movie (albeit it in a deleted scene), and it has turned up in a few places since.
https://www.youtube.com/watch?v=4ysHxlpywUY
But in Star Wars: The Last Jedi, he preferred to milk his own. And drink it with more of a greener. And fandom flipped, rather.
But in yesterday's Star Wars #45 from Marvel Comics, it was all he could think about, visiting a bar with Chewbacca and Han Solo. In Star Wars #44, the issue concluded with Han making this joke.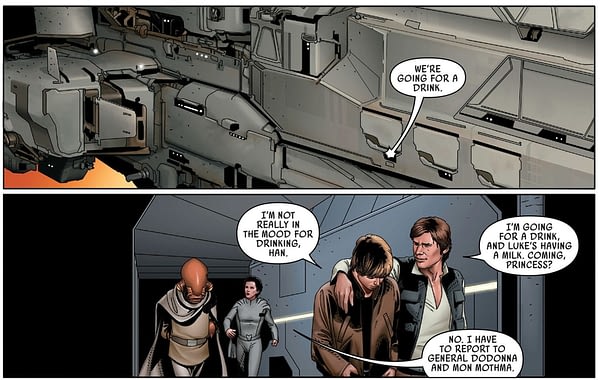 Which Luke seemed to take to heart in yesterday's new comic, part of the new Star Wars canon, and set after the first movie.
Get the man a milk, Han…
And yes, this is starting to be an obsession for the boy. It's like he's in a Japanese anime bath house, the amount he suddenly seems to be getting through. But milk drinking is a trope synonym for innocence, youth, and androgyny.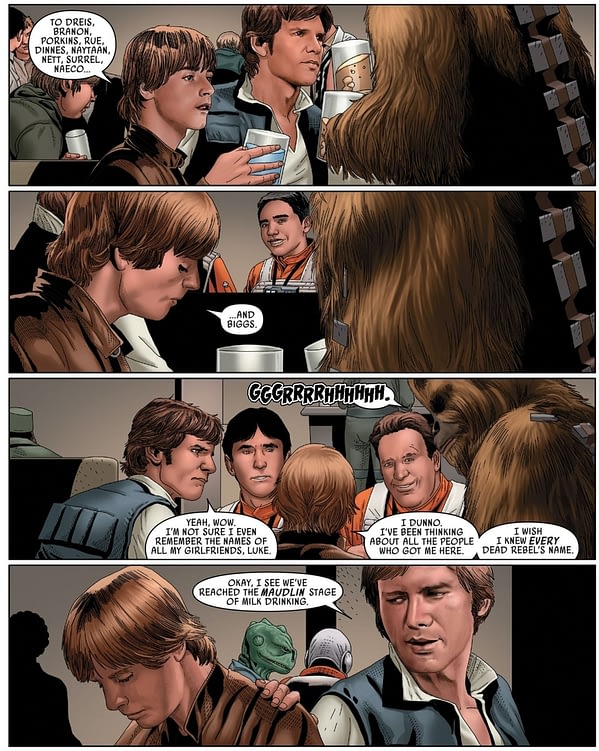 Even when drinking a toast to fallen comrades. And yes, the milk is blue. And you know what? It runs in the family…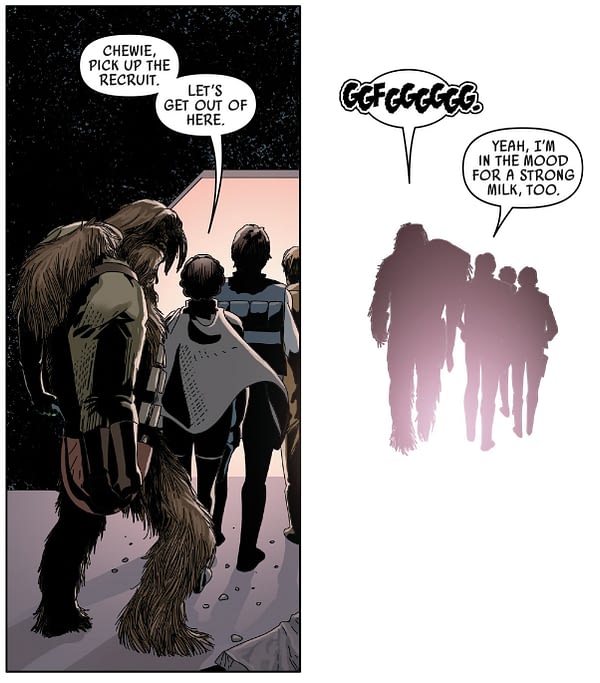 In his newsletter yesterday, Star Wars comic writer Kieron Gillen addresses the Thala-Siren in the room. "I wrote all the milk jokes before I'd saw The Last Jedi, btw. You can imagine my face."
Is it this face, Kieron? Is it?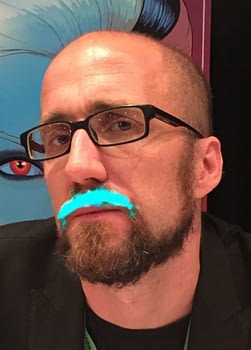 STAR WARS #45
(W) Kieron Gillen (A) Salvador Larroca (CA) David Marquez
THE REBELLION NEEDS YOU!
The Empire takes from all of us – our freedom, our dignity, our hopes and for some, even our lives. The Rebel Alliance fights to take back our galaxy from the forces of oppression…but we need your help! Be a part of the solution – JOIN THE REBELLION TODAY!
Rated TIn Shops: Mar 21, 2018
SRP: $3.99
Enjoyed this article? Share it!