This is the Top 10 Bleeding Cool Bestseller List, as compiled by a number of comic stores from their sales on Wednesday and Thursday. It measures what are known as the "Wednesday Warriors", those who can't wait to the weekend to get this week's comics. We salute you, and the keenness you bring to your passion.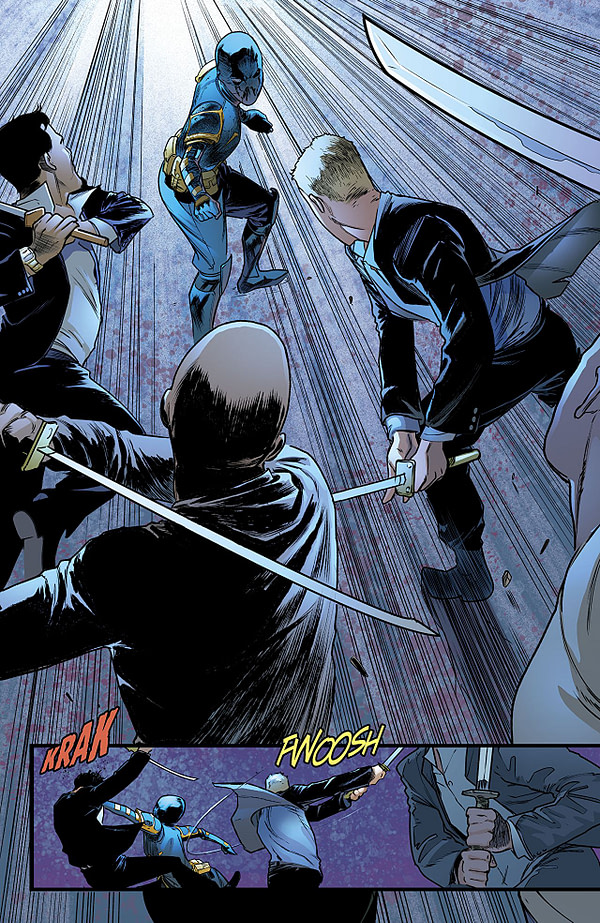 The Bat and the Supe take the top with their ancillary titles, while a Hulk return and a new look Fantastic Four help Avengers and Marvel Two-in-One, as Mister Miracle's birth issue continues to make for a very non-traditional impact in the chart. Remember when DC Comics cancelled Tom King's Omega Men halfway in and then rescinded? No such dangers now. And a string launch for New Mutants, even with a delayed movie.
And Chip Zdarsky gets two…
Top 10 Bestselling Comic Books of the Week
Detective Comics #976 by James Tynion, Javier Fernandez and John Kalisz
Action Comics #999 by Dan Jurgens, Brett Booth, Norm Rapmund.
Avengers #684 by Mark Waid, Al Ewing, Jim Zub, Joe Bennett, Paco Medina
Mister Miracle #7 by Tom King and Mitch Gerads
Marvel 2-In-One #4 by Chip Zdarsky and Valerio Schiti
The Flash #42 by Joshua Williamson and Dan Panosian
Peter Parker the Spectacular Spider-Man #301 by Chip Zdarsky and Joe Quinones
New Mutants Dead Souls #1 by Matthew Rosenberg and Adam Gorham 
Doctor Strange #387 by Donny Cates and Niko Henrichon
Hal Jordan and the Green Lantern Corps #40 by Robert Venditti, Jordi Tarragona and Rafael Sandoval
Thanks to the following retailers…
…who had this to say:
—-
On Wednesday I was very confused. Where were our regulars I was wondering. Very last customer of the day told me it's Spring Break. Oh. Whoops. First time in years I have been in town for Spring Break. Biggest surprise this week is Hal Jordan and the Green Lantern Corps 40 selling out on Wednesday. People are really liking the GLC vs Zod storyline. Sales on new issues were slow thanks to Spring Break (hopefully of course that is the reason). Back issues seen a big boost with people from out of town checking us out. People are expressing their disappointment with titles renumbering again. From Amazing Spiderman to Superman people are not happy with having another first issue rolling out for the titles. And really DC? A reprint comic from decades ago for the Krypton T.V. show? I am glad to hand out freebies but, the characters look nothing like what the T.V. show has been teasing. A reprinting of a Brainiac story would have worked better. Such as him capturing Kandor. Glad to see some upcoming cross promotion between the show and comics though.
—-
Few surprises this time around… Tom King's Mister Miracle returns and doubles the sales of 2nd ranking Detective Comics. Marvel was smart to lock down Chip Zdarsky, he's got two books in our top ten this week. I really hope they give him Fantastic Four when it comes back (presuming he wants it), he's earned it.
—-
DC has managed to take back the top spots in the FFF Top Ten this week. Action Comics sold out and was our #1 seller followed closely by Detective Comics at #2 and Mister Miracle at #4. Action has been a pretty steady seller since the Rebirth relaunch, but this is the best it's sold in a while. I'm sure the fact that it is one issue away from #1000 is the reason we had people come in on Friday asking for it when they haven't been following the series at all before. We've also seen a pretty big spike in interest in issue #1000 as we've had several people ask for every cover of the decade variants. For the rest of the Top Ten, Avengers was our #3 seller, just one copy behind Detective Comics. I'm still amazed Marvel has managed to pull off a weekly book for 10 weeks and that it's still selling so high despite this issue being $4.99(!).
For the rest of Marvel, Star Wars is still a strong seller and both Darth Vader and Thrawn were in the back half of the Top Ten. Both are popular characters in a popular franchise and I don't see them ever not being in the Top Ten. Marvel Two-in-One and Doctor Strange also sold well enough to make it to the Top Ten. They're books that have names that move the needle behind them. Cates and Zdarsky are two of too few big names Marvel's got right now, they bring their fans to just about anything they work on.
On the indie side, Walking Dead #177 was our #12 best seller this week on its second week. Between being a hugely popular series and the Sienkiewicz variants they've been putting out, I foresee a whole lot more of these multi-weekly selling issues. Vampironica was the only other indie book to make the Top Twenty at #13. Afterlife With Archie and Chilling Adventures of Sabrina were both insanely popular and different. Jughead the Hunger sells well but not stellar numbers. Hopefully Vampironica can fill the void left by Afterlife since it seems like it and Sabrina have gone on a permanent hiatus.
—-
BENDIS IS COMING! That's possibly one reason Action has secured top spot this week. Everything was basically what I thought it would be, and after reading Infidel I was not surprised at all that we are nearly sold out.
—-
Another slow, rainy week, but that didn't stop two great new series from making our top 10: Eternity Girl #1 by Mags Visaggio and Sonny Liew, and Matthew Rosenberg and Adam Gorham's New Mutants: Dead Souls #1.
—-
And now we have a horse race! DC takes 6 top ten slots, Marvel takes 4–but if we extend the list to top 20, Marvel takes 11 and DC takes 9! Marvel's emphasis on strong stories, quality creative teams, and iconic heroes is bringing readers back. And that's good news for the whole comics market!
—-
Notable sales:
Sandman #1 9.0 $125 – It's good to see new interest in this amazing book.
Enjoyed this article? Share it!